Sliced Blanched Almonds | L'Orenta Nuts
Sliced blanched almonds have no skin. This can be achieved using three methods which are boiling the almonds, soaking them overnight, and soaking them in hot water. Sliced blanched almonds are made using uncommon machinery. These machines ensure the almonds are thin. 
Sliced blanched almonds are better than raw almonds because of a few reasons. Raw almonds with their black skin can affect the look of your food. This can significantly reduce the aesthetics of your food. 
Also, almond skins generally consist of tannins. Tannins are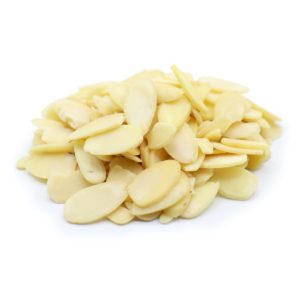 astringent compounds. This means that they can make the mouth dry because of how they react to the protein in the saliva. They are also the reason for wine and black tea dryness. 
However, if you remove almond skins, the bitterness and astringency caused by almond skins have been removed. This leads to a better taste and cleaner flavor. Almonds skins also affect their nutrients. This is because of the presence of tannins. So, it is better to use sliced blanched almonds in your dishes than raw almonds. 
Uses of Sliced Blanched Almonds 
They have various usages. The most popular recipe people use sliced blanched almonds for is salads. They are an excellent ingredient in numerous salads including apple almond crunch salad, Fennel salad, Simple feta, almond salad, etc. Other sliced blanched almond uses include:
Crushing them to make almond-crusted fish, chicken, and pork.

Adding them to desserts, trail mixes, and dishes

Making toffees, macaroons, and chocolate-almond bark. 
How To Make Fennel Salad?
Gather And Prepare Your Ingredients 
Wash your fennel carefully and cut the root, damaged, and hard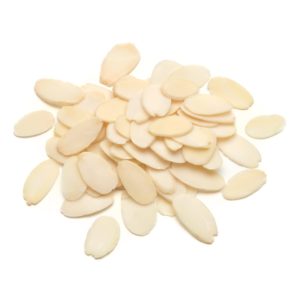 part. Then shred using a sharp knife or v-slicer. Put your shredded fennel in a bowl and fill it with cold water. This is because discoloration affects fennel easily. Also, chop your fennel fronds roughly. After which you will peel your mandarins, remove the essential parts and separate them into sections.
Shake Up Your Dressing 
Add all the ingredients of your vinaigrette to a glass jar. Then season cracked black pepper and sea salt. Then shake well until the mix is perfect. 
Assemble Your Salad
Drain your fennel in a sifter and dry them with a towel. Then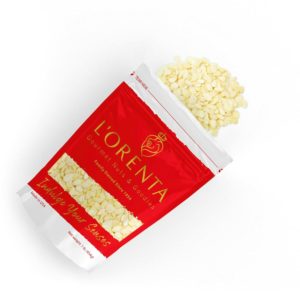 move the fennel to a big mixing bowl and add your fennel fronds, sliced blanched almonds, and mandarins. Gradually pour your dressing over your salad until the coating is enough. You can keep the remaining dressing for another salad. 
Ensure you season with pepper and salt again. Then, mix thoroughly. Finally, taste and adjust the dressing and seasonings to your preference. 
Final Thoughts 
Almonds are great sources of vitamins and nutrients that are essential for your body. They also contain antioxidants which help to protect the body cells from catastrophic diseases such as cancer. Almonds also offer several other health benefits. 
Removing raw almonds skin lets you enjoy better taste, nutrients add more aesthetics to your dishes. Click here to get L'Orenta's Sliced Blanched Almonds.