Energy is what get's everyone up and going in the morning. Furthermore, it is what makes your body function properly from day to day. This means that energy is an essential part of your body, and is something that has to be maintained. That is where food comes in! Here are 5 foods to boost energy.
Eating is the primary source of all of those energy creating nutrients your body craves. Choosing what to eat is important, as it can boost or lessen the productivity of your body. Before we jump into 5 foods to boost energy, let's take just a moment to learn about how that energy gets made.
How Does Our Body Make Energy?
Fats, proteins, and carbohydrates found in most foods are used as fuel for your body. Once consumed, the food metabolizes and breaks down within your stomach, turning it all into glucose.
Glucose itself gets stored within us, being put aside for later energy use. If the energy is needed right away, our bodies use naturally produced insulin to open up our cell doors and allow the glucose to travel through, producing energy right away.
Every part of our bodies rely on energy to work, so we have chosen 5 foods to boost energy that you can try next time you feel like your battery is running low.
Pumpkin Seeds
Roasted and Salted Pumpkin Seeds are beyond versatile. They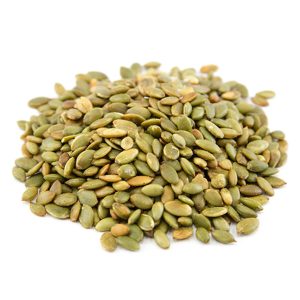 are all natural, with no preservatives, wheat, gluten, or corn syrup. These can be eaten by themselves, or added to nearly anything to provide a crunch and a lot of nutrients! Next time you snag some of these for your health, consider adding some to:
Cereal

Trail mix

Yogurt

Muffins

Protein shakes

Salads
Nutritional Information
Pepitas (pumpkin seeds) are an easy energy boosting addition to any diet. One serving size totals to 170 calories, coming with plenty of vitamins and minerals. Of the daily value, a serving size will provide:
11% iron

42% magnesium

24% protein

48% fiber

16% potassium

3% calcium
Every single one of those minerals will not only boost energy, but provide other health benefits as well. Pepitas will lower your risk of diabetes, cancer, and heart disease. Equally as important, the antioxidants found within pumpkin seeds will reduce inflammation and help maintain healthy digestion.
Dried Cranberries
These sweet Dried Cranberries are another incredible source of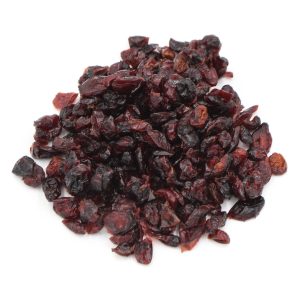 all of those energy boosting nutrients. Much like pepitas, these are especially delicious when added to some of your already favorite dishes! We suggest:
Nutritional Information
Cranberries are most known for combatting the effects of urinary tract infections, whilst also preventing future infections. Adding these berries to your normal diet will lower risk of cardiovascular diseases, breast cancer, and heart disease. Another fantastic benefit is the fact cranberries will leave your hair, skin, and nails looking flawless.
40g per serving, reeling in only 137 calories, these are a guilt-free snack! Enjoy the boost of calcium and iron while you are at it!
Walnuts
Known for their high levels of protein and omega-3, Walnuts are the perfect choice for anyone with a very active lifestyle. These tree nuts have no preservatives, and are guaranteed to add a bit of crunch to anything you toss them in. Eating them alone is great, but try eating them in:
Oatmeal

Vinaigrettes 

Homemade granola bars
Nutritional Information
One serving size of walnuts is 28g, and 190 calories. They are loaded with vitamins and minerals such as:
Fiber

Phosphorus

Zinc

Potassium
These nutrients will help manage and maintain a healthy weight, while also keeping blood sugar at a healthy low. Additionally, walnuts will lower blood pressure, and support brain functions; increasing brain function prevents the risk of Alzheimers.
Sunflower Seeds
Roasted and Salted Sunflower Seeds are an on-the-go treat that provides a great source of protein and vitamin E. These are vegan friendly, gluten free, and soy free, meaning anyone can enjoy the taste and benefits they will bring! Add a scoop to smoothies, or bread, or even roasted vegetables. Sunflower seeds will provide a great texture while secretly sneaking you those energy boosting nutrients!
Nutritional Information
Sunflower Seeds are loaded with a fantastic amount of vitamins and minerals; take a look for yourself!
7g of protein

2g of fiber

2% of your daily calcium

10% of your daily iron
These nutrients play a key role in keeping many health problems at bay. Along with the energy boosting protein and Vitamin B, they come loaded with Vitamin E. Combined, the nutrients found in Sunflower seeds will support your immune system, and fight infections that find their way into your body
Medjool Dates
Medjool Dates are one of the most nourishing fruits that can be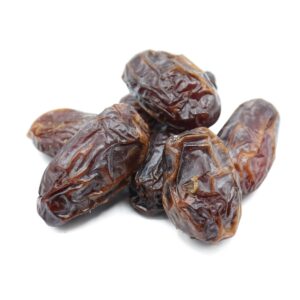 added to one's diet. Coming with almost a never ending list of health benefits, they also happen to taste great! For anyone who isn't familiar with dates, they are sweet and taste slightly of caramel. The fibrous texture of the skin is filling, and will leave you feeling satisfied.
They are perfect to eat solo, share with friends and family, or to add to numerous recipes! A few ideas are:
Brownies

Milkshakes

Bread pudding
Nutritional Information
28g of these international treats comes to 91 calories. Medjool dates will support bone and brain health, all while fueling your body with their natural sugars and vitamins. Dates contain 50% more potassium than bananas, so they will ensure proper muscle and nerve function, as well. 
This popular stone fruit will, out of your daily value, give you:
7% potassium

19% copper

7% vitamin B6

6% magnesium
Boosting your energy doesn't have to be hard.
If you often find yourself lacking energy, or simply using more than your body is currently producing, give these 5 foods a try. Afterwards, enjoy how great your body feels and how much longer you can go before needing a break!