4 Snack Ideas for Baseball Games | L'Orenta Nuts
One of the best ways to enjoy the baseball season is by gathering up your loved ones for an at-home viewing! Everyone gets to enjoy the game from the comfort of the couch. Though, one of the even better parts is the snacking. Here are 4 snack ideas for baseball games. 
Good snacks are essential to any get together, and baseball games are no exception. Bringing great snacks to the get together is sure to make you a fan favorite. Plus, everyone can cheer on their favorite team a lot better with a full stomach!
That is why we are here to share 4 Snack Ideas for Baseball Games.
Peanuts
If you are a regular at sports games, you know that peanuts are a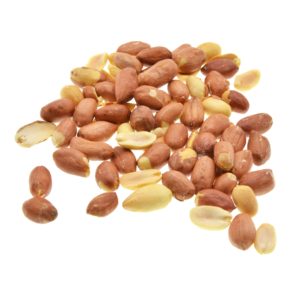 basic! Not only do peanuts give you a much needed energy boost, but they are easy to eat while cheering and socializing. Furthermore, peanuts are beyond versatile. Peanuts make a great snack to watch a baseball game.
No matter what you are craving, there will be some form of peanut to satisfy.
Roasted and Salted Peanuts with skin are a low carb, nutrient-rich, option to bring with you. Leaving the skin on adds more protein and iron, which in turn will give your body a boost.
However, if you aren't a huge fan of the skin on peanuts, don't fret! Skinless Roasted and Salted Peanuts are just as tasty. So tasty in fact, that they might not make it through the whole game! Make sure to grab a handful while you can, because these all-time favorites will be gone before you know it.
For maximum flavor, go with the Peanut Party. This option gives you both peanuts with the skin, and without, meaning you no longer have to choose between the two. You are arriving at the gathering with a treat that includes everyone that is there.
Seeds
Seeds are another easy grab-and-go snack that will revitalize your energy storage, while filling you up with incredible nutrients. They are nut free, gluten free, soy free, and dairy free. With no corn syrup as well, these are a treat that nearly anyone can have without having to worry about allergies or insane calories.
What seeds to choose at a baseball game?
Roasted and Salted Pumpkin Seeds are a great choice if you aren't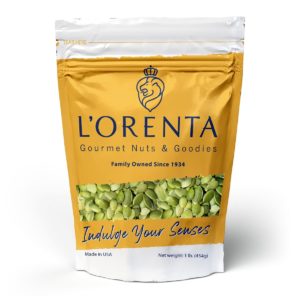 sure what seeds to grab before the game. They are shelless, convenient, and loaded with antioxidants. Pepitas (pumpkin seeds) are also nutrient dense, meaning they can be pretty filling! If you are trying to avoid sugars at this game, munch on these first. They will leave you feeling full and satisfied before you even reach the carbs!
Roasted and Salted Sunflower Seeds are a go-to for anyone who is a fan of seeds. These can be eaten on their own, or added to other snacks you plan on bringing. They made a fantastic addition to:
Salads

Trail mix

 Cheese balls

Soup
Seeds are vegan and rich in fats and nutrients. Share these with adults and kids on game night.
Corn Nuts
Toasted Corn provides the perfect salty and crunchy bite. They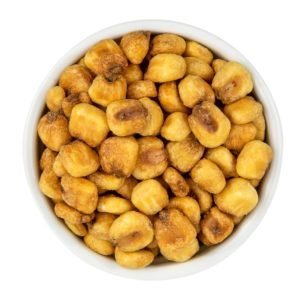 are an American favorite, and a staple to any snack party. These come with nothing but salt, and can be easily enjoyed that way! On the other hand, they make the perfect base for added flavors if you feel creative. Things that can add a new flavor would be:
Cheese powder

Taco seasoning

Ranch powder
Don't be afraid to get creative when trying out new flavor profiles. You may stumble across a new favorite amongst your friends. Beware though, if you make them too good you might be expected to bring them to every party. Corn nuts could easily be your new signature snack.
Will there be any picky eaters at this game?
Deluxe House Mix
Here is another great snack for watching at a baseball games. Don't stress yourself out trying to pick things for everyone, when you can get it all in one go. The Deluxe House Mix comes with:
Roasted and salted cashews

Roasted and salted almonds

Natural hazelnuts

Skinless peanuts

Roasted and salted pumpkin seeds
This blend is full of iron, copper, antioxidants, and healthy fats. That means it will fill you up and get you going just as quickly as it entered your tummy. Healthy snacks can be tasty, and this is definite proof! There is guaranteed to be a little something for everyone if you bring this.
Game days are known for having the best snacks, and hopefully this article will let you arrive with a great addition that everyone will thank you for. Happy game day!