What is a Stroopwafel? | L'Orenta Nuts
Stroopwafel is a sweet and tasty treat. It made its debut back in the early 19th century in a Dutch city named Gouda. The first stroopwafel was created when a baker repurposed leftover crumbs by adding a thick syrup. It didn't take long for the newly invented treat to catch up with people's palate after that.
Right now, stroopwafel has become a staple treat in the Netherlands. Almost every bakery has stroopwafels. They would oftentimes give it a tweak and take the sweet treat to a whole new level.
Stroopwafels are known for their thin cookies, made of cinnamon and vanilla dough, pressed together. Between the two cookies is a filling of rich caramel, giving stroopwafel a crunchy and gooey texture upon eating.
The name stroopwafel translates to "syrup waffle". Also, its ingredients are pretty simple and can be acquired easily. However, it is the process of making them that can be a bit tricky. To make stroopwafel, one should have speed, as well as patience. Once the cookies are done, their edges are trimmed and are cautiously sliced in half while they're still warm. After that, the cookies will be filled with and sandwiched back together.
What Does a Stroopwafel Tastes Like?
Sweet and sugary, that's one way to put it. Stroopwafel is a combination of crunchy and gooey texture with its sweet and sugary cone. It also has gooey and syrupy filling. Like some treats, stroopwafel is crunchy from the outside, and soft on the inside. In short, it tastes like heaven and has a bit of kick of molasses from the brown sugar.
What's Inside a Stroopwafel?
The filling is always the best part of each sweet-filled treat. The
inside of a stroopwafel may not look very special but it's what makes it special. What lies inside these Dutch cookies is a caramel-like sweet haven that is made of pure maple syrup, vanilla, cinnamon, butter, and brown sugar. A classic example is this batch of gourmet caramel stroopwafel.
However, today, bakeries have been putting in other stuff for twists and variety. For instance, chocolate lovers will fall in love with this gourmet stroopwafels. Meanwhile, you should also give vanilla stroopwafel a try. They will set your palate with fireworks.
How to Make Stroopwafel?
In the early 19th century, stroopwafels were handmade. It also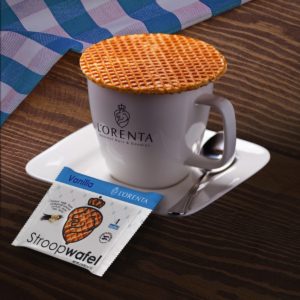 took patience, speed, and a bit of practice before one could finally get the hang of it. Today, it's more convenient with all the cooking technology. One only has to acquire some special iron waffles designed to make stroopwafel or a pizzelle iron.
Once you have them, all you have to do is prepare the ingredients for both the filling and the cookies.
Cookie Ingredients
       

Half cup granulated sugar

       

1 large egg

       

3 ½ tablespoons of warm water

       

1 teaspoon of ground cinnamon

       

1 teaspoon of active dry yeast

       

250g (2 cups) of flour

       

4 tablespoons of unsalted butter (sliced in small pieces)

       

1/8 teaspoon of salt
Filling Ingredients
       

1 teaspoon of ground cinnamon

       

1/3 cup maple syrup

       

A cup of unsalted butter

       

1 tablespoon of vanilla extract

       

1-1/4 cup of brown or light brown sugar
Steps on Making Stroopwafels
Step 1: Making the Dough
Combine all the dry ingredients in a large mixing bowl (flour, cinnamon, yeast, sugar). Then, add butter and continue mixing until the whole thing looks like coarse crumbs. Add the warm water and continue to work on it until its loose. Add the egg, followed by salt. Knead the dough for 2-3 minutes until everything is well blended. The dough should look like thick sugar cookie dough.
Let the dough rest at room temperature for 30-45 minutes, wrap it in plastic.
Step 2: Preparing the Filling
Do this while the dough rests. Melt the butter in a saucepan, then add the sugar and let it melt in medium-low heat. Put in the cinnamon, maple syrup and bring the mixture to a high simmer. Continue to whisk the sauce until the sugar dissolves, creating a caramel-like form and texture. Stir in vanilla extract and reduce the heat to keep it warm. Avoid the caramel from crystallizing.
Step 3: Cooking the Waffles
Unwrap the dough and start dividing it into 10-12 equal pieces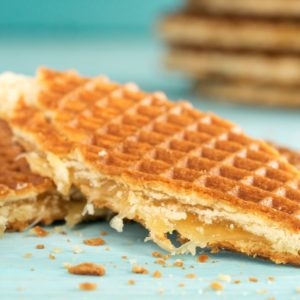 then form them into balls. Once this is done, preheat the irons you have. Start with medium heat and adjust the heat as you make the first waffle. Put a ball of dough in the iron and clamp it shut. Wait for the waffle to be cooked in 45-60 seconds. Once it stops steaming, that means you should remove the waffle. It should have an even gold color.
Step 4: Trimming and Slicing
After removing, go to a chopping board and trim the edges of the waffle. One should not skip this step because it's easier to cut the waffle in half once trimmed. Then, proceed to cut the waffle in half, horizontally, like cutting the fillet of a fish. Note that trimming and slicing should be done while the waffle is fresh from the iron.
Step 5: Fill and Assemble
Once the waffle is divided, fill one of the halves with the filling you've prepared then reassemble them. Press them generously together until the filling reaches the edges. Repeat the steps.