If cranberries are your favorite, well, you're not alone. It's been reported Americans eat 400 million pounds of cranberries each year. The love for the little berries manifests itself in different ways. You can snack on dried cranberries, turn them into a vibrant sauce, throw them into baked goods… Furthermore, cranberries are also excellent for your health, with many proven benefits. Want to know more about the many uses and properties of this national treasure? Keep reading! We've got answers for you. Keep reading for this ultimate dried cranberries guide. 
Are dried cranberries healthy? 
Cranberries have achieved "superfood" status, with many of its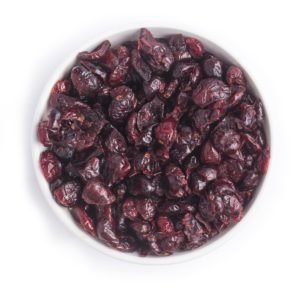 health benefits backed up by science. Cranberries are a rich source of several vitamins and minerals, especially vitamin C. They also contain manganese, copper, vitamin E, and K1. The berries are very high in antioxidants — particularly flavonol polyphenols. 
All in all, cranberries have a multitude of benefits. Dried cranberries, in comparison, are best eaten in moderation due to the added sugar. Naturally, dried cranberries are higher in carbs, calories, and sugar than raw berries are. Still, they do still retain many of the vitamins, minerals, and antioxidants found in the raw berry.
Are cranberries caloric?
According to the nutrition information provided by the USDA, for every 1/4 cup (or 40 grams) of dried, sweetened cranberries, there are 123 calories. Plus 0.4g fat, 2mg sodium, 33g carbohydrates, 2g fiber, 29g sugar, and 0.1g protein. 
How are dried cranberries made? 
Dried cranberries are made by dehydrating fresh cranberries to remove all excess moisture from them. It's a similar process to turning grapes into raisins.
Can you freeze dried cranberries?
Fresh cranberries only make an appearance once a year, so if you're lucky enough to find them, grab a few bags and stash them in the freezer for later. 
Dried cranberries, however, are a different story. Available year-round, you can find them pretty much anywhere these days. But if you end up with too much on your hands: yes, you can absolutely freeze them! Pro tip: to stop the cranberries from freezing together in a big clump, spread them out on a baking tray and allow them to fully freeze. It should take around 45 minutes. Later, just pop them into a resealable bag and voilà! When stored correctly and kept in an airtight container, dried cranberries can last for up to a year in the freezer. 
Can dogs eat dried cranberries? 
Cranberries are safe to feed to dogs in small quantities. They are also a good source of antioxidants and are high in quercetin, a plant pigment that can help boost your dog's immune system, among other benefits. But keep in mind that dried cranberries often have some sugar in them, so moderation is important when feeding them to dogs. Think of them as occasional treats!  
Can squirrels eat dried cranberries?
Technically, cranberries are safe for squirrels. Nevertheless, a high amount of sugar is not good for them. So while the extra carbohydrate is welcome to the little guys, be mindful not to give them too many. 
Fun facts about cranberries
Back in the day, the Pilgrims gave cranberries the name "crane berry". Supposedly, its pink blossom reminded them of the head of a crane, a large wading bird. Over the years the name has been shortened to cranberry.

American Revolutionary War veteran Henry Hall was the first to cultivate cranberries in Cape Cod around 1816. A few years later, he was shipping cranberries to New York City and Boston to be sent to Europe.

Fresh cranberries are nearly 90% water, but the rest is mostly carbs and fiber.

Fresh cranberries have one season only. You guessed it: fall. They are harvested from late September until early November. 

Due to their very sharp and sour taste, cranberries are rarely eaten raw.

Cranberries are good for your teeth! They contain  natural flavonoids that can help prevent the growth of plaque, bacteria and gum disease.

Some berries are not true berries! That's the case for raspberries, blackberries, and strawberries, for example. They are aggregate fruits—fruits that consist of a number of smaller fruits. Cranberries and blueberries, however, are true botanical berries.

Technically, the American cranberry is neither bush nor tree. They are classified as an evergreen vine, with short, woody stems that creep along the ground. 

Cranberries are a member of the heather family and related to blueberries, bilberries, and lingonberries.

The most commonly grown species is the North American cranberry (Vaccinium macrocarpon), but other types are found in nature.
Try these too 
If you love cranberries and raisins, why not venture out into the world of less familiar dried fruits? Take a look at our diced apples, sweetened banana chips, medjool dates, crystalized ginger, and dried kiwis. There are numerous ways you can use these to add flair to your daily cooking. Happy snacking!