Shake Up Your Dates: Create Fun Recipes With Dates | L'Orenta Nuts
Did you know you can use dates as a natural sweetener for your drinks? Dates aren't just healthy fruits to snack on; you could make a lot of fun recipes with them. You could create delicious recipes like bread, cookies, muffins, shakes, appetizers, and more with dates. So, if you'd like to ditch refined sugar but still create delightful smoothies, here's how to shake up your dates.
Date Shake And Smoothie Recipes You'll Love. Create Fun Recipes With Dates
Here are some delightful date shakes and smoothie recipes you can easily recreate at home:
First, soak about a half cup of chopped dates in warm water. The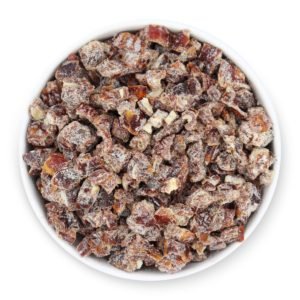 water should be small, just enough to make them chewy and easily blendable. 
After that, strain the water and add the dates to your blender. Then, add bananas to your chopped dates; you can use frozen or fresh bananas. 
Next, add 1/2 cup of vanilla ice cream or plain yogurt. Then, like any other milkshake, you need to add 1-2 cups of ice cubes. If you'd like to add flavor to your shake, add a pinch of powder cinnamon or nutmeg.
Finally, blend the mixture till it's smooth. You should have a creamy and light brown shake. Another thing you should know about date shakes is that it's pretty thick, so instead of sipping it, you might want to go in with a spoon.
Shake it up with Cocoa Date Smoothie
First, add 1/2 cup of soft chopped dates into your blender. Then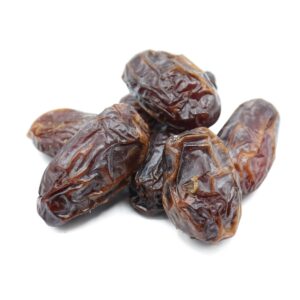 add one large frozen banana 1/2 cup of Greek yogurt.
Next, add three tablespoons of cocoa powder and coconut or almond milk.
After that, add peanut butter if you'd love to have the unique taste and add a little thickness to your Smoothie. You can also add chia seed if you like the flavor.
Lastly, blend everything till it's smooth. You should have a deep brown smoothie.
Chocolate Banana Smoothie
First, add a half cup of Greek yogurt or plain unsweetened yogurt. Then add a cup of regular milk or alternative milk, preferably almond or coconut milk. 
Next, add a bar of frozen dark chocolate or one tablespoon of cocoa powder. Then add one small banana along with a half cup of dates.
Finally, add a cup of ice cubes and blend.
If you prefer green smoothies, here's a recipe you'll love:
Start by peeling a large avocado, divide it in half, then slice the half into the blender. Continue by adding a half cup of freshly squeezed orange. 
After that, add a half cup of soft chopped dates with a half cup of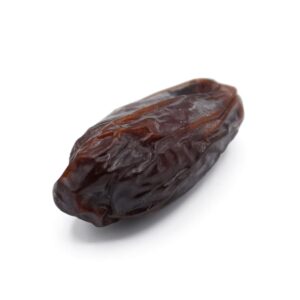 milk (any type) with spinach. You can also add ground ginger for the spicy taste and flavor.
Finally, blend everything, you'll have a delicious green smoothie.
Dairy-Free Banana Date Shake
You don't have to miss out on date shakes goodness because you're lactose intolerant. Shake up your dates with this dairy-free recipe. It's the same as regular date shakes, but instead of ice cream or yogurt, you'll use alternative milk. 
You can use alternative milk like almond milk, soy milk, or tiger nut milk. For flavoring, add vanilla extract with a pinch of cinnamon or nutmeg. You can't add as many ice cubes to this shake as you would with the regular date shake. Using fewer ice cubes helps retain the shake's sweetness and thickness.
Do Dates contain sugar?
Dates are so sweet that and fun to create recipes with.  You'll wonder if they're healthy to eat, especially if you're trying to reduce your sugar intake. Yes, dates contain sugar, but it is high in fructose, a natural sugar that is healthy to consume. Therefore, dates are a better option than refined sugar. Refined Sugar has numerous adverse effects on your health, including tooth decay and an increased risk of Diabetes 2 if you are predisposed to it.
How Long Do Dates Last?
Dates are excellent dried fruit; you can store them for as long as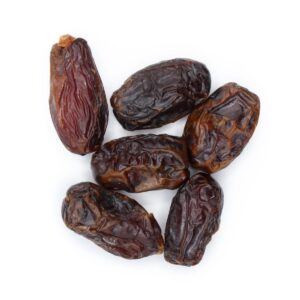 six months. On the other hand, fresh dates will only last a week if stored in a cool, dry place. So, if you want to buy dates in bulk and keep them for a long time, you'll have to store them in your freezer.
Also, fresh dates are difficult to come by unless you grow them yourself, and a fun fact about dates is that drier dates are way sweeter than fresh dates. So, dried dates are your best option for creating yummy recipes.  Shop for dried dates here.
The Bottom Line
Dates allow you to have the best of both worlds by avoiding unhealthy sugar while still satisfying your sweet tooth. You can store dates for as long as six months and they will still retain their nutritional value and sweetness. Also, you can shake up your dates by using them to create refreshing shakes and smoothies.