Party Up With These Unique Snacks | L'Orenta Nuts
To organize a great party, there are a few elements to take into consideration: the theme, the decoration, the lights, the accessories, the music … and the food! People will always remember the food they enjoyed at a party, or that they hated! 
No matter if you prefer to have a three meal course or a cold buffet, you will always need snacks! 
We love to create unique recipes to make you and your guests happy. With the following treats, you will see your loved ones leave with a smile on their face.
What kind of snacks can I offer at my party? 
Why not offer your guests at a garden party some delicious toasted corn? The whole corn kernels are soaked in water then roasted and salted to create a crunchy snack. This is perfect to eat while chatting in the garden with some vegetable sticks. Because they can be transported in small packaging, toasted corn is a great option to fight cravings if you organize a party … or if a friend asks you to come up to their party and bring a little something!
Corn in itself is a healthy option! Rich in vitamin C, this antioxidant acts as a cell protector against diseases like cancer. There are several types of corn but the yellow one is a source of carotenoids, incredible for eye health. It also contains vitamins B, E, K and minerals such as magnesium and potassium.  
Get the perfect size bag for your party (1 lb, 5 lb, 10 lb, and 25 lb available)!
Fun Party Snacks
In order to keep your nuts tasty and crunchy, keep them in the fridge or freezer (away from onions and other strong-smelling foods).  Choose containers with air-tight seals, a glass jar or plastic containers to maintain proper moisture levels. Once you take them out of the fridge, let them warm up to room temperature before opening the bag. 
If you organize a birthday party with guests that are chocolate lovers, the chocolate trailmix is a must. In this amazing mix you get banana chips, roasted and salted almonds, seedless raisins, L'Orenta chocolate gems and roasted and salted peanuts. You will get a level of energy to dance all night long. It is also a great snack to choose if you have a game night during which the participants will have to do physical activities (like a scavenger hunt in the house and the garden). 
Peanuts are a source of plant-based protein, fiber, vitamins and minerals. Dried fruit has similar amounts of nutrients as the fresh fruit, with the additional crunch! They also bring fiber and antioxidants like polyphenols (for a better digestion). Almonds are also a great source of antioxidants with vitamin E and natural fat. 
Keep this snack in an air-tight container in a dry and cool place away from light but do not put it in the fridge (the chocolate can absorb other odors and look funny). Enjoy without moderation! 
For a special anniversary with your love bird, we recommend you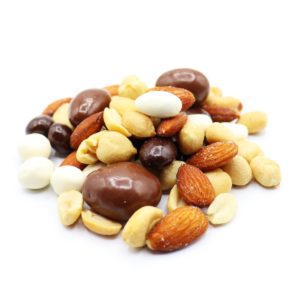 the espresso expression. It is the perfect dessert after a beautiful meal, a real gourmet snack! In this pack, taste the incredible mix of dark chocolate coffee beans, milk chocolate almonds, yogurt covered raisins, roasted and salted peanuts and roasted and salted almonds! Will you grab a handful of all of them, or pick your favorite pieces? 
The chocolate is a great immune booster, the almonds get you protein and healthy fats and the dried fruits additional fibers. 
Like the chocolate trail mix, keep this snack in an air-tight container in a cool place, away from any source of light. 
We love to watch movies, and even more, doing so with the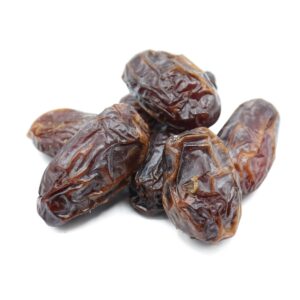 perfect snack on the couch. Popcorn or pretzels are great salty treats for some of us, but most of us are sweet toothed. That's why we love our medjool dates recipe. Peanut free, gluten free, wheat free and dairy free, you will see that they are huge in size and taste! The natural flavor is so intense that we don't need to add sugars to it. Filled with potassium, they melt in your mouth and will be the best companion during your movie night. 
You can store them in a dry place or simply in the fridge, where they can last up to six months. 
We kept the best for the end! For all the board game lovers, we created the jelly belly BeanBoozled fiery five box! We felt it was necessary to bring some fire to the usual night games with these spicy beans, going from mild to blazing hot. Try them all and let us know which one was your favorite between jalapeño, habanero, sriracha, cayenne and carolina reaper. Test your friends and see who has the strongest resistance, fun and laughter guaranteed! 
Keep the box stored in dry conditions away from the heat.