History of the Jelly Belly
®
Jelly Bean | L'Orenta Nuts & Goodies
You love jelly beans, finding them in all kinds of places. They beckon you because they're cute and colorful. Of course, it's also impossible to eat just one. Instead, you probably like to savor a handful of those shiny, sweet Jelly Belly jelly beans. They sure are the crown prince of candy, or, maybe they're more like a rock star! 
Who Invented Jelly Belly
®
Jelly Beans?
The jelly bean story precedes that of Jelly Belly jelly beans. Way back in the 1800s an unknown American candy maker created jelly beans. Around the same time the Goelitz Confectionery Company of Cincinnati started cranking out candy corn. 
When Was Jelly Belly
®
Founded?
Many years later, a new and improved jelly bean came along in 1976. David Klein is the savvy fellow who reformulated jelly beans into the Jelly Belly options we now know and love. He managed this by infusing flavor through the center, just like on the crispy outer shell.
Besides that, he created a new story for jelly beans. First, he came up with new flavors, the kind that spark your taste buds along with your imagination. Next, he started calling his treats Jelly Belly in honor of Lead Belly, a great folk and blues musician.
The Jelly Belly jelly bean grew in fame and acclaim when a Florida newspaper referred to Klein as "Mr. Jelly Belly." The rest is history. Then again, there's more to this story than meets the eye. You'll learn that's true when you buy a bag of L'Orenta 49 Flavor Jelly Belly jelly beans, or one of our many other choices. 
Mr. Jelly Belly
®
Makes a Deal
Mr. Jelly Belly continued to gain notoriety with his humorous publicity stunts. At that point, the Goelitz Company sure took notice because the Jelly Belly was competing with their Mini Jelly Beans. At that point, they bought out Klein's Jelly Belly brand for a sweet close to $5 million! Each company continued to make for a few years, until Klein had to stop because of the purchase agreement for his brand. Goelitz kept those Jelly Belly beans rolling, just as you'll read about shortly.   
Ronald Reagan and the Jelly Belly
®
Rise in Popularity
Ronald Reagan became a big part of the Jelly Belly story before becoming President. He smoked and used the tasty, mouth-occupying beans to quit. Well, quitting took a while, so Jelly Belly sent monthly shipments to the California governor's mansion. Reagan now had plenty of flavors that helped him to break his habit. 
After a while, he was running another campaign! This time Reagan won the U.S. Presidency. His inauguration featured him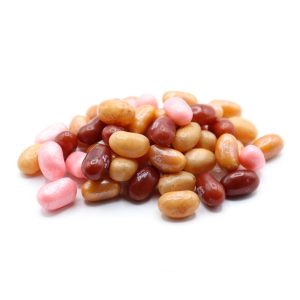 in a sparkling portrait with thousands of Jelly Belly jelly beans. He was right up front and backed by the red, white, and blue! The Goelitz company created blueberry Jelly Belly beans for the portrait's blue sections. Other Jelly Belly tidbits from the Reagan era are:
The president's favorite flavor was licorice.

Over three tons of Jelly Belly jelly beans went to D.C. for the 1981 inauguration!

The government okayed Reagan's request to have a Jelly Belly jar designed with the

Presidential Seal

. He gave these gifts to various dignitaries and leaders.

President Reagan sent Jelly Belly jelly beans to the astronauts on the 1983

Challenger

mission. 

Company sales doubled due to Reagan's love of Jelly Belly jelly beans.
What Company Owns Jelly Belly
®
Today?
Today's company is Jelly Belly. This came about as a 2001 merger of two Goelitz family companies. With one located in California and the other near Chicago the new Jelly Belly Company increased its profile and sales.
How Many Jelly Belly
®
Factories are There?
There are three facilities making Jelly Belly jelly beans and the company's other confections. You'll find them in:
Fairfield, California, about 47 miles northeast of San Francisco

North Chicago, quite close to Lake Michigan

Rayong, Thailand, an hour north of the Gulf of Thailand

The

Pleasant Prairie Wisconsin

Jelly Belly factory operated for 20 years before it closed in August 2020. Employees had the option to transfer to the factory in North Chicago.
Take a Jelly Belly® Tour!
Are you a tried and true Jelly Belly fan? If so, add this to your list of places to visit in California:
1 Jelly Belly Lane, Fairfield, California is open for

self-guided tours

.

There's a small fee for this ADA accessible facility.

Right now you can watch the video about making Jelly Belly jelly beans.

Take pictures while you're there.

Hopefully you'll get some samples too! 
How Many Flavors of Jelly Belly® Jelly Beans Can I Buy at L'Orenta?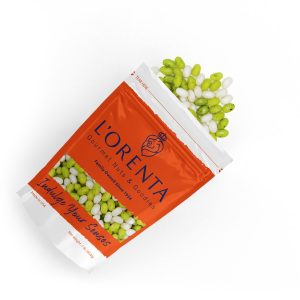 L'Orenta Gourmet Nuts & Goodies carries 50+ flavors of Jelly Belly jelly beans. That's one flavor for each state! Added to that, you're sure to find a flavor for each of your relatives, friends, colleagues, teammates, and community fundraisers!
Now's the Time to Stop  and Shop for Jelly Belly® Jelly Beans at L'Orenta!