Dig into Tropical Dried Fruits | L'Orenta Nuts
Are you looking for a snack for your mid-afternoon craving? Tropical dried fruits are a great option for a healthy snack! You can have a handful of them with a cup of tea while you work or take a break. Dig into tropical dried fruits. 
What is amazing about dried fruits is that you can create a lot of different recipes with them! You can choose to mix several tropical dried fruits such as mangos and pineapples, but also pick one fruit and add it to your yogurt, an açaï bowl, or your smoothie. 
If you are into red fruits, consider dried strawberries in greek yogurt, it tastes amazing!
Besides their amazing taste and the diversity of recipes they offer, dried fruits are also very good for our health! 
Due to the drying process, they contain a high level of

micronutrients. So even if you eat a small hand of dried fruits, it will bring you a lot of potassium, magnesium, and many more. 

Eaten in good proportion, they can also help diabetes prevention: the antioxidants improve the response to insulin and prevent the inflammation and stress inside the pancreas.

They are considered superfoods because they help the overall digestive health with potassium and fivers. They are natural laxatives and are very beneficial to people suffering from constipation. A healthy gut will also reduce bloating. 

Iron, vitamins A, and C assist the body's immune system by fighting infections and improving healthy skin. 

The high antioxidants levels also reduce anxiety and depression by increasing melatonin and serotonin secretions. The

goji berries

are well known for this "happy effect".

Medjool dates

are amazing for pregnant women! They can facilitate the labor and the delivery of the baby (with cervix dilatation). Pregnant women have to watch their sugar intake do not develop gestational diabetes, but dates provide all the antioxidants necessary without too high sugar levels. 

Some dried fruits can help with weight loss because they fill the stomach for hours and stop you from frenetic unhealthy snacking.

Dried apricots

for example can really help a metabolism boost and increase your energy level. 

They can reduce the risks of osteoporosis, in particular amongst women. Dried prunes prolong the bone's health and reduce the breakdown.  

Even your heart will benefit from them because of their antioxidants, such as dried cranberries preventing blood clots.  

They should also be part of your diet to help you take care of your skin.

Mangos

are one of the best tropical dried fruits for the skin due to their high concentration of Omega 3 and fatty nutrients. 

Potassium is a great ingredient preventing hypertension and palpitation and iron reduces the manifestation of anemia. If you are a vegan or pregnant woman, add raisins, apricots, or prunes to your diet.

In addition to a morale boost, red dried fruits such as strawberries and blueberries improve mental health and fight early signs of memory loss. 
Tropical dried fruits are also very practical: you don't have to eat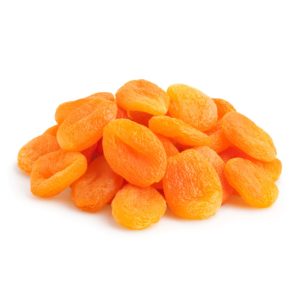 them quickly after buying them, you don't have to peel and cut them, keep them fresh, and clean the mess you made in the kitchen. As long as they are conserved in a box or closed package, you can keep them for weeks and it is super easy to carry them around with you. You don't have any excuses now to miss out on your fruits portions of the day! 
Have you thought about that? When you prepare your lunch box and snacks for school or work, have a little zipper with your favorite dried fruits and you can leave one in the car, the school locker, or your desk drawer. 
Prepared for healthy snacks anytime! 
Keep in mind that even though dried fruits are healthier than an industrial snack with added processed sugar, they do contain a high percentage of sugar. So of course, dried fruits are the best option, but be careful with your portion and eat them in moderation!
Avoid at all costs candied dried fruits because they contain too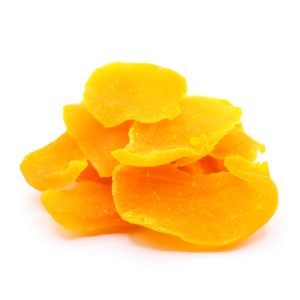 much sugar. If you like to cook, you can also make your dried fruits yourself with a machine! Enjoy the time in your kitchen with some music and save money! Not only it is fun but it is also a great way to control the ingredients of your recipe. 
If you like to purchase dried fruits mixes, make sure that there is no ingredient you are allergic to in the package! 
We are glad we have been able to share with you all the benefits of eating dried fruits! Let your imagination create colorful and tasty recipes to enjoy your diet and share good times with friends and family.
Tell us now, which tropical dried fruit is your favorite? We really love the mango chile to snack while watching our favorite Netflix show.