7 Road Snacks That Rock | L'Orenta Nuts
Whether you are taking a 30 minute drive, or a 4 hour long road trip, snacks are essential for all drives.They keep you energized, satisfy cravings, and give you something to focus on when you are stuck in a car for a while. Though all snacks are great, choosing ones that are especially yummy, and simple to eat, will help you get through the trip even easier. Which is why we have rounded up 7 road snacks that rock! 
Jelly Belly Buttered Popcorn
Buttered popcorn is a classically popular flavor, and tastes just as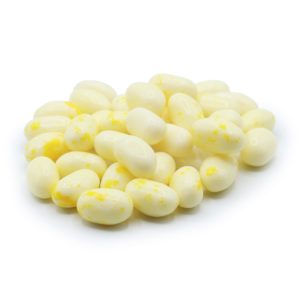 good when turned into a bite-sized candy. These Jelly Belly Buttered Popcorn jelly beans are a perfect replica of movie theater popcorn. As a result, you can have a cinema experience anywhere, so why not try them out in your car?
Not only are these tasty, but they are extremely shareable! Everyone can enjoy a handful while you jam out to tunes, or play a game of I Spy in the middle of nowhere. 
Nutritional Information
One serving of these little beans is only 110 calories. Additionally, they contain 0 fat, so you can enjoy these guilt-free! Even more reason to share them, right?
Fruity Tooty Mix
If just one flavor isn't enough for your tastebuds, have no fear! The Fruity Tooty Mix is not only packed full of vitamins and minerals, but is delicious as well. This mix contains:
Diced pineapples

Sweetened banana chips

Dried kiwi

Diced mango

Dried Pears
There is a little bit of everything in this mix, giving you a broad selection of sweet flavors.
Nutritional Information
A single serving of this fruity blend is only 166 calories. Furthermore, it has plenty of vitamins that are essential to keeping your body awake and thriving! These vitamins are:
Vitamin C

Vitamin A

Potassium

Vitamin K
These nutrients, paired with the natural antioxidants found in these fruits, will be satisfying and leave you feeling better than before.
Yogurt Covered Pretzels
For all lovers of sweet and salty snacks, these Yogurt Covered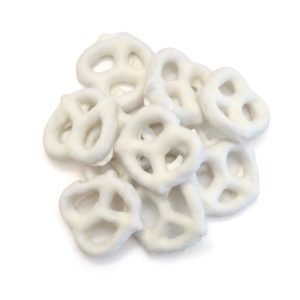 Pretzels have you covered. These are perfect for easy munching, and even work when thrown into mixes! Try adding them to:
Trail Mix

Dry cereal

Granola
They can add a much needed crunch, and a tad of sweetness, to anything. Equally as important, they make the perfect treat for any sweet-toothed kids along for the ride! Nobody loves a road snack that rocks more than a hungry little kid.
Nutritional Information
A serving of this classic snack comes to 140 calories. Not only is it low calorie, it is low fat, and even contains some minerals to help give you a boost:
Make sure the next drive you go on, you have a bag of these stashed away for enjoyment.
Sour Neon Worms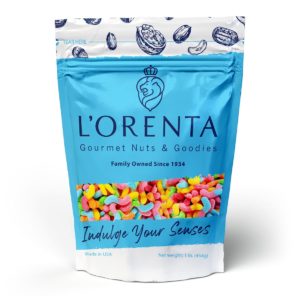 We have tackled some sweet options, so it's only fair that a sour treat gets the next shout out. What better to feature than the classic Sour Neon Worms? Gummy treats are a great choice for all road trips, and are something everyone is sure to enjoy. 
For some extra fun ways to consume these sour treats, try throwing some in:
These are colorful and fun in any drink. Whether it's soda, juice, or even water, these are sure to excite anyone who catches a glimpse!
Pack some pudding cups and cookies in your car cooler, and toss some of these in to make a playful treat.
Make some jello beforehand, or grab some jello cups before you leave. Regardless of how the jello is obtained, gummy worms look incredibly fun when added in.
Nutritional Information
These gummy snacks are fat free, and 150 calories per serving. They provide 4% of your daily protein, too! This makes them a perfectly justifiable snack for a road trip.
Assorted Fruit Slices
These nostalgic Assorted Fruit Slices are sure to bring a smile, and great memories, every bite. They are easy to eat, and are just as tasty as they look! Grab a bag before you leave for your trip, and have fun trying to guess the flavors with everyone in your car. Kids love them, and so do adults!
Nutritional Information
Each serving of these classic candies comes out to 140 calories. Moreover they are fat-free, and even come with 2g of protein. (4% of your daily value!)
Have some fun sharing these colorful, gluten-free, treats; or hoard the bag for yourself! We don't judge, we just hope you enjoy them.
Butter Toffee Cashews
A treat for adults, and children, Butter Toffee Cashews will tackle the sweet and savory craving you gained after a long drive. Not only are these tasty, but they are hearty! This means after a few handfuls you will be left feeling satisfied and full.
Crunchy and sweet, these are made by taking whole cashews and coating them with a buttery toffee shell. As enjoyable as they are by themselves, they are tasty when added to other treats too! Try dumping a few in:
Nutritional Information
40 grams of this snack is only 200 calories. Above all, cashews are loaded with essential vitamins. So, not only do you get to enjoy a sweet bite, but you fill your body with:
Treat yourself, and your body! On a long drive you will definitely need it.
Caramel Stroopwafels
What better way to end 7 road snacks that rock than with an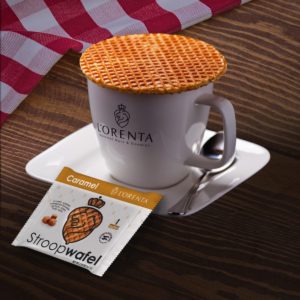 internationally loved snack? Caramel Stroopwafels are a dutch classic; though, anyone can enjoy them! A stroopwafel is two crispy waffle cookies, combined together with a layer of sweet caramel. Grab yourself a bag and pass them around the car, giving everyone a sweet taste of caramel made by dutch bakers. 
Nutritional Information
1 cookie comes to a total of 150 calories. Both low calorie, and low fat, these are practically irresistible. In fact, they are impossible to avoid when they also have plenty of nutrition benefits! Each cookie has:
Protein

Calcium

Iron

Potassium
Enjoy a guilt free and delicious snack, making any road trip immediately more bearable. All road snacks are good road snacks, but we hope we were able to give you some good treat options to try on your next drive!