6 Grab-and-Go Snacks For The Beach | L'Orenta Nuts
The beach is the perfect place for snacking; though, the lack of tables makes it essential that you have grab-and-go snacks to make it easy! Fear not, we have 6 grab-and-go snacks for the beach that we want to share with you, so you can share with the people around you. (or the people you go to the beach with)
Sour Watermelon Slices
Watermelon itself is a classic summer treat enjoyed by many.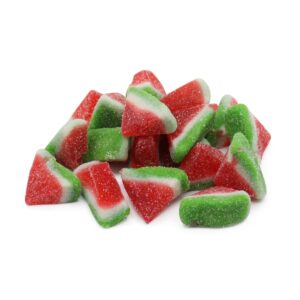 How could it get any better than that? Turning it into a sweet candy, of course. These Sour Watermelon Slices are refreshingly sweet and fruity, and incredibly soft. They are bite-sized, making it even easier to snack on while you are laying in the sun. 
Eat these plain, or try adding them to other snacks you brought to the beach with you! They look especially tasty when added to:
Any juices or sodas you bring with you compliment these perfectly. They add a cute summer look, while adding sweet watermelon flavor into the liquid. At the end of your drink you get to enjoy the gummy, too!
Mix it in beforehand, or slap them on top. Either way these candies can enhance the flavor and look of jello!
Make them at home, then bring them with you to help cool off! Not only do they look adorable, but they are so refreshing on a hot day.
Trail Mix
Trail Mix is one of the most popular snacks to go with activities,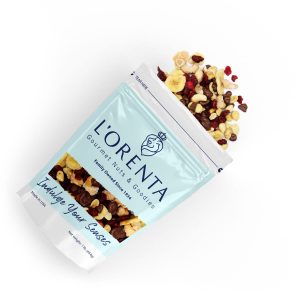 because not only is it easy, but there's variety! It is such a customizable snack in the sense that you get to find a mix that is perfect for you.
For a hot and activity filled beach day, we have some recommendations:
This mix is a combination of white chocolate coconut almonds, diced pineapples, yogurt covered raisins, roasted and salted peanuts, and milk chocolate cherries. This means you get the best of both worlds in the sweet and savory department.
Enjoy a blend of banana chips, milk chocolate coated banana chips, butter toffee cashews, dried cranberries, and roasted and salted peanuts. This mix is just as shareable as it is tasty
Holiday flavors are just as tasty year round, which is why we suggest this mix of bananas, raisins, roasted and salted peanuts, sunflower seeds, and candy corn! You can't go wrong with this one.
We have special grab-and-go snacks that are perfect for the beach.
Salted Caramel Pretzel Bites
Sweet and salty is a tasty combination, and these Salted Caramel Pretzel Bites prove that. With a pretzel base, and a salted caramel candy shell, you will be addicted to these in no time. Mix them in with your favorite trail mix, or enjoy them by the handful; either way these won't last long once you get a taste.
One serving size of these tasty bites is only 420 calories, giving benefits such as:
Protein

Calcium

Potassium
Not only are these delicious, but they are filling, too! Pack these on your next trip to the beach and you will feel full and satisfied in no time; leaving you extra time to go play some volleyball.
Roasted and Salted Nuts
If you are a fan of roasted and salted nuts, you know that they are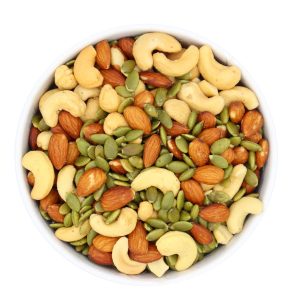 the perfect fast snack. They work for any occasion, and the beach is no exception! They are to pack, even easier to eat, and easy to share, making them a top choice for anyone on the go.
Next time you head to the beach grab your favorite, or try some of our favorite mixed  recommendations:
This blend is made up of roasted and salted cashews, wasabi peas, and roasted and salted pumpkin seeds. This is a great choice if you enjoy a bit of heat!
This contains the classics: cashews, almonds, and peanuts. All of the above are roasted and salted, and definitely packed full of nutrients.
If you take beach day sports seriously, or even as a challenge, we suggest this mix to help energize you! This blend is made up of: cashews, almonds, pumpkin seeds, sunflower seeds, peanuts with skin, and peanuts with no skin. Just like the last blend all of these components are salted and roasted, giving maximum flavor! 
Mango Chile
Sweet and spicy is another flavor combination that is sure to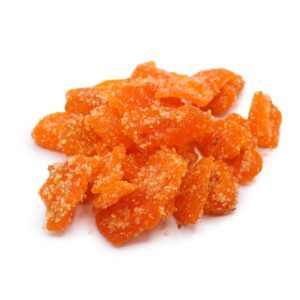 satisfy your beach day cravings. Mango accounts for half of the tropical fruit produced world-wide, so it's safe to say it is a fan favorite. It makes sense when you consider just how versatile Mango Chile is!
Though these are perfect on their own, they are a simple way to add extra flavor and some kick to other dishes you can bring to the beach as well. Next time you get ahold of these try adding them to:
Salad

Smoothies

Fruit salad

Cake
Snacks that can be used in both sweet and savory dishes are great, and these fit that description exactly.
Diced Pineapple
Not only is diced pineapple delicious, but it is incredibly good for you! These sweetened and dried snacks are fat free, but loaded with fantastic vitamins and minerals like:
Calcium

Vitamin D

Vitamin C

Potassium
These are the perfect size for easy snacking, and can be thrown into nearly any other snack you brought with you! Add them to:
Pineapples are a popular fruit that will be just as popular in your tummy and mouth. Enjoy the benefits that come along with the sweet taste, and share a handful with your friends at the beach.
Stay Refreshed Conveniently
The beach can wear you out, with the endless activities, and the hot sun pouring down on you. It is important to not only stay hydrated, but stay full with 6 easy grab-and-go snacks for the beach.