5 Bulk Trail Mixes | L'Orenta Nuts
Trail mixes are a great source of nutrients to help you go through your busy day, or enjoy the maximum out of your road trip adventure. Here are 5 bulk trail mixes that are great for your next event, occasion or to stock your pantry. 
We created different recipes so that you will never get bored with your food. A portion of trail mix can be different every day and adapted to your planned activities. Our trail mixes are all made in-house so that we can ensure the freshness of the product. 
We created balanced recipes with the exact same quantity of each product inside a bulk. Do not worry, your trail mix won't taste too nutty or too salty. 
So, let's discover together what would be the best trail mix bulk for you and your gathering. 
What is the best snack mix for everyday life? 
Our Southern sweet mix provides you with the perfect combination of crunchy products with a great flavor. 
This trail mix has banana chips, butter toffee almonds and cashews, roasted and salted peanut and almonds! 
You can typically have a bite of this one watching a movie at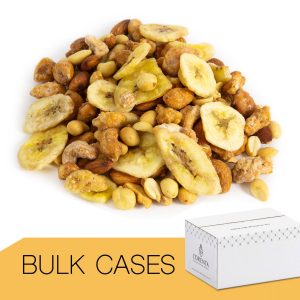 night, or just during the day to fight the craving before your next meal. Because of its rich and savory ingredients, this is also the perfect choice to have in your lunch bag for dessert! 
This is one of our customer's favorite, kids and grown-ups really love this taste. 
If you have a dinner party, also consider this mix, serve it in a bowl and hand it to your guests, they will not be disappointed. 
I am on a diet, which trail mix should I choose?
In this case, we would definitely recommend you the Keto mix (it is not only for people on a keto diet). We know how hard it is to keep a diet on track, that is why we offer a wide range of options for snacks and healthy treats. We are perfectly aware of the challenges that come with a keto diet: there are many limitations on the foods that you can eat. Most people feel really hungry all the time and it is hard not to give up. 
To help you to keep it simple, efficient, not hungry, and full of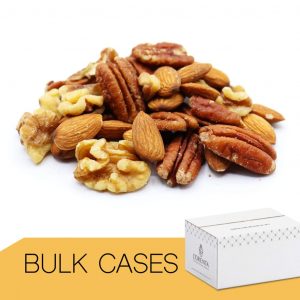 energy this mix will be your life savior. It has a great nut mix with almonds, walnuts, and pecans, full of healthy fats, vitamins, and fibers. These ingredients will help you fight any craving with healthy fat and plant protein but also help reduce the body's inflammation and the bacteria elimination of the body. 
These ingredients can only make you happy! On top of these health benefits, know that this trail mix is vegan, soy-free, wheat-free, gluten-free, dairy free and does not contain any preservatives. What else could you ask for? 
Do you have a trail mix specifically for outdoor activities? 
Of course, we do! We know how our customers love to go biking, hiking, swimming, and being outside for a lot of outdoor adventures. For a great trip, you need to be fully rested, hydrated and to have nutritious dense food to keep you going all day … several days! 
This is why we created a potent energy boost trail mix with roasted and salted cashews, natural pecan halves, diced mangos and pineapples, and seedless raisins. Get your energy level to the sky and enjoy your adventure nonstop. Pack your portions in your releasable bags and grab a handful every time you need it. 
How should I choose the perfect trail mix for my event?
There is one answer to make all your guests happy: be prepared to serve people's favorites foods. We have options for the crowd who preferred the salty treats, and the one that prefers the sweet ones. 
When you have a team-building day with all your managers, invite them over to the Deluxe house mix! They will get the perfect balance between salt and savor with this selection of mixed nuts: roasted and salted cashews, almonds, pumpkin seeds, and peanuts with a welcome dash of hazelnut filberts. 
Are you planning a last-minute barbecue and don't have any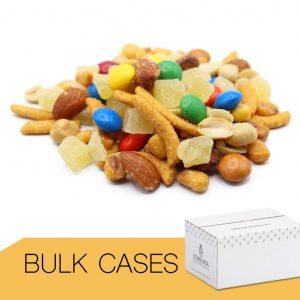 dessert? No problem, your guests will love the Adventure trail mix: roasted and salted almonds, cajun sticks, diced pineapples, roasted and salted peanuts … and L'Orenta chocolate gems! We have a big supply for large crowds, so don't worry about not having enough!
We make your life easier and with extra good taste!