4 Tasty Ways To Celebrate National Pecan Month | L'Orenta Nuts
April is known for many things: April Fool's Day, the coming of spring, and especially Easter. However, April also happens to be National Pecan Month. A whole month to celebrate and enjoy all forms of pecans!
 Pecans are an easy, deliciously healthy, snack that people of all ages can enjoy. Modern times have taken this simple nut and turned it into a treat that comes in an infinite amount of flavors. Before we dive into some examples of these tasty nuts, let's discuss why pecans are a great option in the first place.
What are some of the health benefits that pecans provide?
Pecans are a fantastic source of many vitamins our bodies need to survive! Vitamins such as: calcium, potassium, iron, zinc, and vitamin A.

Many of the vitamins found in pecans can help lower blood pressure.

The healthy fats found in this super-food can even lower the risk of heart disease!

The anti-inflammatory properties can even help with long term complications like arthritis.
Now to dive into the fun part: the 4 tastiest ways you can celebrate National Pecan Month!
Starting with a classic we have halved pecans! These are a fantastic base for any sort of snacking you have in mind. Some good examples would be:
Salads

A DIY trail mix

Chicken salad

Pastas

A cheese platter
With dozens of ways to use halved pecans, the sky's the limit!
One of the yummiest ways to enjoy pecans is by adding cinnamon! Cinnamon compliments the nut, making it a sweet dessert you can enjoy even on the go. Not only can you eat these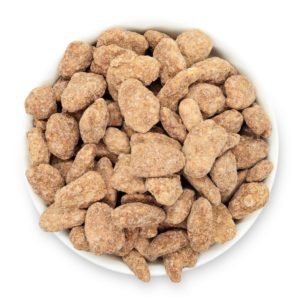 as is, but like plain pecans, they can be added to many bases to create wonderful new flavors. Next time you get ahold of some cinnamon pecans try adding them to:
Fruit salad

Yogurt

Cakes

Muffins
If you are a lover of all things cinnamon (not to mention the added benefits that cinnamon brings) be sure to give these a try
Another way to celebrate national pecan month is with our honey toasted pecans are to die for. Honey itself is delicious, and packed full of immune boosting nutrients; but when combined with pecans? A tasty, and vitamin loaded treat. Enjoy these by themselves, or added to other treats like:
Pancakes or waffles

Pie

Cookies

Granola
Use these to enhance the flavor of, and sweeten up, nearly anything you can think of!
Finishing off, I present one of the most unique flavors to try! Gingerbread Toffee Mixed Nuts. Gingerbread is a warm flavor that can be enjoyed year round, and it pairs especially well with any sort of nut.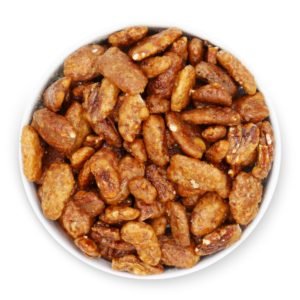 This mix features pecans (of course), cashews and almonds. These make the perfect gift for any loved one, or a fantastic gift for yourself! Try tossing a handful of these into your:
Cereal

Homemade nut butter

Ice cream

Oatmeal
Gingerbread is a classic holiday flavor that can make any day feel festive. Just give these a try and find out!
Make this April the most memorable National Pecan Month by giving these four options a try. Share with friends, family, or hoard them for yourself- we don't judge. We simply hope you enjoy.