So, the weather is perfect for hanging out with your friends at the beach, but you don't know the best beach snacks to take? You need to know the right snacks for the beach because they set the mood right for that beach hangout or party. This article aims to enlighten you on 4 healthy beach snacks. Keep reading!
4 Healthy Beach Snacks
This compilation of snacks will make your time at the beach rock even more. You need at least one of these snacks for a great time there, and thus, you will need to follow up on the list to know each of these snacks.
1.
L'Orenta's Roasted & Salted Sunflower Seeds
A taste of this snack is sure to leave you wanting more. It is a staff's favorite hearty snack that contains no wheat, soy, gluten, and dairy packaged in a resealable bag. Its heartiness means it is a good fit for your heart, and they are an excellent choice for vegans because of the ingredients used in making the snack.
You can add this snack to your salad as a crunchy topping or trail mix. The sunflower seeds have salt and several beneficial nutrients such as vitamins, fats, and minerals. You can eat the sunflower seeds with a smoothie or multi-grain bread to provide more vitamin E and protein. These nutrients make you stronger and build a solid resistance to heart problems.
These seeds are from a first-class American farm, and their salty crunch makes them more enjoyable. They contain nutrition bars, and you can eat them from the bag. L'Orenta's Roasted & Salted Sunflower Seeds contains beneficial plant compounds, antioxidants, and minerals. Its nutrients reduce the risk of contracting health problems like type 2 diabetes, heart disease, or other severe health conditions.
They are available in multiple sizes so that you can make your single or bulk order here.
2.
L'Orenta's South Texas Heat
When shopping for beach snacks, ensure to include this snack on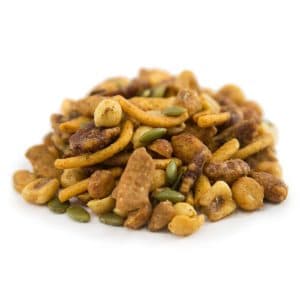 the list because it has the highly delicious taste to make your time at the beach exciting. L'Orenta's South Texas Heat is a L'Orenta exclusive bestseller coated snack that is spicy and sweet. It is one of the healthy beach snacks sure to give you a happy time.
They are packaged in a resealable bag and are popularly known as the staff's favorite. With this snack mix, you can give your taste buds a treat without going to the south. It creates a beautiful parity of heat, sweet, and salty with honey toasted peanuts, large pecan halves, toasted corn, butter toasted peanuts, and pumpkin seeds.
The high-quality ingredients used in making this snack are essentially the reason for its perfect taste that gives you ultimate satisfaction. Aside from being one of the best beach snacks, you can eat them when having a big adventure or watching movies alone or with friends. Whether indoors or outdoors, they are a good choice because they bring satisfaction.
There is a careful balance of the nuts and raisins, thereby creating a booster in your performance because the nuts give lasting sustenance, which improves endurance. After consuming the fruit, you get instant energy.
You can buy them in bulk as they are in different sizes – in 1 lb., 5 lb., 10 lb., and 25 lb. Make your order here.
3.
L'Orenta's Very Berry Mix Healthy Snack
You can trust this hearty snack if you need a L'Orenta exclusive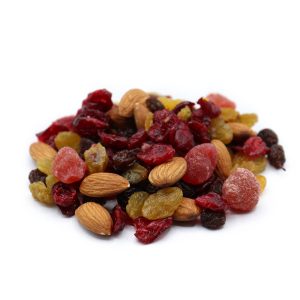 vegan snack free of wheat, soy, gluten, and dairy. It contains seedless raisins, cranberry-2 pumpkin pie, dried cranberries, raisins-golden, golden raisins, natural almonds, and dried strawberries (whole).
If you love berries or anything made with berries, you will love this snack with nuts and fruit trail. In addition, if you love sweet snacks and care to nourish your body while at it, you need to get this snack.
Its dried fruits are healthy for you because they are convenient for taking more fruits. They come in 4 sizes – 1 lb, 5 lb, 10 lb, and 25 lb. Looking for that perfect beach snack, you need to order the bulk of this snack to save more money and enjoy its deliciousness. Make your order here.
4.
L'Orenta's Hawaiian Punch
Another good snack for the beach is this vegan product. It is free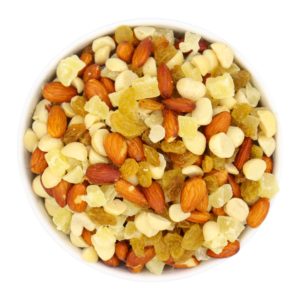 of wheat, soy, gluten, and dairy hence its well-known status as the staff's favorite. One of its incredible qualities is that it is good for the heart.
L'Orenta's Hawaiian Punch comprises natural macadamia nuts, diced pineapples, golden raisins, roasted and salted almonds. You do not need to go to Hawaii to enjoy a snack when you can have this beach snack anywhere. It is mixed with dried fruit and nut with a soft and crunchy feel that makes it unique.
If you love quality and tasty snacks, then order this snack. It comes in different sizes, such as one lb., 5 lbs., and 25-pound bulk case. Order here.
Conclusion
You need to always go with these snacks to make your time there more memorable for beach lovers. The ingredients used in making them are quality, a delight for your taste buds. The fact that they are healthy beach snacks makes them the best choice for you and your friends because they will cause you or them any harm. You can order them right away to spice up your beach party. You can also get this snack to give yourself a wonderful treat while having fun at the beach.