Yummy Pretzels for National Pretzel Month | L'Orenta Nuts
Pretzels are crunchy, delicious, and salty little snacks that have been around since the 8th century. They are the perfect mix of savory and sweet and enjoyed by many today, especially during this time of year when they are paired with some cold drinks to make up a tasty duo – drinks and pretzels! Here are some yummy pretzels for national pretzel month. 
This April is National Pretzel Month, so I've put together some fun facts about pretzels to share with you all to celebrate this special occasion. It is time to celebrate Yummy Pretzels for National Pretzel Month.
First off, what exactly are pretzels?
What Are Pretzels?
Pretzels are baked flatbreads that originated in Europe. Traditionally, they were shaped like twists and often topped with salt or sweet toppings (like honey) to balance their savory flavor.  
They may be eaten as a snack or as part of a meal (as long as they're accompanied by cheese!).
How to celebrate National Pretzel Month?
Pretzel month began with National Pretzel Day on April 26, 2017. And because April is just around, you'll want to figure out how to celebrate National Pretzel Month in your house right now. 
Well, there are plenty of options when it comes to making tasty treats with pretzels. If you can make a grilled cheese sandwich, you have all of the necessary skills to make a delicious pretzel snack.
 Once you come up with a recipe, invite friends and family over so they can enjoy your creation. There will be nothing more enjoyable than seeing their faces light up as they learn that pretzels don't only come in one shape or size—they also taste amazing! 
Variety Of Pretzels
Today, there are many different types of pretzels to try. From sweet to savory, salty to spicy, crunchy or soft – they can be made out of a wide variety of ingredients and have a variety of flavors and shapes.
 But, of course, everyone has their favorite kind! So to help you choose your favorite kind, we've put together L'Orenta's list of some tasty pretzels that you should give a try. Some may surprise you!
Yogurt covered Pretzels
We may have just improved on a traditional snack, so say hello to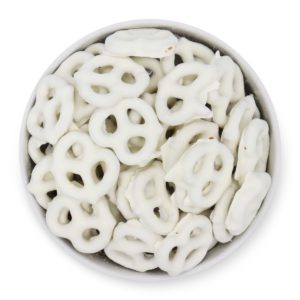 L'Orenta's Yogurt Covered Pretzels and go on a culinary adventure that will keep you coming back for more! We've buried crunchy pretzels in creamy, silky vanilla yogurt to satisfy your sweet needs. But, of course, you can't go wrong with our great yogurt and pretzel combo.
Salted Caramel Pretzel Bites
The Salted Caramel Pretzel Bites from L'Orenta are one of the most delectable sweets you'll ever experience! To make these delightful appetizers, pretzel pieces are wrapped in a salted caramel taste candy shell.
Milk Chocolate-Covered Pretzels
L'Orenta's Milk Chocolate-Covered Pretzels blend your favorite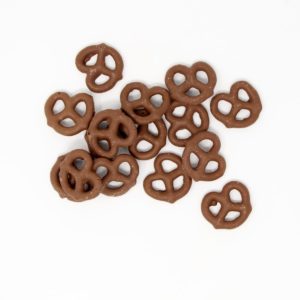 snack sensations: crispy and salty, velvety-smooth and sweet. Combine your favorite snack sensations. Light, crunchy pretzels encased in creamy chocolate are a pleasure for both your salty and sweet sides. Serve these at your next party, or save some in your pantry for your snacking enjoyment.
Dark Chocolate Pretzel Bites
The pretzel pieces' delectable bittersweet dark chocolate coating is the ideal after-work treat.
Pretzels are one of the most acceptable low-fat snack alternatives available, and dark chocolate is a good source of antioxidants. If you're searching for Christmas party snacks, dark chocolate-covered pretzels are hard to top, so place your order now!
Pretzels, Mini Twists
L'Orenta's pretzel twists are the perfect on-the-go snack or if you're looking for something crunchy and tasty! This typical Mini Twist pretzel is 1 1/2′′ wide and 1/4′′ thick. The lovely dark brown hue has a high gloss finish that will not only pleasure your tastes but also make you look stunning! On the interior, there is a light, flaky texture. This tiny twist pretzel is coated with crystalline rock salt.
How Are Popular Pretzels?
There are lots of people who love eating pretzels. It's estimated that more than 18 million bags of them are consumed in America each day. That's enough to wrap around 100 football fields! But what makes pretzels so popular? Of course, one reason is their yummy taste and flavor. Another is that they have a longer shelf life than other snacks, making them convenient if you like to eat while on the go or at work. So if you want some crunchy goodness with a salty-sweet taste, grab a bag of pretzels today!
Where Are They Originated?
Pretzels have been around for at least 1,000 years and were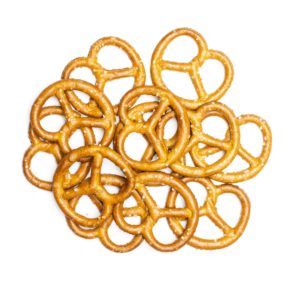 initially invented in Southern Germany to use leftover bread dough (and perhaps even leftovers from cheese-making). Over time, pretzels became widespread across much of Europe. Finally, they made their way to America in 1854 when German immigrants who missed their favorite snack introduced them to Philadelphia.
A lot has changed since then—we now know they're not just good with beer—but a few things have stayed pretty much the same: It's impossible to find a one-size-fits-all description of what makes a pretzel what it is, but many agree that they should be salted and baked into a particular shape.
Final Thoughts
So here you go; I have briefly mentioned all about pretzels. So mark your calendar to ensure that you do not miss out on celebrating such a great national day. When it comes to honoring an American cultural classic, such as pretzels, there are several possibilities.