We are constantly adding new and exciting products to our assortment solely based on requests from our customers. At Lorenta, We always ensure that we do all we can to satisfy our customers worldwide. This is why we are growing the flavors, colors, styles, and tastes of our products. These yummy new products from LorentaNuts.com are sure to delight your taste buds. 
Check out our new products and how to get them. 
Chamoy
Chamoy is a spicy Mexican condiment. It is made of lime juice, dried chilies, and fruits, especially apricot, mango, and plum. Today, chamoy is a vital ingredient in some excellent candies. It is a crucial ingredient in making, spicy, sweet, sour, and salty candies. Chamoy can also serve as coatings for gummies and a dipping powder for lollipops. 
Although numerous Mexicans grew up using chamoy as a sauce for candy and fruits, it's not from there. Chamoy is originally from China. It first arrived in Mexico as the popular Chinese dish, see mui. Since then, chamoy has slowly integrated itself into Mexican culture. 
What Do Chamoy Tastes Like?
Chamoy tastes like an Asain sour and sweet sauce when taken alone. However, it has a deeper flavor and more heat. This exceptional sweet and spicy flavor tastes better with vegetables, bean-based dishes, fruits, and cheeses. However, the heat will significantly reduce if you use chamoy with fruits. The sweetness of the fruits will ensure the spice is not as hot as it originally was. Also, the sugary part of chamoy becomes more noticeable in candies. 
Our New Line of Chamoy Candies
We have added a new line of chamoy candies into our numerous other candies. This new line of chamoy candies will also keep you hooked on the first bite. What sets our chamoy candies apart from others is we ensure that the high quality, flavor, and taste of the chamoy is highly noticeable. However, the flavor is not too strong. Just the perfect portion for each product. We can achieve this because we make the chamoy candies in small quantities. We also ensure our chamoy candies stay fresh at all times. 
From the chamoy skittle gummies to chamoy starburst airs and several other fantastic chamoy candies, our new line of chamoy candies will take your palates to heaven and back. Click here to see and buy our new line of chamoy candies. 
Other Yummy New Products
Apart from our new line of chamoy candies, we have added other fantastic and yummy new products. They include: 
Beanboozled Fiery Five Spinner Gift Box
This awesome gift box consists of flavors from the five spiciest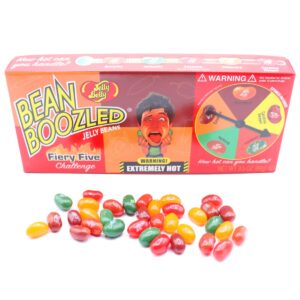 peppers in the world. These are sriracha, jalapeno, cayenne, habanero, and Carolina Reaper. These jellybeans' spices range from mild, which is sriracha, to blazing hot, which is Carolina reaper. If you want to take the spice in your snacking routine up a notch, you should try out this snack. Also, this snack is sure to thrill lovers of spicy snacks. You can know what each pepper taste like while eating this Beanboozled fiery snack. Find out the range of spices you can handle with this awesome snack.
It also comes with a spinner. The spinner tells you the next jelly bean to try out. So you are hit with a different range of yummy spicy flavors at different times. This improves the overall thrilling experience. You can get this for yourself. You can also get it for your loved ones that are lovers of spicy snacks. Click here to get our yummy Beanboozled Fiery Five. 
Supreme Trail Mix
Our supreme trail mix is a snack to watch out for. This special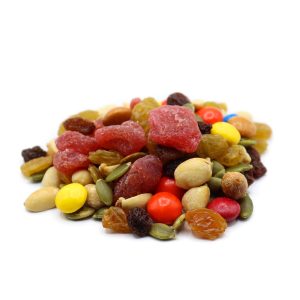 mix will surely satisfy your tastebuds. It will not only satiate your salty and sweet cravings but will also give you the energy to sustain yourself throughout the day. This mix includes golden raisins, L'ORENTA chocolate gems, seedless raisins, roasted and salted pumpkin leaves, dried strawberry, and roasted and salted peanuts. This awesome mix also has different flavors that you will love. It also has numerous antioxidants, nutrients, and vitamins. So, you will enjoy several health benefits including better heart health and digestive health. Click here to get our Supreme Trial Mix. 
Royal Cranberries Trail Mix
Our new royal cranberries trail mix consists of numerous fruity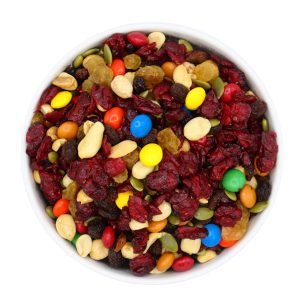 flavors. This special mix will tickle your tastebuds with each bite. It consists of seedless raisins, dried cranberries, roasted and salted peanuts, golden raisins, L'ORENTA chocolate gems, and roasted and salted pumpkin seeds. This dried fruit combination is bursting with nutrients and vitamins that will nourish your body. It also has enough flavors that will satisfy your sweet cravings. Click here to get our special Royal Cranberries Trail Mix. 
Final Thoughts 
These yummy new products from LorentaNuts.com are specially made to satisfy our customers. We pride ourselves on serving our customers to the best of our ability. This is why every product is specially made to satisfy your taste buds and sweet cravings. Get these new products and enjoy the burst of various flavors that comes with them.