Wedding traditions are part of creating memories that last a lifetime! Why gift Jordan Almonds at weddings? Different cultures have their own, yet as you plan your wedding, you're free to adopt a tradition you love. One is to give Jordan almonds to all of your guests. 
The Tradition of Giving Jordan Almonds
Jordan almonds have stories that have become part of their allure over the years. One is that their name came from the French word for garden, that being 'jardin.' Just think of strolling through a garden of almond trees while making your wedding plans. That's so romantic, it's no wonder that story is now part of the Jordan almonds history. 
The more ancient story is that their production began way back in Roman and Greek times when honey was the sweetener of the day. Almonds were dipped in delectably fresh honey to be used during celebrations. In ancient Rome they were given to newlyweds to bestow fertility. Honeyed almonds continued to be used for joyous celebrations during the Renaissance.
The crunchy coating known today came about once sugar cane was processed and shipped to Europe. Thus, Jordan almonds became widely available, leading to their becoming a special gift for couples to give their wedding guests. This sweet, colorful tradition has become a part of Greek, Italian, and French weddings. Why not let it be part of yours?!
You can even plan your wedding decor to match the marvelous colors of Jordan almonds. 
Ways to Give Jordan Almonds at Your Wedding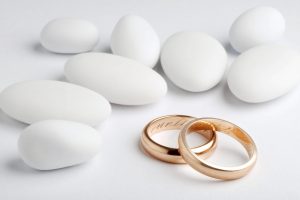 to their allure for today's weddings are the various shades of their luscious sugary coating. Your guests will be delighted with the individual gifts you create for their sweet almond goodies.
Gift-giving Ideas
You know how it feels to receive a guest gift at a beloved couple's wedding. It is a special memento of a very personal time. There are simple, yet elegant, ways to create memorable keepsakes that are a symbol of your love. 
A bonbonniere is a fancy container for candy. Jordan almonds are the perfect treat for making fancy little gifts in a pretty bag or box. If you choose bags, you can pick tulle or organza that let the candies shimmer show off. Another option, though a bit more secretive, is to select a luxurious satin, silk, or velvet. These options are especially nice for cool weather weddings.
Small gift boxes can be purchased at gift supply stores, or you can make your own!. Some couples like to pick small ceramic boxes in their wedding colors. Rest assured, your choice will be unique and memorable, along with the sweet Jordan almond treat! 
Share the Jordan Almonds Traditional Message
Remember that Jordan Almonds were used in ancient times to invite fertility into a couple's union. That tradition exists right to this very day! On each of your gifts you can attach a note on card stock and tied with a ribbon that says:
Five wishes for the new wife and husband:
Health, wealth, happiness, children, and long life!

That is one of a few versions of the five wishes you'll read. Our L'Orenta version goes like this:

Here is our gift of L'Ove for you.

Thank you for sharing our special day.

Together, let's live happy and well
In caring moments that come our way.
Where Should I Buy Jordan Almonds?
You want to select the freshest, most vibrant Jordan almonds for your celebration. It's best to choose a company dedicated to selling quality nuts, including an array of gourmet almonds. L'Orenta is just that sort of company! We select the best almonds from growers who care for their trees just like those found in distinctive gardens.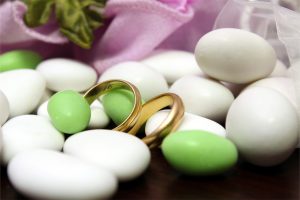 That special treatment assures the freshness and quality you want for your wedding guests. Added to that, your order is prepared to your specifications, then carefully wrapped for freshness in resealable bags and shipped to your door from our San Antonio TX facility. 
Who Makes the Best Jordan Almonds
The best Jordan Almonds are made by those who are confectioners as well as being versed in gourmet nut selection and preparation. You want a place that values the process of making Jordan almonds as much as the role of selecting raw almonds, or readying almonds for roasting. These are but a few of the reasons for selecting L'Orenta for the best Jordan almonds for your wedding.  
Who Sells Jordan Almonds
Jordan almonds are available from a number of different online sellers and storefronts. Many of these are in the business of selling a lot of different products. That's one reason why your best bet is to go with a business that focuses on gourmet nuts and goodies. That's what we do here at L'Orenta. That means that you are assured top quality Jordan almonds that are as fresh, delicious, and nutritious as can be. 
Customers have shared with us that their wedding guests loved the personalized Jordan almond gifts they prepared. They've commented on how many want to know more about our products and where to get them. Others have shared that the Jordan almonds from L'Orenta were the freshest, best quality they'd ever had.
We know how special your wedding day is and that you want the best for your guests. We're here online, a click away, ready and waiting to send you Jordan almonds or any others that suit your fancy. After all, we've been in the gourmet nuts and goodies business since 1934!
Now it's time to order L'Orenta Jordan almonds for your special day!