Why Do Sour Candies Help With Nausea? | L'Orenta Nuts
When you're feeling nauseous, do you want to go for a sour candy? Is it true that sour candy makes you feel better? It ought to. When you're nauseous, sour candies come in handy. They enable us to feel better and alleviate nausea, but they also aid in enriching our taste senses with some delicious flavors. If you enjoy fruit-flavored sour candies, don't miss out on L'Orenta's strawberry, pineapple, and green apple-flavored sour candies, which are all must-tries! Have you ever wondered why do sour candies help with nausea?
This post will look at why sour candies can aid nausea and how L'Orenta's delectable sour candies can help.
Reason Why Sour Candies Help With Nausea
Everyone suggests sour candies for nausea, and many people enjoy them because they feel relaxing and "quiet the stomach," and this isn't a placebo effect.
Because sour candies usually include a good quantity of citric acid and B vitamins, they can help with nausea, and many women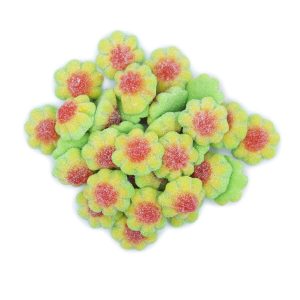 swear by their efficiency in combating morning sickness. L'Orenta's sour candies, on the other hand, are our favorite sour candy for pregnancy because they're all-natural, contain a quarter of the sugar, and are very delicious. They'll be devoured by your entire family simply because they're so difficult to refuse. 
Sour candies can be used to combat a sour stomach. Chew on a piece of L'Orenta's floral gummies for a while. These flower gummies are sour sugared and molded into a conical form. The colorful colors are reminiscent of the Tutti flavor.
Try L'Orenta's sour gummy mix as well! This sour gummy mix is made up of a variety of the best sour gummy candy. Sour pacifiers, watermelon slices, sour creepy spiders, sour gummy bears, and sour soda pop bottles are included in this mix. This sour gummy combo is vibrant and flavorful.
Is Sour Candy During Pregnancy Safe?
Pregnancy might cause you to crave a variety of foods, particularly sour foods. Are you filled after consuming all of your children's L'Orenta's sour candies? Alternatively, are you consuming so much sour candy to aid with morning sickness that your kid may have puckered lips when they come out? Is it okay to eat sour candy during pregnancy? It's advertised as an excellent nausea reliever.
However, sour candy can be beneficial to a pregnant woman's health. 
Sour candy is not only safe to eat while pregnant, but it can also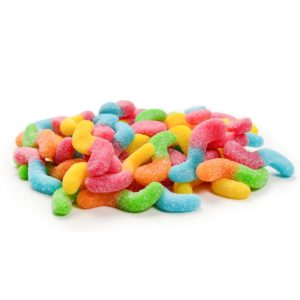 aid with morning sickness symptoms. By boosting salivation, sour foods such as limes, lemons, and sour sweets can help with morning sickness. So don't wait to try L'Orenta's sour flavored candies!
Furthermore, there are no documented side effects from consuming sour sweets (such as premature labor). Sour candy does not affect the hormones that cause contractions to occur.
When you're pregnant, a hormone called chorionic gonadotropin is secreted. It is in charge of preventing the release of stomach acid. It causes a decrease in digestive enzymes when it is elevated. 
Morning sickness is the outcome of this. Nausea, dizziness, vomiting, and loss of appetite can be devastating at times. As a result, you may tend to seek more acidic or sour foods to ease digestion. So, nausea relief from sour candy isn't just a perk of the treat; your body is actively alerting you to eat items that will help you fight nausea.
Does Sour Candy Help With Anxiety?
Yes, they can assist with anxiousness. Consider the following aspects:
A trauma therapist suggested that sucking on sour candy could help you avoid your next panic attack.

The sensation of your mouth puckering will serve to distract you from the physical signs of terror.

Stopping the panic cycle before it starts requires sensations like super-sour or searing cold.
Whether your heart is beating or your stomach is churning,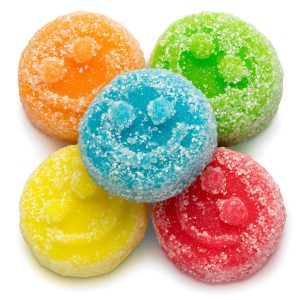 focusing on your bodily sensations can only make your anxiety worse. The sour sting of a L'Orenta candy may be enough to distract you from terror and save you from having a full-fledged panic attack and anxiety.
Biting into anything sour, spicy, or exceptionally salty can distract you from your shallow breathing and sweating palms. A L'Orenta sour candy is recommended for a particularly mouth-puckering experience.
How To Heal Your Tongue After Eating Sour Candy?
Sour candies can irritate and irritate your tongue due to the strong acidity of their contents. So, here's how to get your tongue to heal:
Dry the painful region of your tongue with a swab.

Using another Q-tip, apply the product to your tongue.

Allow for a 6-hour interval for the drug to dissolve.

Gargle with a saltwater solution for pain alleviation.
So there you have it! Hope you now understand why sour candies help with nausea. L'Orenta's delectable sour candies are always on hand to make you smile and tantalize your taste buds. Enjoy your candy!