What snacks can spice up my event? | L'Orenta Nuts
Do you want to offer something unique for your menu at a wedding reception or special event? We have you covered. We have a list of delicious snacks that will spice up your special event since we want you to enjoy the party and be prepared for everything.
What snacks can spice up my event? 
Let's begin with the biggest event of all, a wedding reception. 
We love to offer something that is not so common and will surprise everyone's palates! 
Why not try our French burnt peanuts for adults? They have a very original look, a delicious crunch, and an intense flavor. Peanuts are roasted and then coated dry with a special process until they reach a unique crunch. 
Peanuts used to be our parents' and grandparents' favorite treat, but we think this recipe will persuade the younger generation as well! This hearty snack is one of our best sellers, be sure to surprise your guests with it. 
At wedding receptions, we don't forget about the kids, who usually have a ball dancing on the dancefloor. You can place a bowl of delicious and sweet Boston beans on the kids' table easily.
They have a pleasantly sweet flavor with a peanut crunch and a hint of vanilla. A jumbo size was created to make sure everyone can grab a hold of it. 
We will stay a bit longer on the love theme and suggest you two amazing sweet snacks for your date night. Perhaps you have prepared a homemade meal, placed flowers on the table, kept champagne in the fridge, played soft music, and lit candles to set the mood. 
More delicious candies
What about desserts or treats to satisfy your loved one's sweet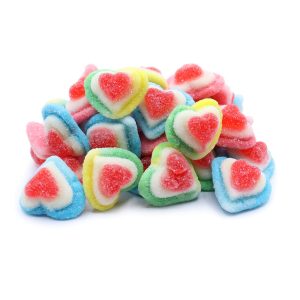 tooth? Don't worry, we have gummy triple hearts or gummy double cherries to save the day!
What could be better on this romantic night than heart-shaped candies? Including three layers of fruit and sandy sugar, these red, blue, green-yellow, and strawberry-flavored hearts will delight your senses. The white color is even flavored with cream! 
Can you believe these candies are also wheat-free, soy-free, peanut-free, gluten-free, dairy-free, and contain no trans fat?
Additionally, we recommend gummy cherry candies because they are an all-time classic. Their red and green colors and intense cherry flavor make them soft and chewy. With a lovely view or a romantic movie, you can enjoy a bit of time together.
You'll love our sour wild strawberries for a fun girls' night! They have such intense colors that they would go perfectly with a red and white theme or a red and green decoration. We added a tart of sour coating to make them extra soft, chewy, and strawberry-flavored. 
You can serve them at the dinner table with other dried fruits, treats, and even chocolate bites since they are so cute. This sour candy is one of our staff favorites! 
As a child, did you like to put candy rings on your fingers? We want you and your children to have the same fun today with our cherry rings. 
It's perfect for a kid's birthday party, and everyone will have fun eating, and wearing, them!  You won't want to stop eating this fat-free candy! Share it with all your guests!
Color Your Event Up!
We have also created the perfect Jelly Belly Vanilla Cherry recipe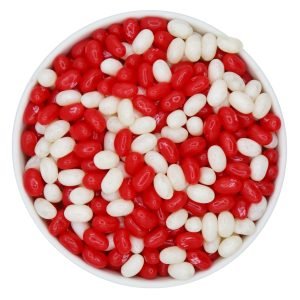 for your Christmas dinner. The challenge was to create something that was both delicious, looked good, and would fit perfectly into the seasonal décor. We succeeded! One of our favorite holiday snacks is this peanut-free and soy-free sweet. 
The perfect way to end your night with some eggnog around the fireplace is with some Very Cherry Jelly Belly and French Vanilla Jelly Belly beans.
Are you about to host a barbecue in the garden, but don't know what to serve as a snack afterward? Here are some fresh and sweet watermelon slices that everyone will enjoy! Each slice of watermelon is sanded to give it a fresh look, but the gummy is so soft you won't want to stop!  Enjoy these fun candies by the pool, on your drinks, and with the kids! 
Last but not least, for a crazy Bachelorette party night, try our Licorice strawberry Finnskas! It is peanut-free and gluten-free, so the girls will be able to enjoy a bit of it while dancing and laughing. The bites are soft and sweet because we combined strawberry and licorice flavors. If you have a big group, get a bag of 10 or 20 pounds and save money!  
How to store your treats? 
Most of these snacks need to be stored in an air-tight container away from sunlight, heat in a dry place. Read the instructions carefully to preserve the taste and texture of your sweets. 
You can spice up your special event with a variety of snacks if you are creative. Share your favorite recipes with us and take pictures of your event! We love to see our clients having fun and enjoying tasty food.