What Does Chamoy Taste Like | L'Orenta Nuts
When the weather is hot, it's a great time to refuel your body with something tasty and filling. A street food vendor in the middle of a bustling downtown area is filled with the aroma of tamales. If you're looking for something light, mango slices in a bright red sauce are a good option. This delicious concoction combines all of the things you love about a cocktail. Adding the sauce is the icing on the cake. Chamoy has a distinct flavor in addition to garnishing fruit or the rims of cocktail glasses. If you are wondering, "what does chamoy taste like"? Keep reading to learn more!
What Does The Term "Chamoy" Mean?
People may be unfamiliar with "chamoy" because it is mainly available in typical Mexican grocery supermarkets. Chamoy, a sweet chili sauce, has been made in Acapulco, Mexico, since the 18th century. Consumers mostly enjoy chamoy as a sauce on fried foods, candies, and a flavoring ingredient.
Chamoy's Earlier Days
The first salty and dried apricots from China arrived in Mexico in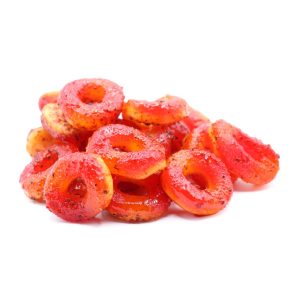 the early 1950s. They are chamois. Asian traders began sending silk and spices to Mexico. Chinese plums led to chamoy in Asia. In Mexico, they made chamoy and brought it to the United States. They didn't like it at first, but more people waited to try this tasty treat as time went on. Chamoy sauce and candy powder were available in the early days of 1971. Some companies like L'Orenta have sold a lot of chamoy products over the years and continue to do so.
What Does Chamoy Taste Like, By The Way?
Chamoy is a famous sauce that adds a spicy taste and flavor to various dishes. It has a tamarind flavor with a sweet and sour undertone.
Raspberry, mango, and peach are just a few of the many chamoy flavors. In addition, some flavors are sour, salty, spicy, and sweet to suit the customers' tastes.
How To Make Chamoy?
Chamoy is a traditional Mexican snack made with salt and dried fruit. Try tamarind pods or sour green mango if you want a more traditionalized plum-based version. The addition of chili peppers gives it its signature spicy flavor.
The fruit is used as a starting point for other products in traditional chamoy production. Sauces made with dried fruit and salt are typically reddish-orange. Furthermore, grinding the dried fruits makes it simple to obtain the powder form.
Additional seasonings, such as lime juice and chili powder, can be added at this point to create different flavor undertones. Finally, these ingredients are used as seasonings or condiments to prepare other foods.
Using Chamoy In The Kitchen
Chamoy is traditionally used in a few different ways. How you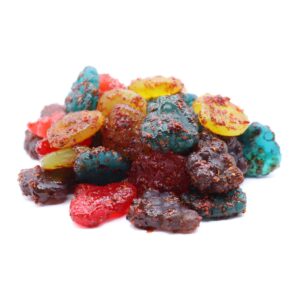 prepare chamoy in your kitchen will be determined by the type of chamoy you've bought and your favorite.
Chamoy is available in both wet and dry forms. While cooking, chamoy is added into the glazes for barbecues or tacos. Chefs use this process more often as the consumers like it that way. Chamoy combines Mexican street food with corn, cream, cheese, mayonnaise, and chili powder.
Where Can I Buy Chamoy
A closer look reveals that Chamoy is one of the world's most popular jams, packed with various exotic flavors and spices.
Knowing where and when to buy chamoy doesn't have to be a big deal because there are places like L'Orenta gourmet nuts and goodies. L'Orenta issues free shipping to customers who have bought items over $69 in the United States. If you want to buy chamoy, you can find it at most supermarkets, especially in the Mexican food aisle. Over the ages, this delicacy has been a popular choice.  
It's a good idea to stop by L'Orenta for some chamoy candies like Chamoy Skittle Gummies, Chamoy, Nerd Gummy Clusters, Chamoy, Watermelon Slices, and Chamoy, Cherry Sours (Cherry Bombs) for yourself, family, and friends if you've never had it before or find difficulties in knowing where to buy it. We're confident that you'll love it.
Conclusion 
You can fulfill your hunger and refill your energy levels with chamoy. Instead of a heavy dessert, opt for some fresh mango slices with a red sauce. So, what does chamoy taste like? Chamoy is often used to garnish fruit or the rims of cocktail glasses, and it has a distinct flavor. In addition, Chamoy is a well-known sauce used to spice up various foods. To appeal to a wide range of palates, certain flavors include sour, salty, spicy, and sweet.