We're your source for the Best Christmas Candy | L'Orenta Nuts
Christmas is a holiday we love to celebrate, and there are hundreds of reasons why! Having family and friends around for the holiday is truly a magical moment. You create amazing memories with music, decorations all around, and delicious food! We have a great deal of Christmas treat ideas to make sure you have a wonderful (and tasty) holiday season. We're your source for the best Christmas candy. 
What is the history of Christmas? 
Observed worldwide on December 25th, Christmas (meaning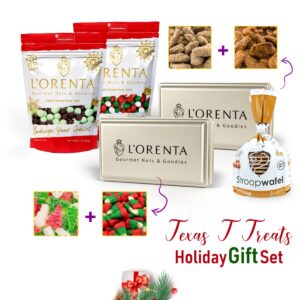 Mass of Christ) commemorates the birth of Jesus Christ. A memorable moment was essential for the practice of Christianism in the empire.  
Despite the fact that not everyone practices religion, there are numerous rituals and traditions that are observed during Christmas within families and communities. Going to church to light candles, decorating houses and trees, spending time with family, exchanging gifts…and for many, waiting for Santa!  
This celebration is important not only for its religious significance, but also for its representation of the truth of spiritual life! People are inspired to bring love, joy, purity, and positive vibes into their everyday lives. Sharing a beautiful celebration allows us all to come together as humans and be stronger as a community. This is a time to remember not to be selfish, but rather to share and spread happiness to all around us.
In this celebration, the most important thing to people is to spend time with their loved ones on Christmas Eve. 
Have you heard about these Christmas facts?
Originally, Santa Claus wore green, blue, or purple clothes. But Coca-Cola is the brand that dressed him up in red and white and gave him his huge success! 

'Jingle Bells' was written in 1857 by James Lord Pierpont. Originally it was meant to be played at Thanksgiving.

In the 16th century people in Germany would hang fruit and nuts on Christmas trees.

In 1890 the first Christmas tree lights were produced in the United States.

The mistletoe represents love and laughter! A kiss under the tree is a way of asking the spirits of Christmas for blessings.

In England, it is a tradition to go door-to-door singing carols. In this way, people toast to health and prosperity.

The Christmas pudding was not a cake, but a soup in the 14th century! 
What will make your Christmas beautiful? 
Invite your nearest and dearest friends and family to decorate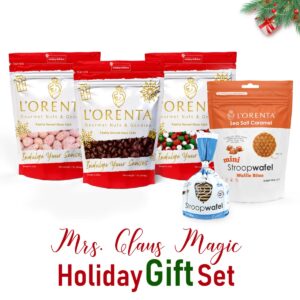 your house and tree together, decide on songs, and sing your favorite carols! For decorations, green, red, and gold are always top favorites! 
There is still time to make some yummy gingerbread and peanut butter cookies for those of you who cannot wait until Christmas Eve. 
Are you looking for some delicious Christmas treats? 
We have a lot of fun creating sweet treats for Christmas. It's fun to make your favorites out of different colors, textures, and shapes.
Our Christmas treats come in special holiday sets so you can really experience the holiday spirit! You can even get your own Santa Sack Reindeer Express bag to offer a beautiful gift!
Christmas should be a time when everyone feels loved and cared for! For every family, no matter how big or small, we have different sizes and price range options! The perfect set of your favorite treats is waiting for you. Share it with your loved ones. We're your source for the best Christmas candy. Corporate gifts, or individual gifts we have something for each!