Sweet Ways to Celebrate National Candy Month | L'Orenta Nuts
June is National Candy Month! Chocolates!  Gummies!  Peanut Brittle! Caramels!  Mints! Sour Balls! Jelly Beans!  Here are some ways to celebrate national candy month. 
National Candy Month was started by the National Confectioner's Association to celebrate the value that candy adds to our lives. It is also designed to show appreciation for the workers that make these treats possible, and to highlight the economic impact of  the candy and chocolate industry.  This is a great time to show your support for these workers by trying new candies! 
Here are some interesting facts:
The word "candy" has been used since the 13th century.  It is derived from the Arabic "qandi", meaning "made of sugar".
The candy industry is massive, creating around 55,000 manufacturing jobs in more 

than 1,000 factories across the country, generating about $35 billion annually.
Candy was originated by the Egyptians when they combined fruits and nuts with honey. The Greeks used honey to make candied fruits and flowers. However, it was the Mayans and Aztecs that used the cocoa bean, making them the first to drink chocolate.
Chocolate is said to have been a morale booster for army men during War World I. The U.S Army commissioned shipments of chocolate for the soldiers throughout Europe.
The first chocolate candy bars were made by Joseph Fry in 1847 using bittersweet 

chocolate.
Milk chocolate was first introduced in 1875 by Henry Nestle and Daniel Peter.
Cotton candy, first known as "fairy floss" was created by William Morrison and John C. 

Wharton when they made the first cotton candy machine.
National Candy Month Activities
Host a "Battle of the Candies" party  
This is where everyone brings their favorite candies, eats as much as they want, and at the end of the evening, whichever candies were eaten most wins. You can do a single winner, or have "gold",  "silver" and "bronze" categories.   Nobody is really a loser!
Suggestion:  L'Orenta Mint Cookie Malted Balls!  
Chocolate mint cookie malt balls are covered in dark chocolate and mint chocolate coating. This classic candy is made with a malted milk powder center before being coated with a chocolate bark.  A sure winner!!
This is the ultimate addictive snack or a quick and easy dessert for busy nights.
They have a delicious mint chocolate, chocolate cookie and malt ball flavor blend.
Try making your own candies
You have nothing to lose by trying your hand at creating your favorite treats. You might want to start with simple recipes such as peanut brittle or simple chocolates, rather than more complicated treats such as gummies.
Fill a toy treasure chest with various small candies; hide it around the house, and have a treasure hunt. This is especially fun with children
Suggestion#1: L'Orenta Gummy Butterflies!
This gummy candy is not only incredibly delicious, but it's a fun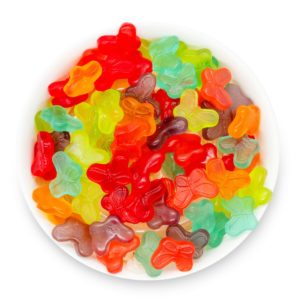 and fanciful addition to birthday parties, and summer events.  Get your butterflies in these fun flavors:
Grape  /  Orange /  Strawberry / Blue raspberry / Cherry
Suggestion #2: L'Orenta Assorted Fruit Slices!
This is yet another  gluten-free candy that will bring a smile to your face and  give you bursts of flavor in every bite. These colorful candy fruit slices make an excellent edible decoration at your next party, and it's a convenient treat to have on hand for your kids.
Hang your candy-filled pinata from your ceiling fixture and hand out let people have at it with broom handles.
Suggestion:  L'Orenta Picasso Almonds!
These dark chocolate almonds with an iridescent colorful coating are a treat for both your eyes and your stomach, Perfect  for your pinata party! In gorgeous shades of red, purple, green and gold, our Picasso Almonds are truly a work of art which is as nourishing for your body as it is delicious. Go on, try one in every color!



Blindfold Candy Taste Test
The blindfolded have to guess what candy they are eating.  Be sure to include some sour treats for funny facial expressions!  Great contest for children.  
Suggestion:  L'Orenta Sour Twin Cherries!
Prepare to pucker up and enjoy this treat when you give our fat-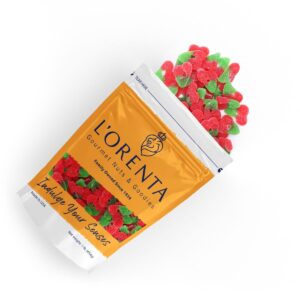 free Sour twin cherries a try. These eye-catching multicolored treats make a fun addition to any birthday party spread, and they're a favorite of children. These sour, bright colored twin cherries are the perfect addition to any party. and are the perfect treat for your little ones, while being free from the harmful fats which are found in many other candies.