Sweet Summer Snacks | L'Orenta Nuts
Summer is the season most people look forward to. This time of year, we can enjoy so many things, including being outdoors, visiting new places, and enjoying delicious seasonal foods. There is never a wrong time or reason to snack! Here are some sweet summer snacks!
How come we love the summer so much?
Having more daylight gives us more energy to have fun and enjoy ourselves. Playing in the garden during a summer storm and watching fireworks with ice cream at night are two of our favorite summer activities. The best thing about not having school is that we can spend more time with fun games and picnics. 
While we wait in between two jumps, we enjoy snacking on fruits and candy by the pool, our favorite spot. 
Are you aware that we have snacks for all your summer adventures?
We want you to be covered for all of your outdoor summer adventures ! We offer a variety of delicious and nutritious snacks to keep you energized throughout the day! 
For example, for a day of activities at the beach, we would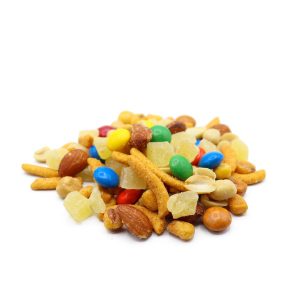 recommend you the adventure trail mix! With this one, you can play volleyball, surf, swim, snorkel, or build the best sand castles. 
This package contains roasted and salted almonds, cajun sticks, toasted corn, roasted and salted peanuts (without the skin), diced pineapples, and L'Orenta chocolate gems (from 1 lb. to 25 lb.). These snacks are the perfect balance of sweet and salty, while offering a solid nutritional intake. 
In addition to plant-based proteins, fibers, and many important vitamins and minerals, peanuts are an excellent source of nutrition. As with fresh fruit, dried fruit also contains similar amounts of nutrients, fiber, and antioxidants. Almonds come from trees and are rich in fat-soluble vitamins, particularly vitamin E. 
This kind of snack mix is specifically designed for intense outdoor activities. The combination of nuts, raisins, and chocolate as trail mix dates back to around 1910. National Trail Mix Day is celebrated on August 31st, so make sure you eat one of these delicious mixes!
Hiking Snacks
For your hiking in the mountain, you should try the royal cranberry trail mix. With this marvelous mix made in the USA,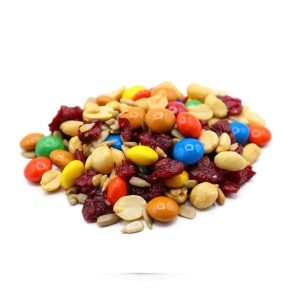 you'll stay full and happy for hours. In addition to the perfect balance of fruits (seedless raisins, dried cranberries, golden raisins), roasted and salted peanuts and pumpkin seeds… It is also filled with chocolate gems. What more could you desire? You get fiber, antioxidants, protein … everything you need to boost your immune system and gut health. 
Grab a pack of 25 pounds for the whole family!
Are you planning on spending the day on a lake? Don't forget snacks for the boat or paddle board! Sugar cravings shouldn't keep you from enjoying your favorite water sport. With the island life trail mix you get an amazing mix of tastes and textures with a blend of espresso beans, chocolate, dried fruit and nuts! 
The sweetness of the dried fruits balances the intense and strong chocolate-covered espresso beans to give you a lift. Eat well and stay healthy! Dark chocolate is good for the brain and the heart, so you have an extra reason to eat this trail mix.
Do you need summer treats for a kids' party?
There are a lot of summer activities for kids: it's their best vacation of the year! Most of their time is spent in the garden by the pool, running and jumping for hours on end. 
Don't forget to hydrate them with lots of water, fuel them with good sandwiches, and give them candy for fun! To enjoy this wonderful time of childhood, we love to create colorful and sweet candies such as the jelly belly Blueberry Orange and the jelly belly French Vanilla Juicy Pear. 
Easy to share and to pack, just don't leave them out in the sun by the pool or they will melt! To avoid allergies, we use only the purest ingredients and hygienic components. Our jelly beans are fat-free, wheat-free, soy-free, gluten-free, and peanut-free! The process of making a single jelly bean takes between 7 and 14 days! 
After a soccer game, you can also bring some protein snacks,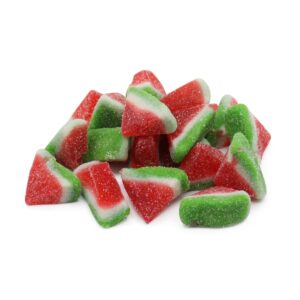 fresh orange juice, and our customers' favorite: watermelon slices. Watermelon slices are sanded, giving them a refreshing appearance, while the gummy itself has a softer texture. As they look like real pieces of watermelon, they will add a nice touch to your kid's party or even their birthday! It's refreshing, sweet, and very flavorful – you won't be able to stop eating it! 
While the above sweet summer snacks are delicious and great for the summer we have many more on LorentaNuts.com. Enjoy!