Sweet Spring Treats | L'Orenta Nuts
The spring season is a wonderful time of year. As we emerge from winter, we begin to bloom. Here are some sweet spring treats that kick off the season the right way!
What should you do during the spring? 
Put an end to sneezy noses and restore your closet to its original state! Ride a bike and rollerblade while enjoying the great outdoors with your friends and family. 
What are some spring recipes I should try? 
Spring is the ideal time of year to transition from the heavy, nutrient-dense foods of winter to the lighter, fresher meals of summer. However, it is also the time to choose other snacks! 
Which are the best spring treats to eat? 
As well as getting outside and being more active (walking, biking, running, etc. ), we recommend the Explorer Trail Mix! The ingredients in this tasty snack mix include salted almonds, roasted sunflower seeds, seedless raisins, banana chips, dried cranberries, pumpkin seeds, and chocolate gems by L'Orenta. Combining these two ingredients will give you both a tasty treat and the antioxidants, vitamins, and minerals you need to stay healthy. Native Americans have snacked on these ingredients for years, so it will strengthen you and make you healthy. 
Packages for kids and adults range from 1lb to 20lb to suit your needs!
We love to offer you the best recipes, so we're thrilled to take you through Chamoy Starburst Airs. Our unique blend of Chamoy, Tajin, and other spices cover soft and fluffy gummies. These make a unique sweet and sour Mexican candy. For those who don't know, Chamoy is a condiment made from lime juice, dried chilies, and fruit. It is commonly made with mango, apricot, plum or a combination of these fruits. Chamoy is full of flavor because it is salty, sweet, sour and mildly spiced. 
Peanut Free Snacks
Dairy and peanut free, these cherry, orange, lemon, and strawberry treats are bursting with flavor. A delicious snack to enjoy while relaxing in the garden or watching a movie on television. To ensure the best taste and consistency, we prepare them in small quantities. You just need to pick the size that is right for you! 
You find your Chamoy candies sticky? That's totally normal, it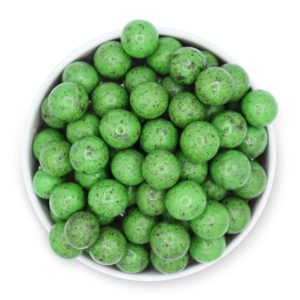 just means they are fresh! When you open the package, loosen the packaging and eat! If you like the taste and want to try other Chamoy candies, we have other flavors like gushers, peach rings, and watermelon slices.  
Spring doesn't mean you can't have chocolate. It is actually the total opposite with our mint cookie melted balls. If cookies are awesome and chocolate is delicious, why not combine the two? We make mint chocolate cookie malt balls by coating malt Balls with peppermint flavored white chocolate and encasing them in chocolate cookie crumbs.  We finish them off with a glossy finish. Aren't you drooling? You can snack on them or serve them as dessert! 
Chocolate is actually healthy, even though you may not realize it! Several studies have found that eating up to 100g of chocolate daily reduces a person's risk of heart attack, stroke, or other cardiovascular problems by 11%. In fact, antioxidants in chocolate boost the immune system. 
Finally, nothing is more spring-like than colorful sour neon worm gummy candies in a sweet, sour flavor. Wheat free, soy free,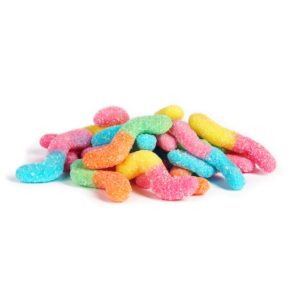 peanut free, fat free, dairy free and gluten free treats will brighten your day. You can snack on them during an afternoon walk or after a good sport activity. It is also a great treat to enjoy while playing board games with your family and friends!  
Fun fact: Hans Riegel invented the first gummy bear in 1922 and they were originally called "Dancing Bears".
What is the best way to store my spring treats?
Keep your gummies at a temperature below 75 degrees Fahrenheit, out of direct sunlight. You can keep the quality of the food for a few months in an airtight container. It is a good idea to freeze or refrigerate your gummy candy if you wish to store them for a longer period of time.
Keep Chamoy candies in an airtight container or in the container they come in. Store them in a cool, dry place without direct sunlight and away from heat (or they will melt). 
Keep chocolate ingredients in an air-tight container, away from sunlight or artificial light, in a cool, dry place. Keep them out of the refrigerator, as the chocolate will absorb odors and taste unpleasant.