Ah, Halloween. Costumed children dressed as ghosts run along the streets and the smell of pumpkin spice lingers in the air. It's the time for everything pumpkin, cinnamon, and–of course–sweet. October is no doubt the time to Stock Up On Sweet Spooky Halloween Treats The earlier you start planning and purchasing ahead, the better!
Since the early 1900s, Halloween has been one of the biggest holidays for candy. Each year, stores sell over twenty pounds of candy per person around Halloween! That's almost 600 million pounds sold each and every year. With so much candy being handed out, many trick-or-treaters map out their route based on the types of candy offered. After all, why waste time grabbing a few fun-size candy bars when there are houses that offer full-size ones?
When it comes to trick-or-treating and costume parties, you don't want to be caught with not-so-tasty candy. At L'Orenta, we offer a variety of deliciously spooky candies that can be ordered year around. You can sample early, stock up on your favorites, and then throw a party to remember. Need some recommendations on where to start? We have you covered.
Gummy Halloween Worms
What is more spooky than a cauldron full of writhing, orange and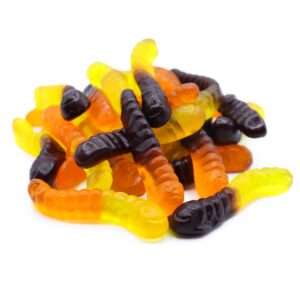 black worms? If you like to up the spooky-factor with your Halloween candies, our gummy halloween worms are perfect for you. These worms are a lovely strawberry flavor despite their color and are extra chewy. For trick-or-treaters, purchase a 5-lb resealable bag and serve in individual sealed containers or bags. For an extra fun Halloween twist, top cups of chocolate pudding with crushed Oreos and our Halloween worms!
Gummy Pumpkins
Not every Halloween candy needs to be scary! Our gummy pumpkins are delightfully cheery jack-o-lanterns with bright smiles and even brighter colors. These little gummies are super soft and perfect for young trick-or-treaters. Consider serving them in miniature jack-o-lantern holders wrapped in cellophane for an extra wow factor. Our gummy pumpkins are also beautiful additions to any Halloween spread. Get them while supplies last!
Gummy Halloween Sours
No Halloween is complete without a good combination of sweet and sour! Our gummy halloween sours are shaped like bats and coffins. They are a perfect treat of trick-or-treaters and extremely affordable when purchased in bulk. These also make the perfect addition to punches and mixed drinks for a little festive zing. Don't forget to decorate the bags with black ribbons and orange bows!
Gummy Hairy Spiders
They're extra spooky, extra soft, and extra delicious! Our gummy hairy spiders are an excellent sweet and sour treat. Trick-or-treaters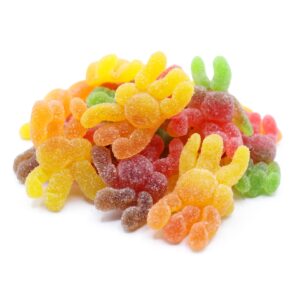 will love the squirmy multi-colored legs. For an extra spooky treat, place these gummy spiders on freshly spun cotton candy webs. These are large gummies and perfect to package in treat bags. These gummies are so large that there are only roughly 50 of them per pound, so make sure you buy in bulk for your party!
Caramel Candy Corn
Halloween wouldn't be complete without the classic taste of candy corn. These caramel candy corn offers all the classic candy corn texture with an extra punch of caramel cream flavor. Candy corn has the benefit of being easy to bag and hand out to trick-or-treaters. It's also easy to pour into a festive display dish. For a fun Halloween craft, consider using candy corn as teeth in rice crispy treat monsters!
Gummy Eyeballs
Our scariest snack on the menu can stare right back at you! Our gummy eyeballs are squishy, creepy, and look eerily like the real thing! If there is a zombie-lover in your household, these gummies are the perfect Halloween treat. These look amazing floating in a bowl of punch or laid out around a ghastly charcuterie board. Hand them out in mini cups to trick-or-treaters for a surprising treat.
Pumpkin Pie Almonds
Every Halloween treat doesn't have to be an unhealthy one! Pick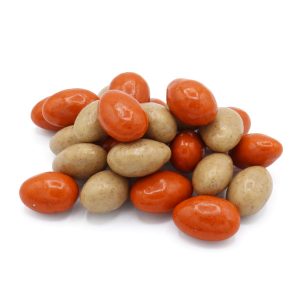 up a bag of our pumpkin pie almonds if you want a bit of protein with your tricks and treats. These almonds are roasted being dunked in white chocolate, cinnamon, nutmeg, ginger, and cloves. They are the perfect pre-Thanksgiving treat for family and friends alike. Package these in treat boxes or set them out in self-serve bowls.
From sour gummies, to fruity pumpkins, to protein-rich almonds, we have treats anyone can happily savor. Before the holiday rush hits, Stock Up On Sweet Spooky Halloween Treats!