Stock Up In Back To School Snacks | L'Orenta Nuts
The back-to-school season is here! Despite the fact that some of us may not be ready to trade away the freedom of summer for books and pencils, we enjoy this time of year very much. This is a wonderful opportunity for us to stock up on healthy and delicious back-to-school snacks. 
Who said you cannot give your kids delicious AND nutritious snacks? 
How to prepare for back to school? 
Back-to-school is stressful for everyone: new schedule, increased homework and extracurricular activities, new food organization, etc.
To keep you and your kids as stress-free as possible, we recommend that you plan as many factors as possible. 
Make a big batch of one dish to use for several lunches or dinners during the week. 
Healthy snacking is also part of a good health strategy. In case you have a large family or just want to stock up in advance, purchase several snacks in bulk and store them properly. This will give you options for months to come!
Divide the snacks between different bags or little boxes to put in your kids' backpacks, or have them ready on the kitchen counter when they get home.
What are the benefits of nuts? 
A superfood ingredient, nuts can be classified into different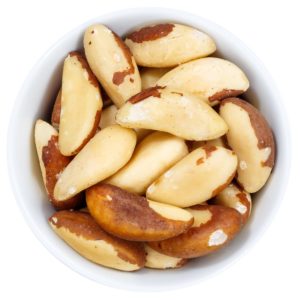 categories. There's one thing they have in common, though, and that's their health benefits. 
For decades, scientific research has proven that: 
Nuts reduce your low-density lipoprotein (LDL) and triglyceride levels, which contribute to the formation of plaques in your arteries.

Decrease the levels of inflammation that are linked to heart disease.

Reduce the risk of blood clots leading to heart attacks and death.

Boost the immune system and brain functions.
Consuming them appropriately from a young age will prolong your kids' health. Have you tried Brazilian nuts with them? They are extremely smooth and crunchy, and are perfect to eat alone or add to a trail mix, yogurt, or dessert! Among the most nutritious nuts, they contain heart-healthy vitamins, antioxidants, and selenium.
Because they contain unsaturated fats, Omega-3 fatty acids, fiber, Vitamin E, plant sterols, and L-arginine, nuts are particularly healthy.  
Almonds are also very popular raw, but we like our recipe for roasted and salted almonds. This snack has the crunch and nutrition you need with a salty twist. As is or in Greek yogurt, they go well with other fruits or dried fruits. They are the perfect after-school snack! 
We have roasted pistachios for kids who do not like sweet snacks. As they are packed with plant protein and potassium, they will help fight the sugar cravings kids may experience with the long school day. You can pack them in a bag and snack on them between classes! 
What are the benefits of dried fruits? 
Fresh fruits are the best option since they contain more vitamins and fibers. However, it is not always easy to feed them to kids or bring them to school. 
Because of that, we created a variety of tasty dried fruit recipes! 
Dried fruit is an excellent source of vitamins, fiber, antioxidants, and minerals. This is a much healthier option than a processed sugar treat, and they provide just as much energy! Their nutrient composition makes them a great food for digestion, mood, and heart health. 
The banana chips are one of our biggest hits! They are crunchy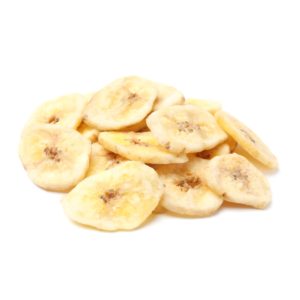 and tasty, making them the perfect snack for hyperactive kids who are always on the go. Try pairing them with other fresh fruits in a salad. 
The red-fruit lovers can share a bag of whole strawberries with us. In addition to being dairy-free, peanut-free, gluten-free, and wheat-free, this treat is great for the cardiovascular system. Each family size is available in 1 lb, 5 lb, 22 lb, and 44 lb bags. 
Because it can be hard for kids to choose, we created the Fruit Favorites mix. In one package, they can enjoy three different dried fruits: diced pineapples, diced pears, and papaya chunks. Loaded with fibers, they will be really helpful for the little ones with digestion troubles.
Finally, we like to provide you with a variety of recipes, so you can add the Tropical Smoothie mix to your shopping list. Fresh, sweet, and intense fruit snacks like this will ravish those who like them. Who could say no to these vibrant colors and tangy twists? Give your kids a boost of energy with our diced pineapples, dried kiwis, and apricots!  
How do you store your snacks? 
To preserve their taste and texture, keep them in the main compartment of your refrigerator for up to six months.
We hope you feel ready to tackle the return to school with this help to choose healthier snacks. We know how kids can be picky with their foods so we make sure that you have as many options as possible. 
Prepare for the return to school season with these fresh snacks!