Shark Gummies For Your Next Event

So, you're planning an event and wondering which candy is perfect for keeping the kids munching and happy? Well, what you're looking for is a shark gummy. These tasty treats are great for every occasion, especially for a shark or ocean-themed party. Some of them come in blue color with a juicy and fruity flavor. They also come with a creamy flavored belly. Shark gummies are sure to be loved by your kids and their friends, leaving them returning for more. What are shark gummies, and what occasions can they be used for? Read more and find out!
What Are Shark Gummies?
Shark gummies are candies made in the shape of a shark. They are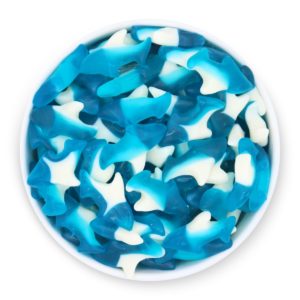 made with corn syrup, gelatin, citric acid, apple juice concentrate, lactic acid, sodium citrate, and more. These candies are usually blue because the manufacturers try to go with the "water feel." However, they come in other colors such as red, white, green, and more. The blueberry flavor is a trendy choice amongst kids. 
What Occasions Can Shark Gummies Be Used For? 
Shark Gummies are almost a rounder candy. They can be used for virtually any event. Below are a few occasions in which you can incorporate shark gummies. 
Water Themed Events 
Water Themed Events are the perfect occasion to whip out your shark gummies. What better way to celebrate a water-themed event than eating a candy shaped like a shark? You can get different ones made in the shape of other shark species. The kids will go crazy for it. You can also use the candies to educate your kids about sharks, their habitation, and how to clean their habitat. 
Blue Colored Party
Shark gummies usually come in blue color. Also, the water looks blue too! This makes these candies the perfect match if you are hosting a party strictly for anything blue. You can even package them in blue wrappers to make the party better. 
Kids Birthday Party 
Your kid has probably watched many cartoons involving sharks on Television. While many candies work for a Birthday party, a gummy shark hits home better with the kids. Packed with their fruity and creamy flavor, these candies will leave a lasting impression on your kids and their friends. Are you planning a party for your child? Click here to order our shark gummies. 
Fish Party with Shark Gummies
These yummy candies aren't only for kids. If you are an adult with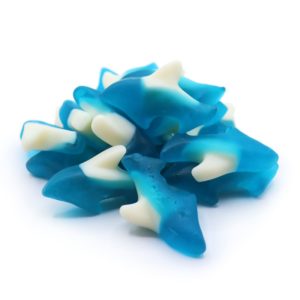 a sweet tooth, you'd love them when they are used in a fish party. So, if you plan to host your friends and neighbors at a fish-themed party, you will score many points when you open with a delicious gummy treat. 
Costume Party
The shark gummies can also feature in a costume party. Costume parties are an excellent way for people to express themselves in different colors and costumes. These tasty candies fit right into the mix. It isn't going to be a bad idea to go in a shark costume and then proceed to serve shark gummies as a treat. 
Gender Reveal
If expecting a baby, what better way to reveal the gender than using a sweat treat?. When having a boy these blue gummy shark are perfect.  Spring the surprise on them and watch their reaction! Your guests will appreciate both the sweetness of the gummies and the fantastic news. 
Final Thoughts
Shark gummies are the perfect treat for any occasion. Whether you are having a gender reveal, birthday party, or water-themed party, these fruity treats are your best bet. Click here to learn more about other excellent candies.