Recipe | Pecan Salad With Arugula | L'Orenta Nuts
This pecan salad with arugula is one of the best meals for spring. While it's easy to think that preparing will be complex and take forever, it is easy and can be made quickly. Whether you choose to throw in some substantial entrees or serve it with grilled chicken, this salad is always welcome at your table. Before you start, here is a list of ingredients you will need:
Ingredients 
Two ounces of gouda cheese, thinly shaved. 

One tablespoon of honey 

2 ounces of thinly shaved gouda cheese

One package of arugula 

Peeled orange 

One teaspoon of dijon mustard 

Apple Slices

1/4 cup extra-virgin olive oil 

Two tablespoons of sherry vinegar

1/2 cup

Pecan Halves

 

1/4 teaspoon kosher salt 

One tablespoon of vegetable oil

One teaspoon of curry powder 

1/2 teaspoon sugar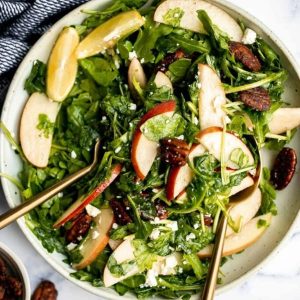 Procedure 
Start by frying the pecans using a pan. Mix sugar and curry powder using a bowl. Heat the vegetable oil till it is hot and add the pecans. 
You will know the pecans are well fried when it becomes golden brown. The frying should take about two to three minutes. Remove the oil and add the nuts. Set them aside after you have tossed them around for a few minutes. 
Using a large bowl, whisk together the vinegar, honey, sherry, and Dijon mustard using a large bowl. Then whisk in the canola oil, olive oil, and salt to taste. Then, assemble the salad by tossing the arugula in the setting. Next, stir in the pecans, gouda cheese, and orange segments. 
Now you're done making your dish. Serve immediately! 
To enjoy delicious snacks and learn other unique recipes, visit lorentanuts.com