Pink Candy | Colored Sour, Hard & Gummy Candy | L'Orenta Nuts
When you read the words 'pink candy' what comes to mind? 
Oh, it might be the cotton candy your parents bought for you amidst the lights, rides, and noise at a county fair. 

Then again, it might be the last time you got some pink yummy from a vending machine. Right! It didn't have the sweetness you'd hoped for. Not at all like L'Orenta's pink candy!
Welcome to L'Orenta's Pink Candy!
From sweet gummies to sour poppers, you can browse our assortment of pink candy treats! These gifts are perfect for baby showers and themed parties. Lucky you, as we have pink this and that mixed in a variety of flavors and served up with other colors. Added to that:
We purchase the freshest, best quality candy and candy ingredients.

We deliver fresh to your door from our San Antonio TX facility.
Plan a Jelly Belly Jubilee!
Jelly Belly jelly beans are a bonanza when you're putting on a party. They're fun, festive, flavorful, and add to any celebration.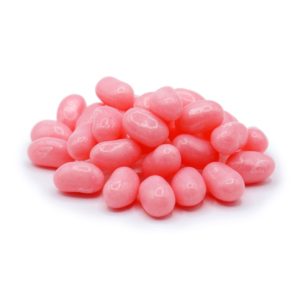 These feature varied shades of pink: 
Pink Blends Well With Other Colors
Pink sends its own special messages. Those of floral aromas, love, and dancing flamingos. Let your palate dance with these fun shades of pink mingled with other colorful flavors.
It's easy to see why our fruit-flavored

Beep Bears

are perfect for baby showers and kids' birthday parties, as the bears are dressed in precious pastels, including pink.

It doesn't need to be the Happy Holidays season to love our

Candy Cane Almonds

. They have soft  pink tones with cheerful red flecks. They're an amazing flavor created by wrapping white chocolate blended with crushed peppermint around an almond. Consider these the perfect pink candy for getting protein too! 

Sour Gummy Poppers

not only pop with flavor, they also come in eye-popping colors. Yup, including hot pink! Ooolala.
Time to Place an Order for Your Perfectly Pink Party! L'Orenta is here to make it especially memorable.