Party-On With Gummy Peach Rings! | L'Orenta Nuts & Goodies
You're the number one fan of gummy peach rings. It's been that way since you were a kid. Lately you've been thinking what fun it would be to spread the joy of peach gummy rings far and wide. That's because everyone should have the chance to feel like a happy, care-free kid! 
If that sounds like you, there are party and event ideas for sharing these cheery orange and yellow treats. Just think, you can give them out as favors or sell them as fund-raisers! Before we get into our how-to ideas, let's list all the reasons why gummy peach rings have such appeal. 
What are gummy peach rings?
This is one of the most frequently asked questions about these happy, inviting treats. We want to be sure that people far and wide know all about these sweet, energizing treats.
They are made using recipes and processes that go back 100 years.

They deliver an energizing carbohydrate boost during workouts, from pumping iron to raking leaves or riding waves.

Every serving has 2 grams of protein, adding extra sustenance. 

They are fat-free.

They store well by following our easy directions.

Guess what? There are 60 pieces of gummy peach rings in each pound, giving you lots of fun with each bag!
Peach Gummy Rings Goodness
People are attracted to peach gummy rings' sparkling color and the sugary texture. Then there's a captivating aroma that spells freshness. Here are the questions people ask about gummy goodness:
Are peach rings vegan? The answer is yes, as they're dairy free.

Are peach rings gluten free? Yup, they don't contain wheat or gluten.

What else is there that makes them good? They are soy and peanut-free and made in the U.S.A.!

Plus, they're carefully packaged and shipped right to your door from our plant in San Antonio TX.
Party-On Planning
Now that you know specifics to share with everyone, here's a run-through of how to make gummy peach rings a central feature at parties and events.
Plan Your Party Around Gummy Peach Rings
Who ever heard of planning a party around pieces of candy? We have! Here's how:
Pick the occasion, be it a birthday party or for someone who's retiring.

Zero in on ways to play on favorite treat's features.

That might be as a send-off for a 'peachy' vacation.

Select decor that matches the colors of these gummies. Pick anything from flowers and plates to draping fabrics.

Sharing the peach gummy rings as favors will be a hit.
Get Gummy Peach Rings for Events & Fundraisers!
It's easy to see why our gummy peach rings are favored by sports enthusiasts and party planners. Why wouldn't they be, given their flavor and energy boost-ability?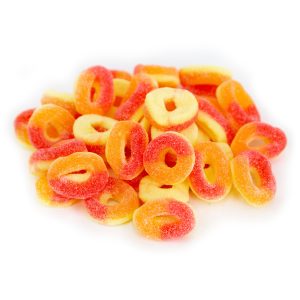 They're perfect to use as part of fundraisers for your school, community group, or for a special cause. 
Peachy Gummy Rings: Ready to Go for Any Event!
Make welcome favors for your guests by:
Having a few at each table setting at a conference.

Wrapping them in candy cellophane as a thank you for attending your event.

Surprising volunteers who generously donate their time and talents.
Our gummy peach rings come in bulk cases of 10 and 25 pounds, making it easy to order what you need. Next up, you'll decide the size and packaging for your gummy give-aways and fundraising treats .
Fun Ways to Fund-Raise
People feel good buying something for a good cause. That becomes extra-special when they know you've put together a unique gift. It's up to you to select the size and wrapping for your fund-raising items, using this example:
You're doing a fundraiser for a high school golf team.

The team's photo can be printed on cardstock and attached with the ribbon.

Since L'Orenta bulk prices are great, a little time and creativity can make your fundraiser a winner!

A 25-pound bulk case yields 75 peach gummy rings fundraiser packages that are each ⅓-pound (or about 20 rings).

How much do you want to charge for each while accounting for materials? Special note: A store may like to donate the materials you need.

Chances are it's easy to see how these treats can help you raise funds.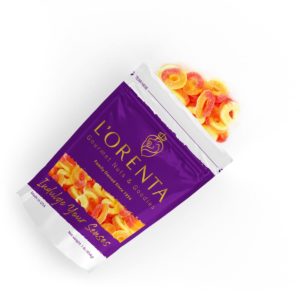 L'Orenta Gourmet Nuts & Goodies Sells All Kinds of Candies
Be sure to read about the assortments we have for your next special party or event. These include all kinds of fun and yummy gummy candies!