Our New Chamoy Candy Line | L'Orenta Nuts
As Chamoy covered candy keeps growing in popularity, new and interesting selections are added to our offering of delicious products with L'orenta's original Chamoy recipe. These all have a unique flavor profile that when you add Tajin, some spices, and Chamoy; they are truly mouth-watering. So check out our new Chamoy candy line. If you aren't familiar with Chamoy, continue reading to find out what chamoy is and where it originated. As we go through the history and origin of chamoy, you should try the amazing Chamoy Rainbow Belts. Here is our new chamoy candy line. 
Where did Chamoy Originate?
Given that there's a lack of factual evidence of how Chamoy was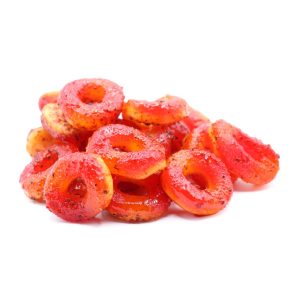 first invented, here's a theory on how Chamoy's closest cousin entered the Mexican republic. Nonetheless, there is factual evidence that Chamoy Peach Rings are yummy!
It all starts in China. For years unknown, the Chinese have made sweet and sour snacks from plums and berries. These snacks are made using techniques that resemble those used to make Chamoy. Their flavor profile is close in similarity to Chamoy as well. 
Made from fruit dried or pickled in vinegar or brine, these candies are also popular in the Philippines. This is where, according to popular belief, the name Chamoy comes from. It may have derived from 'Champoy', which is how these snacks are known in the Asian country.
It is believed that some Chinese immigrants transported this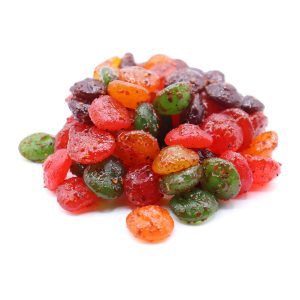 millennial recipe during the Spanish colonial period. According to this theory, after reaching Mexico, 'Champoy' was finally evolved into Chamoy. Through its transformation, the recipe acquired some changes. Being the main change the addition of chili to the recipe, Chamoy is now a unique Mexican condiment. And just as unique as Chamoy Skittle Gummies, which are popping full of flavors. 
What is Chamoy?
Chamoy is a red sauce with a paste-like consistency. Although it is usually found in a liquid state, the sugar and spices in it usually make it somewhat lumpy. This Mexican 'chilito' is a full-on combination of flavors on its own. While it's mostly sweet and spicy, you can feel some saltiness along with a bit of sourness. Chamoy's core ingredients are fruit and chili. Hence, it's really tough to locate it in a specific flavor bracket.
Nevertheless, one product you can absolutely place on the awesome-taste bracket are the Chamoy Starburst Airs.
Is Chamoy Spicy?
Mexican people will say no. However, it does contain chili and some other elements that make it a little spicy (or a lot if you are not used to eating spicy foods). But don't take my word for it. Be the judge yourself with our Chamoy Sour Patch Kids  or our Chamoy 12 Flavor Gummy Bears. 
As it is usually used as a condiment, you will very rarely eat or drink the sauce on its own. If you do, you will find it quite spicy. Chamoy is normally eaten with sweet food. Sweet just like Jolly Rancher Gummies, which is why you should try our brand new Chamoy Jolly Rancher Gummies. https://www.lorentanuts.com/chamoy-jolly-rancher-gummies/
Chamoy and Tajin
Chamoy and Tajin are not the same. While Chamoy is often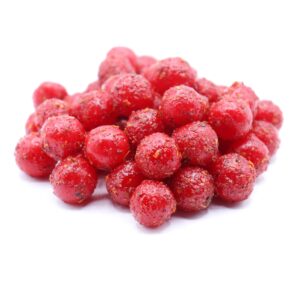 found in a liquid state, Tajin commonly refers to a powder-texture condiment. The fact that Chamoy is based on fruit and Tajin isn't, means that Tajin is usually spicier and dryer than Chamoy. There are quite a lot of differences between these two but what's important is that they are amazing together. So amazing that our Chamoy Cherry Sours or our Chamoy Gummy Strawberries containing these exact mix will blow your mind. 
Dulces Enchilados (Spicy Candy)
Mixing Chamoy and Tajin results in a delicious blend that is the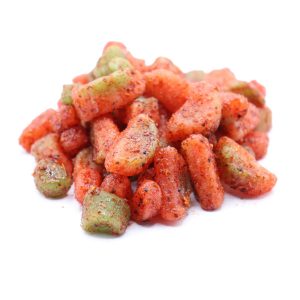 ultimate addition to regular candy. L'orenta's original Chamoy recipe has a perfect set of ingredients that are perfect with Tajin. L'orenta has launched to the market a selection of great-tasting candy-coated with that perfect Chamoy and Tajin combo. And a perfect example of this are the Chamoy Watermelon or the Chamoy Gummy Worms from L'orenta's fantastic Chamoy candy line. 
Packaging and Freshness
All these products are packaged in small portions to maintain the best quality in both texture and flavor. These candies are inherently sticky and chewy but it is a world of a difference when you have them fresh and well-kept. 
So if you are in the mood for some fresh, delicious 'dulces enchilados', you should try Chamoy Nerd Gummy Clusters and Chamoy Gushers. Make sure to check out all of our new Chamoy candy line and get your hands on your favorite!