Old Fashioned Candy – Bring back your Childhood Memories | L'Orenta Nuts
You can't go back to the past, but eating old-fashioned candies will bring back your childhood memories. Memories of eating candy after a fun day at the park or walking with friends quickly rush back you taste a candy you loved as a kid. Want to bring back your fun childhood memories? All you need to do is eat old-fashioned candy that bring back childhood memories!
5 Old-Fashioned Candies You Have to Try
Wax Bottles (Nik-L-Nip)
Did you know that name "Nik-L-Nip" is because the candy was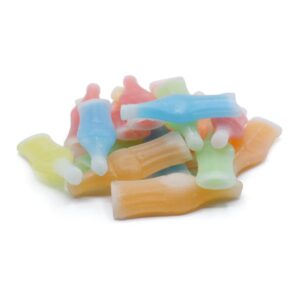 sold for just a nickel (Nik) in the 1900s? In addition, the "Nip" comes from the popular method of biting the candy to allow the flavors to burst in your mouth. So, if there's one candy that deserves to be labeled retro, it's Wax Bottles (Nik-L-Nip). It's a tiny candy bottle full of colored sugary syrup. 
Nik-L-Nip is so cute in its various colors and flavors that you can't help but smile when you see it. However,  because the main content of this old-fashioned candy is syrup, you have to take the "store in a cool, dry place" instruction seriously. So, get Nik-L-Nip here to relive the happy times!
Licorice, Double Salt
Licorice, double salt is a chewy candy that contains licorice extract, sugar, ammonium chloride, starch, and wax as its ingredients. The ammonium chloride is an astringent that gives this candy its salty flavor. This candy is popular in Nordic countries as well as the Netherlands. Try licorice double salt if you want to indulge in salty candy goodness.
Licorice, Red Strawberry Finnska Bites
This finger bite candy is the definition of "sweet memories."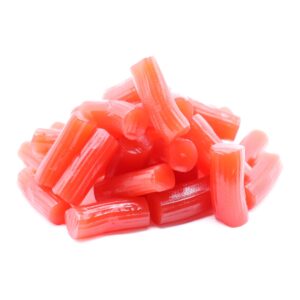 Every chewy bite takes you back in time to your childhood. Because of its high fructose (natural sugar) content, your teeth will thank you for eating this licorice. If you're looking for a colorful candy to include in your next candy bowl mix, try this bright red licorice, strawberry Finnska bites.
Lemon Drop Candy (Hard Candy)
Here's a fun fact about lemon drops: in the 1800s, it was sold as a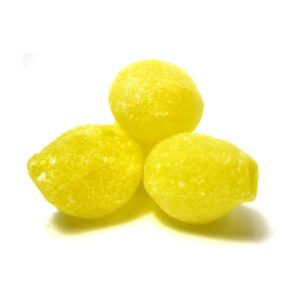 flavor to help mask the taste of bitter medicine. The sour taste hits your tongue first, followed by the sweetness, making it ideal for your tastebuds to forget the better taste. Now, we enjoy lemon drops because it balances sour and sweet so well; we just can't get enough of them.  This candy also scores bonus points because it's a hard candy, so there's enough time to savor the taste before it finishes. Get the famous sour-sweet goodness here!
Cherry Sours (Fruit Sours)
Who doesn't love fruit sours? If there's anything we love about fruit sours, it's how the sour-sweet taste hits the right spot. If you have a taste for candies with zing, you'll love cherry sours. It's the perfect combination of crispy and chewy. It's a delightful candy that transports you back in time because of its unforgettable sour-sweet taste. So when you're feeling nostalgic about your childhood, have a cherry sour; it'll bring back all the happy memories.
Gummy Red Fish
Want to enjoy old-fashioned candy without ruining your diet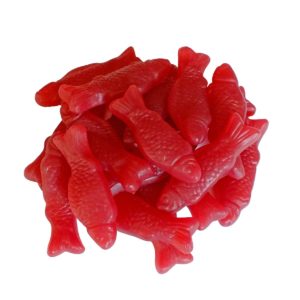 plan? Try these Gummy Red Fish Candy. They are an enjoying fat-free delight that will have you swimming back to your childhood memories of fishing trips or your pet goldfish.
Why Should I Buy an old-fashioned Candy? 
We may not be able to time travel, but we can relish memories. Having candies you ate as a child will instantly bring back your childhood memories. So, if you want to relive the good times and just let your inner child have a good time, try old-fashioned candy.
Are Old-Fashioned Candy Good for Me?
Aside from helping you time travel with your memories, old-fashioned candy has other health benefits. For example, candies increase your brain activity because of their high sugar content. Sugar gets converted to energy in your body, so it keeps you active if you take it in the right amount. However, if you keep on gorging on it, you'll end up with fatigue after a short while of being hyperactive. You'll also run your blood sugar levels through the roof.
Old-fashioned candy also improves your mental health by helping you destress. It raises your serotonin levels, which improves your mood, helps you focus, and makes you feel good in general. In addition, they have high fructose content, which is far healthier than the white sugar in most candies today.  
Summary
Old-fashioned candy is like a time machine; it will transport you back to your childhood in seconds! It also has impressive health benefits like boosting your mental health and brain activity as long as you don't overdo it.