Mexican Candy with Chamoy | L'Orenta Nuts
Also known as dulces enchilados, which are usually candy covered in chamoy sauce and tajin. They are one of our favorites. L'Orenta's original recipe of Chamoy, plus the perfect amount of Tajin, a condiment typically found on the rim of a Michelada, covering some sweet candy. Absolute delight. While the combo might sound mismatched at first, we promise it's delicious and addicting. Who wouldn't want a small bite of spicy heaven? Here are some Mexican candy with Chamoy. 
What does Mexican Candy with Chamoy Taste Like?
I can't stop recommending my friends to try chamoy Mexican candy. It is so unique that we often can't put into words the delicious flavor in these products. Spicy, sour, salty, and especially sweet are adjectives that describe the flavor of Chamoy Candy. 
Chamoy is typically made with fruit and Mexican chile. The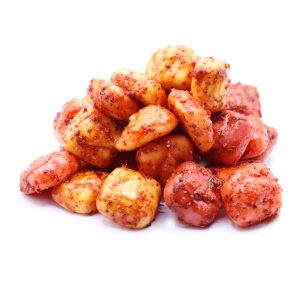 fruit-based sauce is fresh and tasty. But that's just the beginning of the flavor trip that Candy with L'orenta's chamoy takes you. The next stop is the saltish, piquant powder that makes up the outer layer of these Chamoy covered Candy. As a final source of savoriness, the different styles of candy inside are what take these dulces enchilados to the finish line of the top candy choices. 
3 Mexican Candy with Chamoy You Must Try
Here are some of our best-selling products that will keep you going back to the candy jar as often as humanly possible. This selection of L'orenta's chamoy covered candy varies in flavor. Each candy has its personality and spicy flavor profile. 
Let's take a look at 3 different Chamoy covered candy. You can decide which one or ones are for you!
Chamoy Cherry Sours 
I'm sure you are familiar with the typical cherry bombs. Now,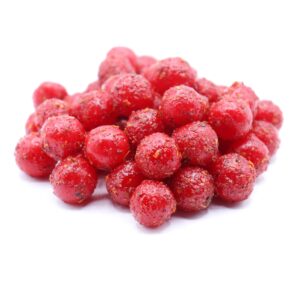 imagine them with a delish coating of Chamoy and tajin. Cherry-flavored candy's usual sweetness is infinitely improved when you add the little touch of spicy sourness coming from our original Chamoy recipe. If you have a tooth for cherry sours, you should give these bombs a try. Your only regret will be not buying more. 
Chamoy Gummy Strawberries
Next on the list are these tasty strawberry gummies. This candy is a little less sweet than the previous one. When you have a bite of Chamoy covered gummy strawberries, you get a fruity, citrusy savor that will reach all of your tastebuds. 
Chamoy Watermelon Slices 
As the final item of this list, we have slices of scrumptious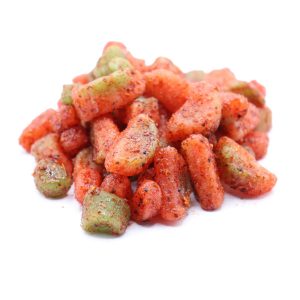 watermelon gummies coated with L'Orenta's Chamoy. While you enjoy the amazing blend of sweet, salty, citrusy fruit slice-like gummies, the Chamoy sauce adds a fresh spicy touch that might make you look funny. It will be hard to keep your hands from reaching to the candy jar for more of these Chamoy covered watermelon slices. 
Conclusion
Mexican chamoy candy is, by itself, succulent. The combination of chewy gummies and fruit-flavored candy is the perfect match for this traditional Mexican sauce. We have a wide variety of chamoy candies. Let your tastebuds enjoy this salty sweet sour spicy sweet candy. L'Orenta's products are of the highest quality. The storage and packaging are optimized so that the final consumer of these products can savor the ultimate experience of these delicious bites. We hope you enjoy your dulces enchilados with your family and friends!