Let's Celebrate National Candy Day | L'Orenta Nuts
Every year on the 4th of November, National Candy Day is celebrated to pay homage to the sweetness of candies in our lives. Whether they're hard, chewy, crunchy, fruit flavored, or a chocolatey sort of treat, candy has been a consistent source of enjoyment, and for our later years, nostalgia. 
From trick or treating on Halloween, to passing out Hershey's Kisses for Valentine's day, candy was always a memorable part of our childhoods. No matter how many years pass, candy will always bring back those special memories. Candies are a source of joy, and celebrating them is definitely warranted. National Candy Day celebrates the sweetness that candies bring into our lives.   
How to celebrate National Candy Day?
If you are wondering how to celebrate this special day, here are a few suggestions:.
You can start by giving candy to friends and family. Colorful and tasty candies will always bring a smile to their faces, and to yours as well.

You can try making candy for this celebration. It is quite simple, since you can find the recipes online. Make your candy and share a picture of the same online with the tag #NationalCandyDay.

Try a new candy flavor.  Unless you try a new flavor you will never know how good it might be. And of course, if you enjoy this new flavor, you can add it to your favorites list.

Host a small get-together and ask your friends to bring in their favorite candy to the party. Enjoy the flavors that others love and share with each other. This will bring in more fun and joy as you share the sweetness of the candies.

You can also spread the word about the National Candy Day  by using the tag #NationalCandyDay.

Make this National Candy Day memorable to you and your friends by sharing your sweet  candy memories with the hashtag #NationalCandyDay.
Interesting facts about National Candy Day
People use the term candy as a broad category. We treat candy bars, chocolates, licorice, sour candies, salty candies, tart candies, gum, hard candies, taffies, gumdrops, marshmallows and much more as candy.
In the early 19th century, Samuel Parkinson made butterscotch into candy in Yorkshire, England.

The candy press was invented in 1847 enabling the mass production of candies in different shapes and sizes. 

The name saltwater taffy came into being when the candy store of David Bradley was flooded in 1883 in a major storm in New Jersey. David Bradley called his candies saltwater taffy, due to the storm that had so socked the city..

In 1897  William Morrison and John C. Wharton from Nashville invented the first cotton candy machine. 

The iconic Reese's Peanut Butter Cups were first produced in 1928 by Hershey's.

Soldiers having hard shell pellets of chocolate during the civil wars in Spain inspired the M&Ms, by William Murrie& Forrest Mars. This happened in the year 1941 when the same was given to the soldiers from America during the Second World War. They stamped their initials which is how the candies came upon their name of M&M.
Whether it is to commemorate National Candy Day,  indulge in a little nostalgia, or simply continue to enjoy favorite retro candies, L'Orenta Nuts is the best source for these sweet  pleasures.  Here are some of our retro offerings:
L'Orenta 's Delicious Candies:
Our Classic Lemon Drops are the perfect combination of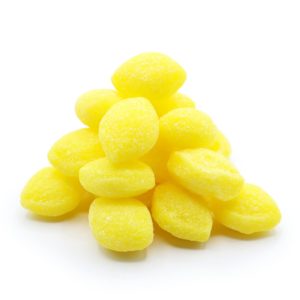 sweet and sour which is sure to tingle your taste buds and keep you coming back for more! Sour candy lemon drops were first used in the 1800s to mask the taste of bitter medicines, but have since become a much loved favorite among children and candy lovers alike.  
The colorful Cherry Sours have a crisp outer shell with a sweet, cherry flavored gummy candy on the inside. Combining these two classic candy traits result in a sour candy that is bursting full of cherry flavors in the center. These cherry sours are the perfect balance between sour and sweet that can still make you pucker up because of the tart cherrylicious flavor!
You are sure to remember our Nik-L-Nip wax candy bottles filled with a sugary syrup in assorted rainbow colors. Bite off the tip of the wax bottle and enjoy a burst of flavor that is on the inside of the wax bottle. 
Our Psychedelic Bruiser Jawbreakers are the ultimate hard candy experience! This long-lasting hard candy shell features fun splashes of psychedelic colors and encases a fruity, chewy center which will delight your taste bud
Don't forget to sample our Cinnamon Red Hots,  often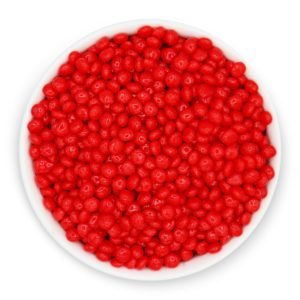 referred to as Cinnamon Imperials. These are hard candies that pack a spicy cinnamon punch. This is the perfect hard candy for any spicy cinnamon flavor lover . These also make great decorations for cookies and cakes!