Dear hazelnut lovers, you must have heard how these delicious little filberts taste way better when you roast them. So you might be wondering, How To Roast Hazelnuts? You can add roasted hazelnuts to desserts like ice-creams and pastries and chocolates. You can also add them to savory dishes like salads. No matter which, it's bound to elevate the taste multiple times by adding some satisfying nuttiness.
What does hazelnut taste like? 
What exactly does a hazelnut taste like? Just like any other nut, it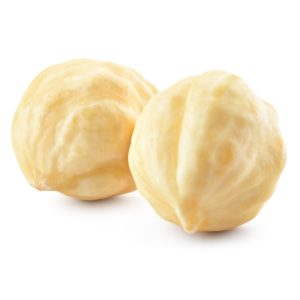 tastes nutty and has some mild notes of earthy flavors
The crunchy texture and chewiness further add to the experience. You will also feel a delicious creamy taste along with it. All these come together to create one sweet, toasty delight. This is exactly why hazelnut chocolates are so famous!
And if you want more twists in the flavor, you can look for wonderful mixes to try out. L'Orenta's cranberry-hazelnut mix and pineapple-hazelnut mix are good examples of that. Though they are just a mix of two ingredients, you will be awed at what a difference it makes in developing the taste.
How to roast hazelnuts in the oven?
Something about hazelnuts roasted in the oven is simply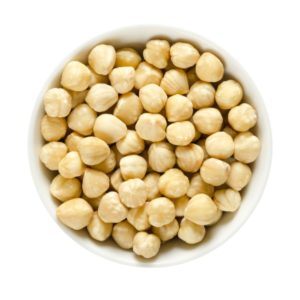 irresistible. Not to mention it's super easy! So if you have got an oven at home, gather your L'Orenta hazelnuts and get ready to roast them with these simple steps-
First off, your hazelnuts might still be inside their shells. You can use a nutcracker to bring them out of it. 

Line up a baking sheet with parchment paper or foil on a baking tray. Arrange all the hazelnuts on top of it in a single layer. That way, all of them will be roasted equally and give off the same crunch. You can try out these

L'Orenta's natural filberts

for this to enjoy the natural nutty flavor of hazelnuts to the fullest.

Then preheat your oven to exactly 350 degrees. Experimentally proven to be the perfect temperature to get the crunchiest and tastiest roasted hazelnuts!

Put the nuts in, and toast for about 10 to 15 minutes. Keep stirring once in a while for the toast to be spread equally. 

Is the color of the nuts becoming golden brown? Is a beautiful fragrance wafting off the oven? Then you know it's time to take them out. When you do, you will see that the darker skin is showing cracks already.
It might be hard to resist the temptation. But wait for them to fully cool down before you try them out. If you want them to taste even better, there is another trick. Just put all the nuts in a tight-lidded jar. And then put it in the freezer for a while. There is nothing better than some frozen toasted hazelnuts!
How to remove the skin of the hazelnuts?
Your toasted hazelnuts are ready. However, they will still have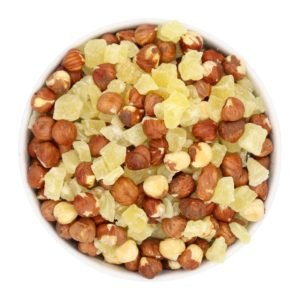 their skins on. If you prefer them with their skins, then that saves you some of the trouble. But the skin can taste very bitter, so it might not be your cup of tea. In that case, you should start taking off the skins in a simple method.
First, place the nuts on a clean kitchen towel and cover them up. Let the nuts steam inside for a minute.

Then start to gently rub the nuts with the help of the towel. Since the skins are all cracked and loosely attached, they will come off immediately. Without skins, they will taste even better.
How to roast hazelnuts using a stove?
Now, not every household has an oven to get by. But that can't stop you from living your roasted hazelnuts dreams. Lucky for you, you don't need an oven to get the best-roasted hazelnuts. You can also do it by using a stove. And it's even easier to do it that way. 
Take a medium-sized skillet or frying pan. Put the stove on medium heat to warm the pan up. Pour all the hazelnuts inside. Keep stirring the nuts all over the pan for around 5 to 10 minutes. When they turn a beautiful golden brown color, you can turn off the stove.
How do they make hazelnut milk?
You haven't lived a full life if you haven't tried out a cold glass of roasted hazelnut milk. The slightly burnt smell combined with the creaminess is a combination made in heaven. So now that you've got some roasted hazelnuts with you, let's learn how you can use them for a healthy drink!
Before you get to blending the nuts, soaking them is a good decision. It will make for a smoother and creamier taste. Soak for at least an hour or more. 

Once you're done, strain the nuts. Then you can add them to a high-powered blender. Make sure to put 2 cups of fresh water in it. Blend them for a minute or so until you start seeing a lovely caramel-ish color inside. 

Finally, put the mixture into a nut milk bag. You can also use layered clothes like a cheesecloth. Bundle it up carefully, then squeeze out as much as you can into a container. And there you have your milk!
And now you are done. Hopefully, your question about How To Roast Hazelnuts has been answered. And now that you've got some delicious toasty nuts on your plate, you are free to do whatever you want with them. Have fun!