How to Make Chamoy Candy | L'Orenta Nuts
If you've been to any store selling Mexican candy, you've obviously tried 'Dulces Enchilados', Mexican Spicy Candy. One of the main ingredients in most Mexican sweets, which are also spicy, is Chamoy. You loved it and now you'd like to know what it is made of and how to make Chamoy candy. 
Chamoy covered candy has been growing in popularity since its unique flavor combines a mix of sour, sweet, and spicy savor in every bite. 
In this post, you will find all you need to know about this Mexican sauce. Keep reading to find an easy-to-make homemade Chamoy recipe. 
What is Chamoy Made of?
Chamoy originated in China. However, the Mexican 'salsita' contains a combination of Mexican fruit, chili, and condiments. This amazing mix of elements results in an eccentric, flavorful sauce that is often eaten with fruit or candy. 
What is the Original Chamoy recipe?
Traditionally, Chamoy isn't as spicy as it is sweet. This means that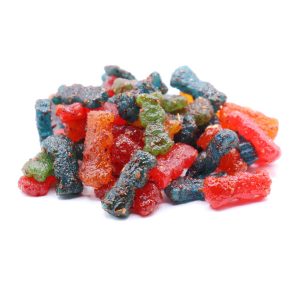 it contains more sugary ingredients than salty/spicy ones. 
Many people like to play around with the amounts of the ingredients resulting in different Chamoy sauce variations. 
Although the actual ingredients vary from recipe to recipe, and there isn't an actual 'original' one, these are the ones that are generally included in most recipes. 
Fruit. Usually apricots, plums, mangos, or peaches. This ingredient is part of that sweet freshness in the sauce. It also provides some of the density of the liquid. 

Chili. How hot the Chamoy is can depend a lot on the style of chili that's included in Chamoy. You may see some people use 'chile de arbol', 'chile ancho', or other kinds of dried chili. Some say, as long as it's red and spicy, it goes well. 

Lime. It is critical to have that tart, sour touch. Lemon or even orange might do the trick as well, it's up to the chef to decide what's the best ingredient.

Salt and Sugar. Of course, it has to include both. They are equally as important to complete this addictive sauce. 
Some other ingredients, not as crucial as the above-mentioned, but still relevant if you want to experiment a little in the flavor department are the following.
Water. Depending on the density you are looking to achieve. 

Tamarind. It fits well with the mix, good addition. 

Vinegar. For preservation and a touch of flavor too. 

Cranberries, raisins, or other fruit. With Chamoy, you can always get creative!
So, let's see an actual recipe of Chamoy so you can get started in the journey of experimentation with 'dulces enchilados'.
How to Make Homemade Chamoy
The following is a simple recipe of Chamoy candy you can easily prepare yourself. The ingredients are not hard to find, especially if you have a Mexican area in your nearest convenience store. So, let's start. 
Ingredients
2 ancho chilies
10 apricots, preferably fresh
4 tbsp lime juice
1 cup brown sugar
1/2 tbsp lime zest
Around 2 cups of water
Salt to taste
Instructions
Cut the apricots into small chunks.

Remove the stems from the 'chile ancho'. Brush off the seeds. Get rid of both seeds and stems. 

Boil all ingredients in a pot. Keep the heat low. Stir often as it simmers.

Let the Chamoy simmer for about 45 minutes or until it has the texture of a paste. 

Blend all ingredients slowly. Make sure to try and add salt as necessary. You may add water as you wish until you get the perfect density. 

Enjoy. 
What is the Best Way to Enjoy Chamoy?
Chamoy is a condiment, not a candy in itself. Therefore, it is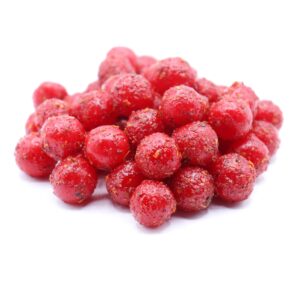 often added to fruit, candy, drinks, popsicles, and even some dishes. Traditionally, it is often enjoyed on fruit and candy. You can basically add it to any fruit you want. However, you should definitely try it with mangos, apples, watermelon, and pineapple. 
As far as candies go, you can find them in a lot of different kinds of candy. For example, cherry sours are one of Chamoy's best friends. The combination of the traditional candy covered with Chamoy is awesome. Here at L'Orenta we carry a variety of different chamoy candy, instead of making it yourself you can indulge in ours!
Conclusion
Chamoy is not only delicious, but it's also not unhealthy. While its main ingredients are natural and fresh, it really makes a great addition to any snack. 
Preparing it is pretty easy and you can absolutely play around with the recipe as much as you like. 
So, be my guest and enjoy chamoy today!