How to make a Pecan Pie? | L'Orenta Nuts
Pecan pie is a pie made with pecans, egg, butter, and sugar filling. This handmade pecan pie is a traditional holiday treat that's ideal for Thanksgiving and Christmas. It's the perfect balance of sweet and salty. You likely want to learn how to make a pecan pie at home.
Ingredients
You probably already have everything you need to make this pecan pie if you have pecans and a few kitchen essentials. What you'll need is the following:
granulated sugar (almost two cups)
For this recipe, you need almost two cups of granulated sugar.
Dark corn syrup adds depth of taste, texture, and volume. Use light corn syrup for a more subtle flavor.
Butter adds richness and a great depth of flavor to this pie.
To thicken the filling, use two teaspoons of cornstarch and one tablespoon of cold water.
Whole eggs are used to help glue the filling together and add moisture.
A little salt goes a long way toward enhancing the filling's other flavors.
Vanilla extract adds a delicious, crowd-pleasing dimension to the flavor. 
Pecans, either halved or chopped, work great in this recipe.
For great assured results, use Butter Flaky Pie Crust. In a pinch, a frozen
or the refrigerated crust will suffice.
Instructions
This homemade pie is incredibly simple to make.
Preheat the oven to 350 degrees Fahrenheit (175 degrees C).
Sugar, corn syrup, butter, water, and cornstarch should all be combined in a medium saucepan. Bring the water to a full boil, then remove it from the stove.
In a large mixing basin, whisk the eggs until frothy. Incorporate the warm syrup mixture into the batter gradually. In a mixing basin, combine the salt, vanilla, and pecans. Fill the pie shell halfway with the filling.
Bake 45 to 50 minutes in a preheated oven until the filling is set.
Does pecan pie need to be refrigerated?
Yes. you have to store pecan pie in the fridge after it has cooled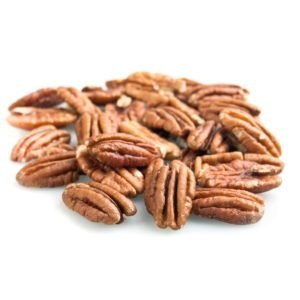 because it is an "egg-rich" pie. It shouldn't be left out at room temperature unless you plan to serve it within two hours of baking. A pecan pie, on the other hand, can be left out of the fridge for up to four hours before being refrigerated.
If you've just cooked your pie, make sure it's entirely cool before refrigerating it—this is also crucial for food safety. If you have any leftover pie after the main meal, keep it refrigerated.
How long does pecan pie last?
In the refrigerator, pecan pies will keep for three to four days. Store-bought pies may contain preservatives that affect how long they last, so check with your local bakery for additional details.
Bacteria grow quickly at temperatures between 40°F and 140°F; thus, if pecan pie is left out at room temperature for more than 2 hours, it should be thrown.
It will keep its optimum quality for around 1 to 2 months if stored correctly in the freezer, although it will be safe for longer. The freezer time indicated is for best quality only; pecan pie that has been kept frozen at 0°F for an extended time will keep indefinitely.
How to store pecan pie 
Pecan pies are a traditional fall dish. Learn how to preserve this pie safely so that it stays fresh for days, if not months after you prepare it. 
Allow the baked pie to cool before serving.
It's smart food safety advice to avoid putting hot food in the refrigerator because it can affect the appropriate cooling storage temperature for the other goods.
Keep the toppings to a minimum. 
Ice cream or whipped cream on top of pecan pie is popular, but these can be a pain to deal with during the freezing and thawing phases.
Wrap your pie in foil. Because egg-based desserts are sensitive to freezing temperatures, it's best to completely cover your pie, including the pie dish or pie pan, in aluminum foil or many layers of plastic wrap to avoid freezer burn.
Set the pie in the freezer. Your pie will stay in the freezer for up to four months once wrapped. If the crust is still moist after baking, it will likely become soggy when thawed, so make sure it's well-baked if you opt to freeze it.
What is pecan pie filling?
Pecan pie is a pie made with pecan nuts with an egg, butter, and sugar filling (typically corn syrup). White or brown sugar, cane syrup, sugar syrup, molasses, maple syrup, or honey are all possibilities.
Some may argue that the abundance of sweet ingredients added to the pecan pie is what makes it so delicious. The main focus should always be on the pecan nuts you use.