Espresso beans are one of the most delicious ways to consume coffee. However, how much caffeine is in chocolate-covered espresso beans? How does it taste? How should you eat them? To answer all these questions, keep on reading!
What are chocolate espresso beans?
To understand how much caffeine is in chocolate-covered espresso beans, you should first know these terms. There are so many terms for coffee and coffee-related items that even an expert might get confused.
First of all, espresso beans are simply coffee beans but of higher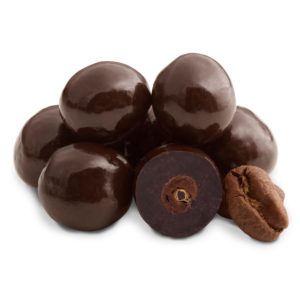 quality. Espresso beans are smoother than coffee because they have been roasted for longer. This results in a richer taste. Espresso is coffee that is just ground and brewed differently than normal coffee that everyone drinks. Another great difference is that espresso has to be brewed in an espresso machine or Aeropress.
What are chocolate-covered espresso beans?
It is a confection in which the espresso beans are covered in some kind of chocolate. It is either coated in dark chocolate, white chocolate, or milk chocolate. These coffee beans are high in fat and caffeine because the main ingredient is coffee and chocolate.
How does it taste?
They taste like coffee beans covered in chocolate. People might assume that since there is chocolate, it must be sweet. However, chocolate-covered espresso beans are only slightly sweet and mainly just bitter like coffee tastes. Especially dark chocolate-covered beans, they are not sweet at all.
How much caffeine is in the chocolate-covered espresso beans?
Now that you know what espresso beans are and what makes them different from normal coffee let's answer the real question.
The concentration of caffeine is pretty high in chocolate beans. Moreover, the amount of caffeine also depends on where you buy the beans from.
Usually, in 100 grams, there is 800 mg of caffeine. A single bean  has 6 mg to 13 mg of caffeine. The most amount of caffeine that a person can consume in a day is 400 mg. This is equivalent to four cups of coffee. 
Remember, chocolate also has its own caffeine, which affects the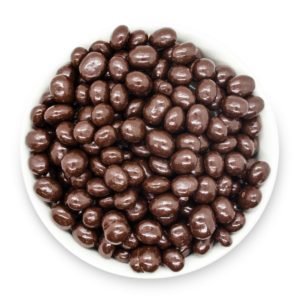 caffeine concentration of the chocolate beans. However, the white chocolate-covered espresso beans have the least amount of caffeine as this is caffeine-free. Dark chocolate has the most caffeine in it, making this the bitterest confection.
Recommend amount of chocolate espresso beans
If you are eating these coffee beans, it can be a little hard to stop because of how delicious they are. However, too much caffeine can actually be bad for you in many ways. Therefore, if you are eating only these beans as a source of caffeine, 40 grams to 50 grams of these chocolates in a day is the perfect amount.
You should also know that coke, energy drinks, and many other everyday beverages have coffee, so do not overconsume caffeine!
Where should you buy these delicious items?
If you want to stay awake and not drink coffee, these chocolate-covered espresso beans are one of the best alternatives. So you should get these beans from  L'Orenta, where you know you will get a high-quality item. We know exactly what you want, and we include these qualities in all our products, including these chocolate-covered beans.
You can buy our dark chocolate espresso, which is one of the best-selling items and is pretty affordable for being a luxury item. It is peanut-free and has zero trans fat. Made in the USA. 
However, if you want a more diverse mix that has these dark chocolate-covered espresso beans, we recommend the espresso boost mix and the espresso expression mix. This will not only balance the bitter taste of the coffee beans but also reduce the caffeine concentration that you consume! 
In conclusion, now you know how much caffeine in chocolate-covered espresso beans is there and you can consume this snack without worrying. As long as you are careful, this is a very good way to consume caffeine and stay active.