Gushers with Chamoy and Tajin | L'Orenta Nuts
In this article, you'll read about one of our most recent additions to the Chamoy covered candy collection, Gushers with Chamoy and Tajin. These 'dulces enchilados' (spicy candy in Spanish) are becoming one of the best-selling products. This is because when coated with L'Orenta's original Chamoy recipe, gushers reach a brand new level of deliciousness. 
So what are gushers? How do we make this amazing candy? How does it taste? Is Chamoy spicy? Keep reading to find answers to all these questions. 
What are Gushers?
Fruit Gushers, or more often just 'Gushers' are a fruit-flavored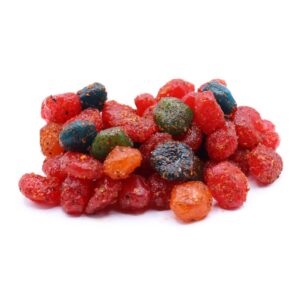 candy snack. Gushers are known for their odd shape and unique style. These have a soft outer gummy shell and a burst of fruity sweet liquid in the center. Their name comes from the 'gushy' sensation you get when you reach the center  of the gelatinous gummy-like candy shell. The tropical flavors included are kiwi lime (green), strawberry kiwi (red), tangerine (orange), and blueberry grape (blue)
Most people have, at least, heard of gushers. However, let's take a look at some of this candy's history and how it became one of America's favorite candies. 
Here are some interesting facts about fruit gushers. 
Gushers were first introduced to the American market in 1991 as a Betty Crocker fruit snack.

Gushers' initial price back in the 90s was US$2.19 for a box.

Each box contained six bags of Gushers, each of which had nine individual pieces. 
From there on, they kept selling and becoming one of the top brands of candy in every store. This time though, you could try the evolution of this product to a Mexican-styled 'dulce enchilado'. 
L'Orenta has placed into the market an enhanced version of the original fruit gushers. This special spin-off comes with a coating of L'Orenta's original Chamoy recipe, Tajin, and other spices that make the original version of this candy seem boring. 
These soft gummies covered with 'chilito' come in small packages that ensure you get the utmost experience the moment you decide to treat yourself with these delightful bits of sparkling, gushing candy. 
What do Chamoy and Tajin Gushers Taste Like?
Beware, If you haven't tried any 'dulces enchilados' yet, you might find them extremely addicting. Chamoy covered candy is known for being a bit spicy, sweet, sour, and tangy all at the same time.  
Is Chamoy Spicy?
Chamoy is a Mexican fermented sauce that is usually used as a condiment. Even though the different recipes for this sauce vary a lot, the main ingredients are fruit, chili, and citrus juice. 
Since it contains chili, Chamoy is a little spicy. However, most people would consider it more as a sweet salsa rather than a spicy one. When it is used on fruit or candy it often covers the whole product. This means that it can be spicy for those who are not used to eating spicy food. 
Conclusion
Do yourself a favor and get your hands on some of these wonderful candies. You won't regret having the amazing experience of trying L'Orenta's Gushers with Chamoy and Tajin for the first time. Enjoy the gush!