Five Health Benefits of Roasted and Salted Almonds | L'Orenta Nuts
You must know that roasting almonds improves their flavor. Roasted and dusted with salt, this tasty snack has a great source of protein, vitamins, minerals, and all-natural goodness. You might be wondering if there are any health benefits of roasted and salted almonds.  Roasted almonds are high in nutrients and have health benefits. Scientific research shows the presence of Prebiotics in roasted almonds. It serves as food for the beneficial bacteria in the stomach connected to immunity, anti-inflammation, and mental health. 
What Is the Purpose of Roasting Almonds?
Roasting almonds improves the flavor, fragrance, and crunchiness of the nut. For separating the shells from the kernels of nuts, we use roasting procedures. Almond roasting can get classified into two types:
Dry roasting:

Roasting without oil is known as dry roasting. Almonds can be dry roasted in the oven, microwaved, or fried with salt in a frying pan.

Oil roasting:

Roasting the almonds with oil is known as oil roasting. You can oil-roast your almonds in the oven or on a frying pan.
You can roast Almonds all by yourself or buy roasted ones. Open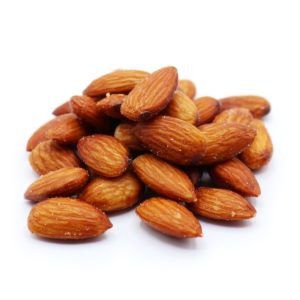 a bag of L'Orenta's Roasted and Salted Almonds. They are the perfect snack to amaze your guests. But, instead of buying nuts roasted, you can also buy the L'Orenta Whole Natural Almonds and roast them yourself in the oven. In this way, you will be able to manage the temperature and dry more nuts at once.
Almonds are also a good source of vitamin E, which can help lower blood pressure and improve cholesterol levels. Both raw and dry-roasted almonds have similar fat, carbohydrate, and protein content. Although roasted nuts contain more fat and calories per gram, the difference is negligible.
But, high heat and cooking for a long time can cause a hazardous impact. Roast for 15 minutes at a low temperature of 248–284°F (120–140°C) or a medium temperature of 284–320°F (140–160°C). It would result in the most appealing flavor and texture.
Health Benefits of Roasted and Salted Almonds
Roasted and salted almonds are one of the most desired savory snacks. They are high in healthy fats, antioxidants, vitamins, and minerals and are nutritious. Five health advantages of roasted and salted almonds are listed below:
1. Loaded With Antioxidants
Almonds have a lot of antioxidants that can aid in the prevention of oxidative stress. They also play a significant role in anti-aging and disease. The powerful antioxidants of Almond remain concentrated in the brown layer of the skin. Hence, roasted almonds without the skin are not the healthiest option. You can also buy L'Orenta roasted and salted Almonds with the skin. 
2. Assist in Blood Sugar Management
Roasted almonds are rich in healthy fats, protein, and fiber while low in carbohydrates. Almonds are rich in magnesium, making them an excellent alternative for diabetes patients. Magnesium intake also reduces insulin resistance in people who do not have diabetes.
Metabolic syndrome and type 2 diabetes may enjoy a high magnesium diet. Furthermore, the magnesium in almonds may aid in the reduction of blood pressure. Low magnesium levels are connected to high blood pressure, implying that roasted almonds aid in controlling blood pressure.
3. Lower Cholesterol Levels
A high level of LDL lipoproteins — known as bad cholesterol in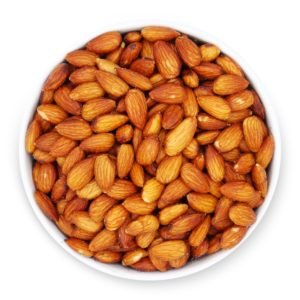 your blood — is a well-known risk factor for heart disease. According to scientific research, roasted and salted almonds can decrease LDL cholesterol.
They do more than only reduce your blood LDL levels. They also protect LDL from oxidation, a crucial stage in the progression of heart disease. Taking one or two handfuls of roasted almonds can lower harmful cholesterol. And it may aid in reducing the risk of heart disease.
4. Lowers Your Calorie Intake by Reducing Hunger
Roasted and salted almonds are low in carbs but high in protein and fiber. Protein and fiber can boost feelings of satiety. It could also assist you in consuming fewer calories. According to scientific studies, a daily 1.5-ounce (43-gram) part of roasted almonds can lower hunger and the desire to eat. Much more research supports the hunger-fighting abilities of Almonds.
5. Helps To Lose Weight
Despite their high-fat content, almonds are an excellent weight-loss diet. Almonds may enhance metabolism. Roasted almonds are a great complement to an effective weight loss diet because of their satiating characteristics.
In one study, a low-calorie diet including 3 ounces (84 grams) of almonds resulted in more weight loss than a diet high in complex carbs. According to another study, people who ate roasted almonds lost more weight than those on a nut-free diet. Waist circumference and other health markers improved after eating roasted and salted Almonds.
Thus, the health benefits of roasted and salted almonds are immense. So, they may be on the binge eaters hit list as a snack. And when it comes to snacking, roasted and salted almonds from L'Orenta are a healthier option. Incorporating crunchy Roasted Salted Almonds into your diet can aid with blood sugar control, blood pressure control, and heart health.