Enjoy National Pistachio Day | L'Orenta Nuts
The 26th of February is National Pistachio Day, a day we dedicate to all things pistachio. Pistachio fans enjoy it when they consume their favorite nut throughout the day. Those who do not consume pistachios should purchase some whole roasted Pistachios from L'Orenta and offer them to someone who does! To enjoy National Pistachio Day, crack them open and consume them, or use them in ice cream or your favorite pistachio treat.
Thus, in this article, we'll go over how to celebrate National Pistachio Day and some background information on the pistachio.
The History of Pistachio
Pistachios were first introduced to the United States in the 1880s, but they have grown in the Middle East since Biblical times.
The pistachio tree grows to be around 20 feet tall and requires a lot of heat and little rain. Amazingly, there are 700-year-old pistachio trees in Iran! It takes 7 to 10 years for a young tree to grow and provide fruit.
Pistachio Kernel
Pistachio nuts become "shelled pistachio" or "pistachio kernel" with purple skin when the shell is removed (naturally or mechanically). We eat the pistachio kernel.
History Of Pistachio Day
For decades, producers and importers used red dye to disguise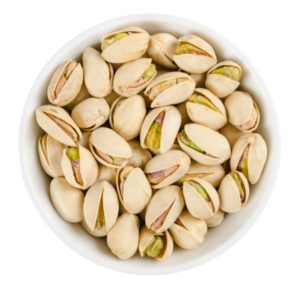 flaws and make products more appealing to consumers. This dye had a habit of leaving red stains on the fingers of those who ate it. The dye was phased out in the 1980s, and they are now marketed in their natural hue.
Iran is the world's leading producer of pistachio nuts. These tiny nuts are an indelible part of Iranian society.
Pistachios are also grown in warmer climates around the world, and they are grown in California, the United States, and Mediterranean Europe. 
We utilize pistachios in a variety of dishes, and their sweet flavor makes them popular in desserts like baklava, a Lebanese specialty. We find Pistachio ice cream occasionally. 
According to several studies, eating pistachios in moderation can help maintain the human heart healthy. They have nutrients, including those that can help reduce the risk of cardiovascular disease. As a result, we decided to celebrate National Pistachio Day.
How To Observe National Pistachio Day?
A pistachio biscotti is a great way to start the day.

Do you have a friend who adores pistachios? If yes, pick up a bag of pistachios or get a pistachio dessert from the baker. How about

L'Orenta's

whole roasted pistachios in the shell

? 

Add pistachios to a salad or soup. They'll add a great crunch as well as a fantastic flavor.

Pistachios, crushed, make a tasty crust for fish and other meats. Look for pork and chicken recipes as well.

Use pistachios in baked items. Pistachios, like other nuts, add a crunchy texture to the mix, but they also have a distinct flavor.

Don't forget to include your oats and yogurt in your meal. Pistachios will enhance the flavor of your nutritious snack or breakfast.

On social media, use the hashtag #NationalPistachioDay.
Health Benefits Of Pistachios
Vitamin B6, copper, and manganese are all abundant in pistachios.

Protein, fiber, thiamine, and phosphorus are all present in pistachios.

According to research, consuming 1.5 ounces (42.5g) of pistachios per day as part of a low-saturated-fat, low-cholesterol diet may lower the risk of heart disease.
Fun Facts Of Pistachios
The natural color of pistachio shells is beige. If the nuts are of

poor quality or meet consumer demand, some businesses color them red or green.

California produces over 300 million pounds of pistachios each year, and the United States produces 98 percent of all pistachios. 

When ripe, pistachio shells usually split.

We intake whole, raw or roasted, salted or unsalted pistachio kernel.

The Middle East calls the pistachio a "smiling nut." 

China calls pistachio a ''happy nut''.
Pistachio Unique Recipes To Try Out On Pistachio Day
Get creative with pistachio dishes to have a good time in the kitchen. These unusual and creative ideas for cooking and baking with this delectable nut, whether sweet or savory, will keep the whole family happy:
Salmon with a pistachio crust.

This soft, flaky pink fish has a deliciously crunchy covering of chopped pistachios. Extra nutritious and delectable!

Flatbread with asparagus, goat cheese, and pistachios.

Pile the toppings on a piece of artisanal flatbread and convert it into a gourmet dinner, much like a wonderful personal pizza.

Chicken Salad Sandwich with Cranberries and Pistachios.

Adding dried cranberries and chopped pistachios to chicken salad takes it to a whole new level.

Popsicles made with matcha and pistachios.

Make sweet summer delicacies healthier by using matcha tea and wonderful, crunchy pistachios.
What could be better than a nice pistachio snack all by yourself on Pistachio Day? Of course, share it! "  Pass out whole roasted pistachios from L'Orenta to coworkers at the workplace, or bring pistachio pastries to a get-together with friends and family. Delicious! Enjoy national pistachio day!