Easy Banana Nut Bread Recipe You Can Make Now | L'Orenta Nuts
 Looking for great tasting bread you can make at home? There's nothing more delicious and comforting than freshly baked bread. The good news is you don't need to be a baker to make one. Nowadays, you can find tons of bread recipes online. One of them is the banana nut bread.
What is a Banana Nut Bread?
As the name suggests, this is a kind of bread with banana and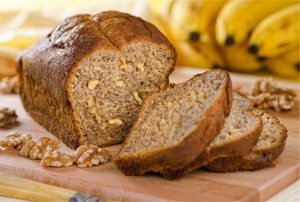 nuts as main ingredients. There are no hard and fast rules when it comes to making this delicious loaf. You can adjust the amount of overripe bananas you want. As for the nuts, you can use any such as pecans, peanuts, cashew, almonds, and walnuts. In fact, you can have several kinds of nuts in your banana nut bread.
Easy Banana Nut Bread Recipe
Anybody can bake this easy banana nut bread recipe. You need the following ingredients:
1⁄2 cup or one stick butter
1 1⁄4 cups brown sugar 
1⁄4 cup milk
1 teaspoon vanilla 
2 beaten eggs
1 cup smashed overripe bananas
2 cups all-purpose flour
1⁄2 teaspoon salt
1⁄2 teaspoon baking soda
1⁄2 – 1 cup chopped nuts of your choice
Once you've prepared your ingredients, be sure to grease and flour a bread pan and set it aside. Now it's time to make the banana nut bread by following these easy steps:
 

Cream the butter and brown sugar.

 

Add vanilla and eggs then set aside.

 

In a bowl, combine all dry ingredients.

 

Add bananas and milk alternately.

 

Add the nuts.

 

Pour the mixture into the bread pan and bake at 350 degrees for 45 minutes to one hour.
Serving Banana Nut Bread
There's so much joy in the moment you open that oven and your banana nut bread is done. You'd want to immediately get a fork and dig in! But remember that patience is a virtue. Allow it to rest for a few minutes before transferring it to a serving plate.
Others would even let it sit overnight and serve it in the morning with their coffee, tea, or milk. That's because this kind of bread becomes moister the longer it rests. You can serve it with different spreads like butter, peanut butter, cream cheese, fruit jams, and more. It makes a nice breakfast, too, when served with eggs and slices of fresh fruits.
Meanwhile, banana nut bread makes a yummy and healthy snack, too. Serve it with freshly squeezed orange juice while watching a movie or doing household chores. You can serve it to your guests as well.
How to Store 
As mentioned, this is one bread that tastes better and better as it sits. The ingredients are flavorful and the bananas keep it moist. To ensure that the bread stays nice and moist, wrap it in foil or plastic wrap. You can leave it at room temperature and it will stay fresh for up to three days.
Meanwhile, you may put it in the refrigerator where it can last for up to one week. To freeze, allow the loaf to cool completely before wrapping it tightly and putting it in the freezer. It can last there for three months.
Useful Tips and Tricks
Following the cooking instructions is enough to give you delicious banana nut bread. But did you know that you can make some changes into the recipe? You can make your own version of this mouth-watering bread with some simple tips and tricks.
Use overripe bananas to achieve the best flavor and sweetness. They'll also give your bread those nice speckles and natural brown color.

Don't overmix the batter. Slowly combine the dry and wet ingredients and mix them together until they're well incorporated. Overmixing can cause the bread to become hard and dry.

Consider the kind of pans you use when setting the cooking time. Light-colored pans can cook the bread more evenly than dark pans. To avoid burning your bread, do the toothpick test. All you have to do is insert a toothpick into the bread and if it comes out clean, the bread's ready. Overbaking the bread will make it dry instead of soft and moist.

Adjust the sugar when necessary. Some people don't like their banana nut bread to be too sweet. The bananas are already sweet so you can lessen your brown sugar to a cup.

 

Aside from nuts, you can add dried fruits like raisins and berries and chocolate chips to your banana loaf bread. They'll make your bread more flavorful and kids will love the chocolatey goodness, too.

You can substitute brown sugar with white sugar if you like. You may also use margarine instead of butter.
The next time you're craving for freshly baked bread, try this banana nut bread recipe. It's easy so easy to make and absolutely delicious!