Dig Into Southern Style Snacks | L'Orenta Nuts
Everybody loves treats, from fruits to chocolate, yogurts to homemade cakes. We all have our favorite treats and some of us have delicious family recipes. Today we want to open your appetite (and kitchen) to dig into southern style snacks!
Even though we use the expression pecans nuts, they are actually "drupes". What is that? Just fruits coming from a tree, they are similar to peaches and plums but they are related to walnuts. Before a shelled pecan is ready to be sold, it must first be cleaned, sized, sterilized, cracked and finally, shelled. That's a lot of steps before enjoying one but the wait is totally worth it! 
It exists over 1,000 different varieties of pecan nuts but the pecan trees (native to the United States) only produce nuts every two years and pecans trees so the production process must be carefully taken care of (we do not want to waste any nut!) 
In the US we love pecan nuts so much that we made July 12th the National Pecan Pie day, April 14th is National Pecan Day. We are such big fans that astronauts took pecans to the moon two times in the Apollo space mission. Crazy right?
There are southern style pecan treats for all taste!
Now that we made you dribble with our delicious and US made pecans, let's talk about health benefits (yes there are plenty). 
Because they contain more than 19 vitamins and minerals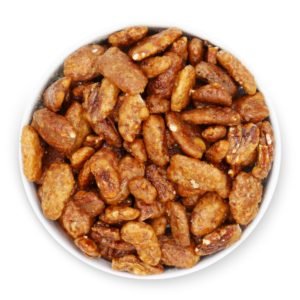 (Vitamins A, E, folic acid, calcium, magnesium, phosphorus, potassium, several B vitamins and zinc) they are a great addition to your diet to prevent inflammation, lower cholesterol levels. They also have amazing benefits for the digestive system and weight loss because of their high fiber percentage. What does weight loss have to do with nuts you might ask? Well, the fiber fills the appetite real quick, so it helps fighting cravings, which can conduct to long-term weight loss. 
Considered a healthy fat (they are called monounsaturated fats), they can do wonder for your heart by lowering the risk of heart diseases if you eat them in moderation.  
You might not realize it but pecans nuts are also a natural and high-quality source of protein containing few carbohydrate, no cholesterol and sodium-free. 
This rich composition makes them a great support for the body to support the immune system, fight infections, eliminate toxins, regulate bowel movements and improve skin health.  
Do you still need to be convinced to try them out? 
Pecan nuts are very versatile and can be added to so many differents dishes:
– They are perfect topping to any salad.
– They add a grate crunch to your chicken, fish or pork recipes.
– For your breakfast they can be used as is or incorporated in whole-grain muffins, pancakes, cookies and danishes or acai bowls.
– They are also welcome in the dinning room for some extra taste in homemade pies, casseroles and yogurts desserts.
Have fun with your recipes. If you want to share some family or friends fun, you can cook and roast them at home!  
Don't forget to take care properly of your pecans to keep them savory and crunchy! The best way to store them is to keep them in an airtight container in the refrigerator or the freezer. For the freezer conservation we recommend placing them in a serving size sealed plastic bag, it will be easier to handle after. Be careful not to expose your pecan nuts directly to the sunlight or light, as there is a higher risk to reduce the shelf life. 
Before eating them, take them out and wait a couple of minutes so they can adjust to the room temperature. But if you need to cook them, use them right away.
Shelled pecans can be kept in the refrigerator around nine months. They can be stored up to 2 years when they are stored in the freezer! No more excuses to not always have pecans at home!
Enjoy and crunch some pecans on us!