Did You Say Chocolate Covered Banana Chips | L'Orenta Nuts
We love to offer our clients healthy and tasty recipes. It is actually possible to take care of your diet and your health while eating delicious fruit snacks. With a little bit of creativity and good products, you can rock your food!
Bananas are one of the most popular fruits for countless reasons. Easy to transport, they can be eaten fresh or cooked (banana bread is a big winner all year around). Everyone loves them, from kids to athletes, and they can be incorporated into all diets.
How do bananas grow? 
They grow best in humid and tropical regions, between 78° to 86° F. It is important to provide them full sunlight but to be careful with too direct exposure: the leaves and fruits will sunburn. To produce a flower stalk, the plants need 10 to 15 months of frost-free weather and a compost-rich and drained soil. Create a block of several plants, give them patience and love and they will grow floating in water (like watermelons!).
They are so popular that almost 100 billions are eaten every year in the world, mostly for breakfast!
health benefits: 
One regular size banana contains several antioxidants, fibers, and potassium and magnesium. They are mostly made of water and carbs.
Help improve your blood sugar levels. When bananas are digested, the fiber dissolves into the stomach (like a gel) and helps regulate the blood sugar level movements, especially after a meal (interesting for people with insulin issues). Despite this benefit, people suffering from diabetes should be careful about the portion size they have daily. 
Support the digestive system: the resistant starch dissolving during the digestion process is a very good bacteria for gut health. The pectine can help you with constipation issues. 
Help with weight loss because they have a low caloric level and a high fiber content.
Their high level of potassium allows blood pressure management, lowers the risk of a heart disease and supports kidney function.  
The antioxidants they contain such as flavonoids and amines also help prevent degenerative illnesses. 
The amount of carbs contained in a regular size banana makes it a great workout snack for athletes. They can be used before or after the workout, even during the training session. 
Dried Banana Chips
Bananas are an incredibly healthy snack, but there is even better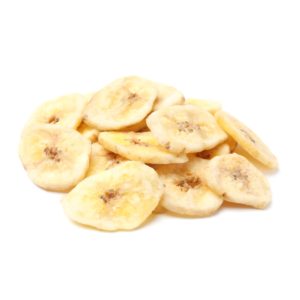 … the dried banana chips? Crunchy and tasty, they can be added as toppings in many recipes. Or you can just grab a hand of them! They taste amazing mixed with other dried fruits, pieces of chocolate and more in trail mixes. 
The process of making banana chips is pretty simple. If you are going to use an oven, cut the bananas in the same size slices, place them on a baking sheet, and leave them for an hour or an hour and a half at a 100 degrees temperature. If you have a dehydrator, just place the banana slices on the trays and cook them at 135 degrees for about 8 hours.
You can enjoy a lot of our delicious dried fruit and tropical dried fruits! Because there is almost no moisture in these products, it won't spoil as fast as a fresh fruit. You can keep banana chips in your fridge for up to six months!Our sweetened banana chips are peanut-free, wheat-free and dairy-free, proudly made in the USA and shipped from our location in Texas! We offer them in 1 lb, 5lb or 14 lb packages to adapt to all your needs. It will quickly become a kitchen essential for you and the whole family. They are the perfect mix between crunch and sweetness and can be added to yogurt or granola. Because they are easy to pack, they are perfect for outdoor activities! 
Milk Chocolate Banana Chips
But wait, we made something even better…we mixed bananas and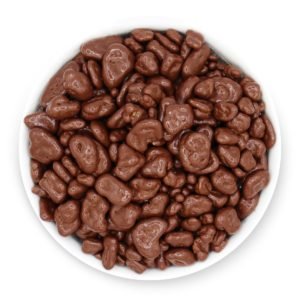 milk chocolate! Our milk banana chips are just a little piece of heaven on earth! We coated banana chips with milk chocolate, and polished them with a smooth coating. No you are not dreaming and yes, they are even better than the regular nature banana chips. It is the perfect snack for chocolate lovers, movie nights or a mid-day snack with a cup of coffee. It is a great snack for kids too and will be appreciated for birthday parties and as a dessert in the daily lunch bags. 
Be careful though not to keep your milk banana chips into the refrigerator, it will damage the color of the chocolate. The taste is the same but it doesn't look as yummy. Store them in a dry and cool place in an air-tight container, away from sunlight.
To conclude, banana chips are the bomb. You can eat them raw or add them to your yogurt, cereals, and smoothies. They also make an incredible snack with peanut butter on toast!