Delicious Recipes for Every Occasion
There's nothing better than finishing off a fabulous meal on a sweet note – even more so when the dessert is homemade… Knowing someone took the time and effort to make something delicious to share with you makes any occasion feel extra special.
So maybe you're throwing a birthday party, a dessert potluck, or perhaps you've been asked to bring something sweet? Even if you're simply looking to sweeten your everyday family dinners, having a few tricks up your sleeve is always a good idea. Most importantly, these crowd-friendly treats are impressive yet simple to make,and sure to wow your friends.
Need a little inspiration? Try these desserts to put a perfect end to your meal! Whether you're looking for cookies, cakes, pies, or ice cream, we have you covered.
4 of our most popular dessert recipes
1. Cookies
We have a variety of cookie recipes available, but if you're looking for something easy and delicious that feeds a crowd, you'll love these White Chocolate Macadamia Nut Cookies! A classic cookie that tastes extra special. Eat your heart out chocolate chip cookies!
2. Cakes
This Peanut Butter Cake is the perfect recipe for the sweet tooth in your life. A sweet treat full of flavor and simple ingredients.
3. Pies
Beautiful, impressive, and easy to make with only a handful of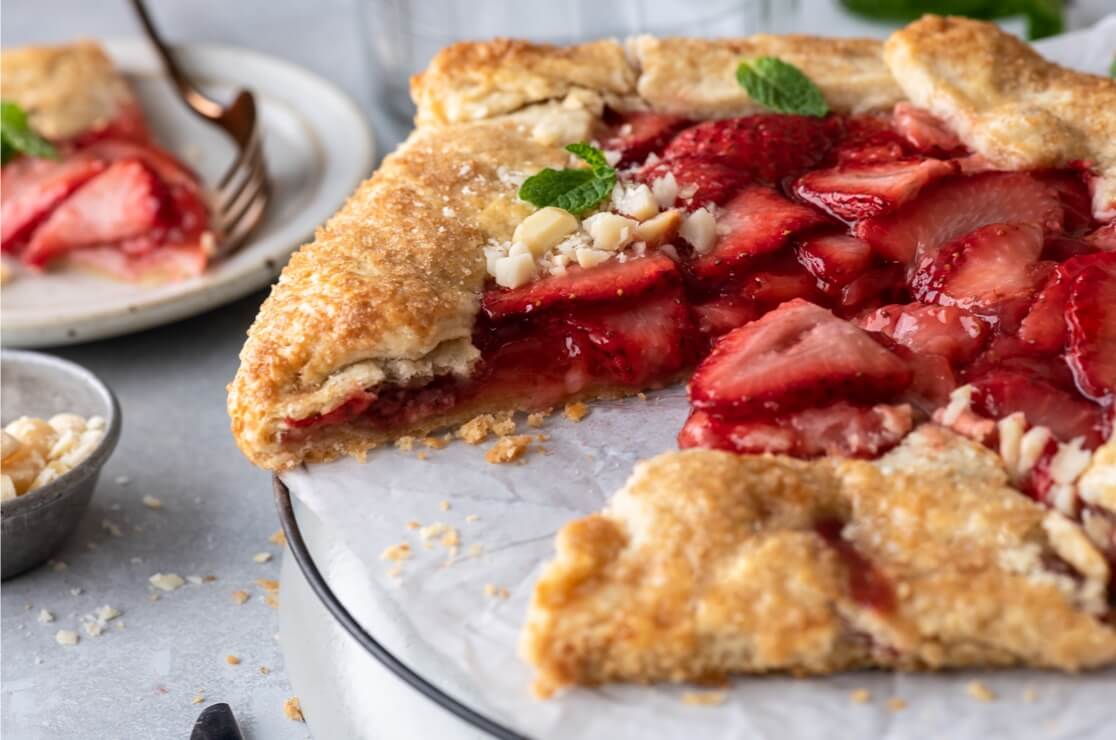 ingredients, this Strawberry Macadamia Crostata is perfect for a special occasion.
4. Ice Cream
This Almond and Dried Apricot Ice Cream Cake features a crunchy crust, vanilla ice cream, and honey-rich apricots. Perfect for Summer!
Frostings and Toppings
No time to bake something from scratch? Just whip up some whipped cream or a classic cream cheese frosting and slather it onto a store bought cake for maximum effect. Need something even simpler? Get a few different ice cream flavors and a bunch of different fun toppings and voilà, you have a sundae bar! This really couldn't get any simpler, you could use some cookie bites, sprinkles, chocolate chips, coconut flakes, fresh fruit, nuts… Anything your heart desires.
Baking Essentials for Dessert Recipes
Rule number one in the kitchen: be prepared. Make a list of ingredients and make sure you shop for everything beforehand. Lucky for you, we have everything you need to create a truly stunning dessert everyone will love: from nuts and chocolate delights to fun topping ideas. Click here to browse and shop our selection of ingredients and goodies!
Wait, there's more…
There's so much we can accomplish with just a little sugar, flour, and a few other pantry staples… So if you need a little sweetness in your life, or if you're planning on making any of these (or just your favorite dessert) soon, don't forget to have fun with the process! Trying new recipes and flavor combinations is meant to be fun!
So which of the simple, easy desserts will you try next? There's a lot more where these came from – explore over 80 of our popular recipes for dessert!
Related:
Whether you are looking for an easy recipe or a new recipe, we have you covered. Serve up a new favorite dish for any time of day – See our full selection of recipes.