There are so many reasons to love the fall season! We get to wear our winter fashion accessories again, the colors of nature are changing for spectacular photos, and we can enjoy some delicious seasonal treats like hot chocolate beverages, gummies and many more. Here are some delicious fall snacks!
Fall season means the beginning of the festivities such as Halloween and Thanksgiving! 
As the fall approaches, the cold starts to approach step by step, which makes it the perfect time to choose snacks that are tasty and will help you keep your energy up! 
How can I choose a Fall treat to eat? 
You should definitely try our rye bagel chips, they are great to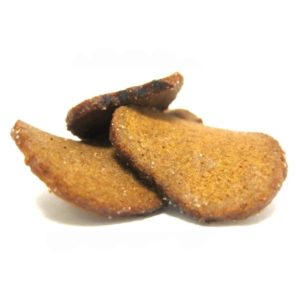 have with a delicious coffee or matcha tea. This dairy free recipe is one of our best sellers but also a staff favorite product for many reasons. Bagel chips are always a tasty snack, but the rye bagel chips are the perfect crunch snack to have in the bus on our way to work, between meetings or simply to enjoy with a hot beverage. 
Rye is one of the most commonly grown cereals in the world. It is similar to barley and wheat and is used in the same ways. It's also one of the oldest grains to be cultivated and today is still one of the top 5 grains to be consumed all over the world. It is very good for your health as it contains a lot of vitamins and minerals and fibers. Helps you regulate your appetite and so lose weight and is a must add to your diet if you have diabetes or heart problems. Its antioxidants are also beneficial to cancer prevention and for a boost of the immune system. Finally, it is of great help for digestive health and respiratory diseases (such as asthma). 
Thanksgiving Dinner
We also love to recommend this treat for your Thanksgiving dinner. You can start your meal with this snack and vegetable sticks or cheese pieces before moving on to the turkey. Or it can also be a great dessert if you are out of ideas! Offer them to your family and friends with a hot chocolate or even a ball of ice cream. 
In order to keep them fresh and tasty, place them in an air-tight container in your fridge to limit the exposure to light, oxygen and heat. These elements can cause the oils in nuts to go bad and you won't be able to enjoy them. Little tip, think about labeling your boxes so you know which nuts to go first for and when you take your box out of the fridge, wait a couple of minutes for the product to warm up to room temperature. 
Proudly made in the USA, we can ship you different sizes (1 lb, 5 lb, 10 lb) depending on how many crunch lovers there are in the family. 
Do you have special treats for Halloween ? 
We are sugar treats lovers so Halloween is THE party we do not want to miss. We prepare weeks in advance to have crazy costume parties with lots of spooky snacks and treats. 
To stay in the theme of this holiday, we created candies with the shapes of your favorite Halloween elements. 
Enjoy our gummy Halloween spooky sours! Made in the USA,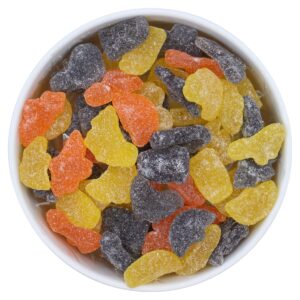 this soft and yummy candy is not only super cute to look at, it is also peanut free, fat free and gluten free. You can enjoy these with a lot of friends because you can get a package from 1 lb to 5 pounds with approximately 100 pieces per pound. 
Find in your package bats and coffin shaped gummy candy! If you want to make an impact, you can put them at the center of your Halloween buffet when your guests come over for the best horror party or carry them around during your treat hunt in a pumpkin basket. You will look great snacking on these treats wearing your witch or zombie costume!  
We also love the caramel candy corn we created! This fat free candy is one of our staff favorites because of its smooth taste and original three colors. Children will enjoy these candies and adults will enjoy the scent and feel of nostalgia that comes with candy corn. 
Gummy candies should be stored in a cool and dry area to protect their texture and delicious taste. If you find yourself in a hot and humid climate, you can place them in the fridge so they do not melt. Take them out a couple of minutes before eating them so they have time to adjust to the room temperature. 
We are always looking for the best recipes for our customers to enjoy for each occasion life gives us. Have fun with these fall treats and candies, let us know which one was your favorite!