What nut isn't a nut but is an important part of everyone's diet? What nut don't we use in cooking oil? You're correct if you guessed the peanut! National Peanut Month honors this delectable and nutrient-dense legume (not a nut! ). It also honors the areas across the world where it is an integral component of culture and cuisine. Celebrate National Peanut Month by indulging in your delicious L'Orenta's peanut delicacies!
This article will go through ways to celebrate National Peanut Day and some delicious snacks to savor on occasion.
History of National Peanut Month
The National Peanut Board established National Peanut Month. It coincides with Nutrition Month, which is no surprise! The peanut is chock-full of minerals and vitamins, having over 30 vitamins in all!
Nearly 8000 years ago, in Peru, we discovered the first evidence of these wonderful legumes being farmed. When the conquistadors came to Tenochtitlan, they discovered peanuts portrayed in art and sold them for sale. From there, traders in Europe carried the peanut over the world, and it is now grown in practically every environment that fits it.
We can find peanuts in a variety of recipes around the world,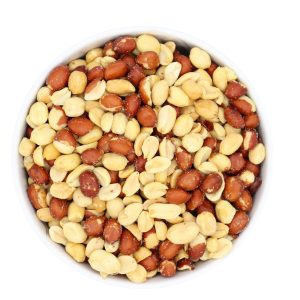 ranging from simple snacks to appetizers, main courses, and even desserts. Bamba Puffs, a Cheez Doodle-like snack popular in Israel, are essentially the same snack. The flavor this with peanut butter instead of cheese.
It's not uncommon in the American South to put a handful of peanuts in a bottle of coke for flavoring; the flavor is  the perfect balance of salty, sweet, fizzy, and crunchy. These tiny legumes do have a lot to give.
How To Celebrate National Peanut Month?
Enjoying all that peanuts have to offer is the ideal way to celebrate National Peanut Month. 
Start by keeping a supply of

L'Orenta's salted and roasted peanuts

on hand to snack on. They don't have any skin, so it's easy to eat.

If you're feeling brave, try a Pad Thai dish. It is generally made with a rich peanut sauce. However, some of the versions are pretty hot, so choose carefully if you're sensitive to that.

Whether it's peanut butter cookies or extending your palate with new peanut dishes, don't let National Peanut Month pass you by without trying something new.

Instead of eating a bag of popcorn or a tub of ice cream, binge on Netflix while eating healthy. For even more enjoyment, gather your friends and buy double peanuts.

You may prepare some tasty Tagalongs or eat a few peanut butter and jelly sandwiches. Why not try your hand at making Nut Liquor? It will be vodka with a peanut butter flavor.

Peanut allergies are one of the most frequent and dangerous allergies in the world. Donate to FARE to help scientists learn more about peanut allergies (Food Allergy and Research Education). A little assistance can go a long way.
Amazing Snacks To Enjoy On National Peanut Month By L'OrentaNuts.com
Here are some wonderful and delectable treats from L'Orenta that you may try this month, or at any time, to enrich your taste buds with the yummy goodness of peanuts.
Double Dipped Peanut
L'Orenta's double-dipped peanuts are farmed in the United States and we dip them twice! Peanuts wrapped in chocolate are the perfect combination of salty and sweet, making them ideal for peanut month or any occasion.
Roasted And Salted Peanuts (With Skin)
Fresh roasted peanuts are a delicious addition to any party, and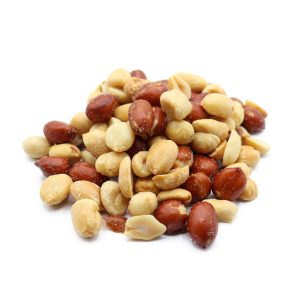 you'll want to keep a supply on hand for several recipes. These peanuts are an excellent garnish for everything from cakes to salads! They're a fantastic place to celebrate National Peanut Month.
Boston And Baked Beans
L'Orenta's Boston Baked Beans are certain to be the best you've ever had. It is the reason we designed them jumbo. And you'll receive even more crunchy and sweet coated peanuts in every bite, making them ideal for eating during National Peanut Month.
Peanut Party
Our traditional Peanut Party blend, which you may enjoy during peanut month, is always a crowd-pleaser. Both skinless and skin-on peanuts have been roasted and mildly salted in this simple yet delectable mix for optimal flavor.
Nutty Facts About Peanuts
Depression and related mental diseases affect more than 3 million people in the United States alone. Tryptophan, found in peanuts, stimulates the release of serotonin, a mood-enhancing hormone. Try eating some roasted peanuts the next time you're feeling down.
There are numerous methods to incorporate peanuts into your diet, including roasted peanuts, peanut butter, and peanuts in praline. Peanut oil, for example, is a healthier alternative to vegetable oils.
Peanuts, despite their name, are not nuts. They are legumes that grow underground and belong to the legume family.
The best way to celebrate National Peanut Month is to include L'Orenta peanut delicacies in your diet. We hope this article enlightened you about peanuts and the history of Peanut Month. Take pleasure in your peanut!