Celebrate Goji Berries | L'Orenta Nuts
Goji berries, also known as wolfberries, are indigenous to China and have long been utilized in traditional medicine. They have gained popularity in the Western world. So, celebrate Goji berries from L'Orenta right now.
Goji berries are well-known for their brilliant color and distinct, sour flavor. According to scientific evidence, Goji berries can slow the effects of aging, maintain eye health, and boost your health. And continue reading to learn more about the nutrition, uses, and health benefits of goji berries.
Why Should You Celebrate Goji Berries by Eating Them?
Goji berries are now available in supplements and superfood blends alongside other fruits, herbs, and extracts. Furthermore, these berries are accessible in dried or powdered form, and they are also available in a variety of supplements and juice blends.
Goji berries are high in antioxidants. Antioxidants are well-known for their immune-boosting properties and their capacity to combat free radicals or inflammation. They seem to connect to a variety of potential health advantages, including:
Nutritious
Goji berries are high in nutrients. A small amount of this fruit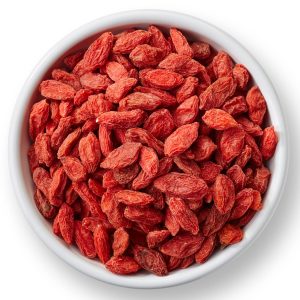 contains fiber, iron, and vitamins A and C. Iron is a mineral required for oxygen delivery and the development of healthy red blood cells. Meanwhile, vitamins A and C are significant for immunological function and work as antioxidants in your body.
Antioxidants aid in neutralizing dangerous molecules known as free radicals, thereby reducing cell damage. The researchers discovered that goji berry raises antioxidant levels while decreasing oxidative stress. Increasing our antioxidant consumption can decrease inflammation and protect against chronic diseases like cancer, heart disease, and diabetes.
Aid in immune function
Goji berries can boost immunity as they are high in antioxidants. These antioxidants are well-known for their immune-boosting properties and their capacity to combat free radicals or inflammation. Noteworthy, you can also buy super antioxidants mix: goji berry, dates, strawberry, and banana from L'Orenta.
Improve eye health
According to scientific research, goji berries may improve eye health and protect against disorders such as macular degeneration. They can benefit vision since they are abundant in antioxidants, particularly zeaxanthin. The same antioxidants can also protect against the following types of damage:
UV light.

Free radicals.

Oxidative stress.
Creates a healthy skin
You may have heard that Goji berries are known as anti-aging fruit. Goji berries contain the antioxidant beta-carotene. It is well-known for helping to maintain healthy skin, such as:
Manage the impact of aging.

Enhance skin health.

Lessen skin irritation.

Manage the effects of the sun.
Maintains blood sugar
Goji berries may aid in regulating the release of sugar into the bloodstream. According to research, Goji berries balance insulin and glucose levels in the blood, and they can also raise HDL levels in persons with type 2 diabetes. 
Help with sadness, anxiety, and sleep
According to studies, goji berries can help with depression and anxiety. Goji berry juice may boost energy, mood, and digestive health. It can boost energy, attention, physical performance, mental sharpness, feelings of tranquility, and contentment. You buy a pack of Superfood Fruit Mix with apricots, papaya, kiwi, ginger, and goji berry from L'Orenta.
Prevents liver damage
Traditional Chinese medicine has used goji berries to treat liver illness. According to research, goji berries can aid in controlling liver health and preventing the progression of alcohol-induced fatty liver disease.
Protects against cancer
Goji berries are high in antioxidants. Antioxidants, such as vitamin C, zeaxanthin, and carotenoids, are essential in combating cancer cells. Antioxidants help remove the harmful compounds from the body by slowing tumor growth, reducing inflammation, and slowing tumor growth.
What makes goji berries so good?
We call Goji berries a superfood because they contain phytochemicals. Goji berries include phytochemicals like polysaccharides, beta-carotene, and zeaxanthin.
Polysaccharides are a significant component of the goji berry. They can improve immunological function and increase total antioxidant activity in the body.
The orange-red tint of goji berries comprises beta-carotene. Beta-carotene is essential for eye, bone, skin, and cell growth. Goji berries have one of the highest levels of beta-carotene of any edible plant.
Zeaxanthin has an essential part of immune system support. Many experts believe that zeaxanthin can prevent macular degeneration, progressive vision impairment and improve skin health.
Include Goji Berries in Your Diet
Goji berries are available as both fresh and dried, include them in:
salads

sweet sauces

desserts

smoothies

oatmeal

yogurt
Goji berries can be found fresh or dried as trail mixes, superfood blends, or as a drink. You can try the Goji Fruit Mix from L'Orenta, it Includes goji berry, dried apricots, papaya, raisins, sunflower seeds, and sliced almonds. 
Goji berries may boost immune function and eye health. Fresh and dried goji berries have no known side effects. Most people can consume goji berries in moderation. So, feel free to celebrate Goji berries throughout the day.