Mexican Spicy Candy or 'dulces enchilados', as it's commonly known in Mexico, is the perfect mixture of candy with a spice kick. These candies are also called Pica Pica, enchilados candy, or chamoy covered candy. Dulces Enchilados is basically candy with chili. In Spanish 'dulces' means candies and 'enchilados' is an adjective that describes hot or spicy food. 'Dulces enchilados' are candy covered with Chamoy and Tajin because they are the mix of both worlds. Here are some candy with Chamoy and Tajin.
We all crave candy every now and again during the day or a movie night. Whenever you feel like a bit of sugar these 'dulces enchilados' are the perfect sweet and spicy snack to get that heavenly sense of satisfaction. 
What is Chamoy
Chamoy is a very popular sauce or condiment made from fruit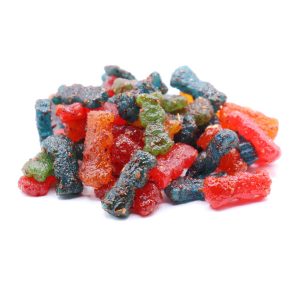 such as plums, mangos, tamarind, or apricot, dehydrated chili, salt, sugar, and a touch of lime juice. Being considered junk food, it is way more likely to find it in food stands in the streets of Mexico and the US, rather than in fancy restaurants. 
What is Chamoy's Flavor Profile?
Chamoy is sweet, sour, salty, spicy, and a little tangy.….the perfect blend of savors!
It serves as a savory dip or sauce for sliced fruit or jicama, as candy coating, or as an addition to smoothies, popularly known as 'chamoyadas'. 
There are tons of similarities across the board, nevertheless, there aren't two chamoy recipes that are the same. This, in turn, means that Chamoy can have different variations as far as savor goes. 
What is Tajin
Although Chamoy and Tajin are often used together, they are very different condiments.
Originally, Tajin is a Mexican brand of spice based on dehydrated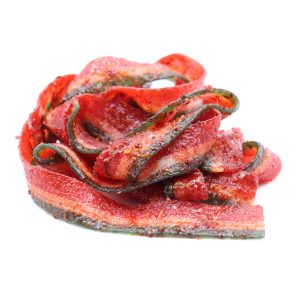 lime juice and dry chili. After years of being the leading brand of this spice, the name of the brand has become the name of the spice as well. Another common name for this condiment is 'chile piquín'. 
Tajin is a mix of different spices in powder form. It comes in different presentations from the original to the extra spicy.  Hence, it is often sprinkled on elote or cucumber slices, but you can also enjoy it on candy and other foods. 
Chamoy Covered Candy with Tajin
The combination of Tajin with Chamoy used to cover candy results in the fabulous 'dulces enchilados'. These are fantastic and L'Orenta has some amazing ones like the Chamoy skittle gummies. 
Keep reading to find a recipe of Chamoy candy you can make yourself. 
Chamoy Candy Recipe
This easy recipe requires only a few ingredients and can be made super quickly. 
Made in a matter of minutes. You can quickly mix these up to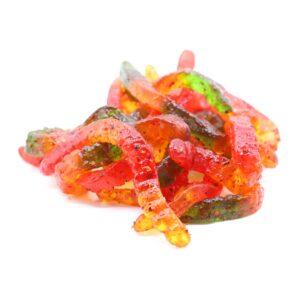 enjoy yourself or give them as presents. Let's get started with your 'dulces enchilados'. 
The measurements are just one possibility, you can test out different measurements to really make it your own!
Candy, preferably gummies

2 tbsps of Chamoy

1 tbsps Tajin 

5 tbsps of granulated sugar

A pinch of salt
To make your Chamoy candy you'll have to mix together your Chamoy, sugar, Tajin, and salt in a bowl.
Then, drop the candy in the bowl and let it coat the candy. 
Finally, let it sit for 10-20 minutes and you are ready to go!
Enjoy your Chamoy Candy. 
However, if you'd like the most perfect way of enjoying these kinds of candy, you should definitely try L'Orenta's Chamoy Watermelon Slices. A perfect display of the combination of these products with amazing quality and L'Orenta's original Chamoy recipe. 
Conclusion
'Dulces enchilados' is something everyone should be enjoying and the perfect spicy snack for any time of the day. Making them is pretty simple and enjoying them is even more. 
I hope you enjoyed this article, though I'm certain you would have enjoyed it more if you had some Chamoy candy on your side.