There are many reasons why Halloween is one of the most popular holidays worldwide! First, there's nothing better than wearing a costume, getting free candies for Halloween, and seeing all the decorations that make Halloween so unique. However, did you know that Halloween has been widely celebrated for much longer than we realize? Halloween has taken on some fascinating traditions over the years. Continue reading to learn more about the history of Halloween, amusing facts about it, and some of the most delicious candies for Halloween.
Halloween and its origin
Halloween is a yearly celebration that takes place on October 31. All Hollows' Eve occurs on the night before Halloween. It started as a pagan festival among the Celtic people of Britain and Ireland. Although now it has more to do with candy collecting, fancy dress parties, and trick or treating.
It was originally a pagan festival known as Samhain, celebrated in Celtic countries 2,000 years ago. The end of summer and harvest led to Samhain, the beginning of a cold, dark winter. According to ancient Gaels, on October 31, the boundary between the worlds of the dead and the living overlapped. It was causing death to return and causing sickness to crops or causing property damage. For this reason, villagers would dress up in all manner of ghoulish costumes and parade around the village. They were attempting to mimic the evil spirits or appease them.
Although it may seem like a very American holiday today, it didn't start that way. It wasn't until the Irish fled during the potato famine in 1846 that Halloween began to spread to America and other parts of Europe.
Why do people trick or treat?
Trick-or-treating is a Halloween tradition for both children and adults in many nations. Children dressed in costumes go from home to house, asking candies for Halloween with the slogan "Trick or treat." The "treat" is generally some kind of confectionery; however, in certain cultures, people use money instead. 
The "trick" refers to a threat, generally in jest, to cause damage to the homeowners or their property if they give no treat. It usually happens on October 31 in the evening.
Some houses indicate their willingness to throw out candy by displaying Halloween decorations outside their doors. Others leave treats on their porches for the children to take as they like.
Some fun facts about Halloween
When people hollowed-out turnips and placed candles in them to keep spirits away, Samhain gave rise to Jack-o'-lanterns.

Norm Craven grew the largest pumpkin with an 836-pound gourd in 1993, thus breaking the world record.

Over 90 million pounds of candies are sold for Halloween each year.

Bobbing for apples, a popular Halloween game, originated from the roman harvest festival that honors Pomona, the goddess of fruit and trees.
Staple candies for Halloween
Here are four staple Halloween candies that will satisfy your sweet tooth!
Candy corn
Candy corn is the most representative candy of Halloween. It's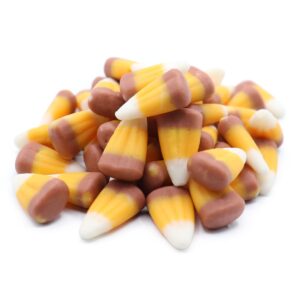 shaped like kernels of corn and comes in three colors. Sugar, corn syrup, confectioner's wax, artificial colors, and binders are the main ingredients in candy corn.
Gummy Halloween Spooky Sours
Gummy Halloween Spooky Sours are one of the most popular candies for Halloween, and there is a good reason for this. They are perfect for handing out to trick-or-treaters or filling up your candy bowl at home. These spooky treats feature a layer of sour sugar that gives them a peculiar taste, featuring the classic shapes of bats and coffins.
Gummy Halloween Worms
Gummy Halloween Worms are a soft Halloween delicacy that is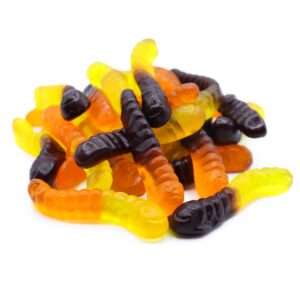 ideal for trick-or-treaters. They are brilliant orange and yellow with a black tail. These gummy candies are perfect for a Halloween buffet and light up any Halloween celebration!
Gummy Halloween Worms let you enjoy your favorite snack with a touch of spooky fun. Many people love their gummies because of their chewy texture and sweet taste. This candy has the same great taste, 
Gummy Sharks, Blue
Gummy Sharks are a popular Halloween candy. The flavor is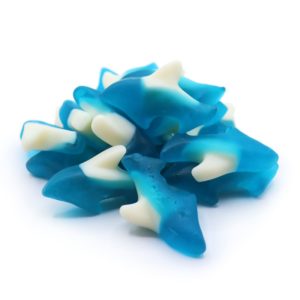 fantastic, and it's addicting! However, there's something about shark-shaped candy that makes it even better.
These gummy sharks are perfect if you want to enjoy a yummy treat that isn't as common as your friends' gummy bears and worms.
Conclusion
In short, the best candies for Halloween are the ones we never get tired of eating. These options have stood the test of time, proving that they can endure from year to year and generation to generation.
Candies like these are classics for a reason: their flavors are solid and delicious, and they serve as a treat for both children and adults alike. So get out there and stock up; do not let Halloween catch you unprepared.